BREAKING NEWS: Fashion icon, socialite Gloria Vanderbilt dies at 95. Details to come ...
Stolen valor case ends with Marine Corps League officer's arrest

WPBF West Palm Beach
11/28/2018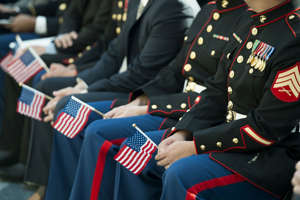 © Saul Loeb/AFP/Getty Images Cary Haerlin, 56, certainly looked the part in his decorated dress blues uniform each year at the Marine Corps League Ball and various conventions.
But detectives say he got his medals online, and his influential position as a judge advocate in the Marine Corps League by forgery.
"I received information from another Marine Corps League member who was onto his hoax and didn't think everything was truthful," said St. Lucie County Sheriff's Detective Matthew Brewster.
Brewster, himself a Marine, requested Haerlin's official discharge document.
Brewster said it shows Haerlin was a refrigeration mechanic who was discharged in 2000 as a private first class under conditions "other than honorable." The reason was listed as drug abuse.
But Brewster said Haerlin forged a copy of the document to indicate that he was a machine gunnery corporal, who served in combat overseas and received a slew of honors and citations.
"I couldn't believe it - I was kind of hoping something was truthful to it, but nothing was true, even down to his basic rifle and pistol badge, that was false as well," Brewster said.
He added that Haerlin used the forged document to secure a local position in the Marine Corps League, a national veterans group, in 2008.
His position as judge advocate meant he helped decide bylaws and other rules for the group.
He also traveled each year to League events, and was able to get reimbursed for that travel. According to the arrest document, Haerlin took almost $3,000 in reimbursement money – the reason for the charge of grand theft.
"I know he stayed in some nice hotels," Brewster said.
Haerlin at first denied the forgery when finally interviewed by detectives, Brewster said. It was only when Brewster told him he was also a Marine, and he should have some honor and come clean, that he said Haerlin admitted it.
"He would only give a one word reason why he did it – 'stupidity,'" Brewster said.
Brewster said Haerlin's wife was unaware of her husband's alleged posing.
A woman who was at Haerlin's home Monday night said she had no comment.
But neighbors were surprised – and in one case, angered.
"I mean, there are veterans out there who are legit," said Navy veteran Liane Montalbano. "They're having issues and need help and can't get help and then you've got some shyster doing what he's doing - God only know what other benefits he's gotten."
Haerlin was booked into the St. Lucie County jail on $100,000 bond.
READ MORE:Stolen valor case ends with Marine Corps League officer's arrest
CHECK OUT WPBF:Get the latest West Palm Beach news. WPBF gives you online, anytime access to the biggest Florida news and West Palm Beach weather of the day.