Suspect in deadly synagogue shooting near San Diego wrote anti-Semitic manifesto

Los Angeles Times
4/28/2019
Video by Fox News
A gunman armed with a semiautomatic rifle walked into a suburban San Diego County synagogue and opened fire on the congregation Saturday, killing one person and injuring three in an attack that authorities believe was motivated by hate.
A 19-year-old was arrested in connection with the shooting, authorities said. The gunman entered Chabad of Poway on Chabad Way about 11:20 a.m. and started firing.
He was identified as John T. Earnest, a Rancho Penasquitos resident. He is being questioned by homicide detectives.
Earnest appears to have written a letter posted on the Internet filled with anti-Semitic screeds. In the letter, he also talked about the planning the attack.
"How long did it take you to plan the attack? Four weeks. Four weeks ago, I decided I was doing this. Four weeks later, I did it."
Earnest, who is white, wrote that he was willing to sacrifice his future "for the sake of my people."
In the manifesto, he also took credit for an arson fire that blackened the walls of the Islamic Center in Escondido on March 24. There were seven people inside the building at the time the fire erupted about 3:15 a.m. but no one was injured.
The arsonist left a note referring to a shooting rampage at two New Zealand mosques on March 15 that left 50 people dead.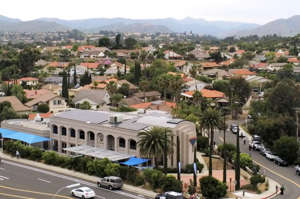 Slideshow by photo services
"I scorched a mosque in Escondido with gasoline a week after" the New Zealand shootings, Earnest wrote. But the people inside "woke up and put out the fire pretty much immediately after I drove away which was unfortunate."
The suspect also championed Robert Bowers — who killed 11 people and wounded six others in the Tree of Life synagogue shootings in Pittsburgh six months ago — and Adolf Hitler.
Poway Mayor Steve Vaus called the shooting there a "hate crime," based on statements the shooter was heard making as he entered the synagogue.
RELATED: Rabbi gives sermon of strength after being shot at Poway synagogue
A large group of congregants had gathered behind the temple after the shooting, sheriff's Sgt. Aaron Meleen said. About 100 people were inside the synagogue at the time celebrating Passover.
"As you can imagine, it was an extremely chaotic scene with people running everywhere when we got here," he said.
Those wounded in the shooting were taken to Palomar Medical Center in Escondido, the Sheriff's Department said.
As the attacker was fleeing the scene, an off-duty Border Patrol agent who was at the synagogue shot at the suspect's vehicle, but he got away, authorities said. He was captured a short time later.
Adam Pringle, 32, said he was sitting at a 76 gas station parking lot when a swarm of San Diego police, county sheriff and California Highway Patrol cars descended on the scene less than 50 feet away.
RELATED: Deadly attack at San Diego-area synagogue underscores rise in anti-Jewish hate
Pringle watched as police officers pulled over the man he believed to be the shooting suspect.
"Hands up or I'll shoot you!" Pringle heard the officer yell.
The driver quickly put his hands up, and the officer walked over with his gun drawn, Pringle said. The officer quickly arrested the man, Pringle said.
Witnesses said a rabbi is among the injured, reportedly shot in the hand. He apparently continued with his sermon after being wounded, telling people to stay strong.
"The rabbi and two other people were injured," said synagogue member Minoo Anvari, whose husband was inside when the shooting broke out. "One guy was shooting at everybody and cursing."
"One message from all of us in our congregation is that we are standing together. We are getting stronger," Anvari said. "Never again. You can't break us. We are strong.
"Why? The question is, why? People are praying."
© Los Angeles Times
President Trump offered condolences from the White House lawn Saturday.
"At this moment it looks like a hate crime," he said. "My deepest sympathies to all of those affected. And we'll get to the bottom of it."
Authorities have cordoned off the area near Rancho Bernardo Road and West Bernardo Drive, about two miles from Chabad of Poway, he said.
Several neighbors reported hearing the gunshots, and some were evacuated from nearby homes to the school temporarily as a precaution.
Cantor Caitlin Bromberg of Ner Tamid Synagogue, which is down the street from Chabad of Poway, said her congregation learned of the shooting at the end of their Passover services. Saturday marked the final day of Passover, a holiday that marks the Jewish people's exodus from Egypt and freedom from slavery.
Bromberg said her congregants were en route to Chabad of Poway to show support and help in any way they can.
"We are horrified and upset, and we want them to know we are thinking of them," she told The Times. "The message of the final day of Passover is to be looking forward to … the time when all the world will be at peace."
Bromberg said someone from the congregation had received a text that there was a shooting at a synagogue in Poway. The person who sent the text did not know which temple was targeted and wanted to make sure the congregant was OK.
The cantor said she has not heard from Chabad of Poway leadership because they would not normally use the phone during the Sabbath.
"They would only do that on emergency basis, if they do it at all," she said.
In a statement, the United States Holocaust Memorial Museum said it was "shocked and alarmed" at the second armed attack on a synagogue in the United States in six months, this time on the on the last day of Passover.
"Now our thoughts are with the victims and their loved ones," Museum Director Sara J. Bloomfield said. "But moving forward this must serve as yet another wake-up call that antisemitism is a growing and deadly menace.
"The Holocaust is a reminder of the dangers of unchecked antisemitism and the way hate can infect a society. All Americans must unequivocally condemn it and confront it in wherever it appears."
San Diego police were keeping watch on other local synagogues as a precaution. "No known threats," Chief David Nisleit said on Twitter, "however in an abundance of caution, we will be providing extra patrol at places of worship."
In Los Angeles, police said they were closely monitoring the synagogue shooting in Poway and "communicating with our local, state and federal partners."
"At this time, there's no nexus to Los Angeles, but in an abundance of caution, we will conduct high visibility patrols around synagogues and other houses of worship," the department tweeted.
Passover is one of the most sacred holidays in the Jewish faith. The eight-day festival is typically observed with a number of rituals, including Seder meals, the removal of leavened products from the home and the sharing of the exodus story.
The attack comes six months after a man with a history of posting anti-Semitic and anti-immigrant social media messages opened fire at a temple in Pittsburgh, killing 11 people and wounding six more.
The Anti-Defamation League called that incident "the deadliest attack on the Jewish community in the history of the United States" and it underscored growing hate against Jews.
The leaders of many national Jewish groups heard about the attack hours after it happened because they were observing the Sabbath and last day of Passover.
"This shooting is a reminder of the enduring virulence of anti-Semitism," Jonathan Greenblatt, president and CEO of the Anti-Defamation League, said in a statement. "It must serve as a call to action for us as a society to deal once and for all with this hate. People of all faiths should not have to live in fear of going to their house of worship. From Charleston to Pittsburgh to Oak Creek and from Christchurch to Sri Lanka, and now Poway, we need to say 'enough is enough.' Our leaders need to stand united against hate and address it both on social media and in our communities."
Michael Masters, CEO of the Secure Community Network, an group that offers training and resources to synagogues on security, said his group was working with local and federal officials to help the Poway community.
"We remind synagogues and Jewish facilities everywhere that we must take steps to prevent and protect against attacks," he said in a statement. "Today's shooting is a sad reminder that the need has not gone away."
John Wilkens, Pauline Repard, Teri Figueroa and Wendy Fry of the San Diego Union-Tribune and Times staff writers Melissa Etehad, Jaweed Kaleem, Angel Jennings and Alene Tchekmedyian contributed to this report.