Trump DOJ asks appeals court to strike down all of Obamacare

Washington Examiner
3/26/2019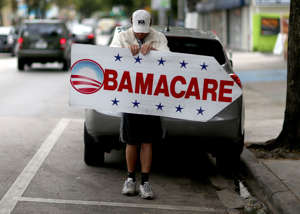 © Joe Raedle/Getty Images Pedro Rojas holds a sign directing people to an insurance company where they can sign up for the Affordable Care Act, also known as Obamacare, in 2015 in Miami, Florida. Joe Raedle/Getty Images The Trump Justice Department told a federal appeals court Monday night that it favors striking down Obamacare in its entirety.
The petition, filed in the U.S. Court of Appeals for the Fifth Circuit, is a departure from the administration's previous stance, which was that only the law's rules on protections for people with pre-existing conditions be struck down.
A district court had ruled in December that Obamacare was unconstitutional on the grounds that, without the individual mandate requiring people to buy health care insurance, the rest of the law should fall. Republicans had zeroed out the mandate in the 2017 tax law.
The case is now before the appeals court, with Obamacare remaining in place until a decision. In a brief letter, assistant attorney general Joseph Hunt and deputy assistant attorney general Brett Shumate wrote that the DOJ "has determined that the district court's judgment should be affirmed."
Bill Barr took over as attorney general in February.
The original suit against Obamacare was brought by 20 Republican state attorneys general.