Trump moves to crack down on visa overstays

The Hill
4/22/2019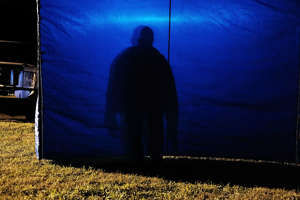 © 2017 Getty Images MIDDLEFIELD, CT - OCTOBER 11: In a tent a medical student gives a check-up to a Jamaican migrant worker on a H2A visa at a Connecticut apple orchard and farm on October 11, 2017 in Middlefield, Connecticut. The University of Connecticut Migrant Farm Worker Clinics visit area farms and nurseries from June to October offering health screenings and preventive health education for migrant farm workers and their families. There are an estimated 3.5 million migrant and seasonal farm workers in the United States according to the United States Public Health Service. Many of these workers lack access to health professionals due to language barriers, a lack of transportation and fears of deportation. (Photo by Spencer Platt/Getty Images) President Trump on Monday directed his administration to find ways to limit the number of foreigners who overstay short-term visas amid a broad push to curb immigration.
In a presidential memorandum, Trump ordered the State Department to work with governments of countries with total overstay rates of more than 10 percent in order to reduce the number.
Secretary of State Mike Pompeo, in consultation with the Departments of Justice and Homeland Security (DHS), is required to submit a report within three months that recommends policies that would slash the number of people who stay in the U.S. after their visa expires. DHS is expected to hand in its own recommendations a month after that.
The memo stops short of making specific changes, but it comes as the administration is reportedly considering new travel restrictions on countries with high overstay rates. The crackdown would primarily affect African nations such as Nigeria, Somalia, Chad, Sudan, Togo, Liberia, Eritrea, and Sierra Leone, among others.
Under the proposed change, business and tourism visas could be shortened or limited for countries who do not lower the number of their nationals who overstay U.S. visas.
The White House said in a statement the effort is designed to "find effective ways to combat the rampant number of overstays," which it says "is undermining the rule of law and straining resources that are needed to address the crisis at our southern border."
The announcement shows the Trump administration is seeking to impose tougher rules around legal immigration, in addition to the president's core focus on stopping illegal crossings at the U.S.-Mexico border.
Curbing legal immigration has long been a goal for top White House policy adviser Stephen Miller, who has been frustrated with the pace at which DHS has been drafting new immigration rules and regulations. That frustration among Trump, Miller and others led to the ouster of DHS Secretary Kirstjen Nielsen and other top department officials earlier this month, according to an administration official.
The administration is also seeking new policies to crack down on illegal immigration, such as stricter asylum rules. Trump has floated the idea of sending migrants to sanctuary cities, which has previously been shot down by DHS officials.
Despite Trump's laser-focus on the situation at the southern border, visa overstays have been the main source of illegal immigration for several years.
A report released by the Center for Migration Studies earlier this year showed that from 2016 to 2017, the number of newly undocumented immigrants who overstayed their visa significantly outnumbered the number who crossed the border illegally, 62 percent to 38 percent, respectively.