U.S. Supreme Court again rejects Rod Blagojevich appeal

Chicago Tribune
4/16/2018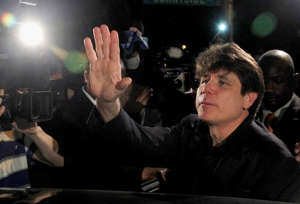 © AP Photo/Charles Rex Arbogast, File FILE - In this March 15, 2012 file photo, former Illinois Gov. Rod Blagojevich waves as he departs his Chicago home for Littleton, Colo., to begin his 14-year prison sentence on corruption charges. The 7th U.S. Circuit Court of Appeals in Chicago on Tuesday, July 21, 2015, tossed out some of Blagojevich's convictions that he sought to sell or trade President Barack Obama's old U.S. Senate seat. The Supreme Court has for the second time rejected an appeal by imprisoned former Gov. Rod Blagojevich of his convictions on corruption charges.
The justices did not comment Monday in letting stand the convictions and 14-year prison term that Blagojevich is serving. He's scheduled to be released in 2024.
Blagojevich's lawyers had wanted the high court to take up his case to make clear what constitutes illegal political fundraising. They argued that politicians are vulnerable to prosecution because the line between what's allowed and what's illegal is blurry.
His convictions included trying to extort a children's hospital for contributions and seeking to trade an appointment to the Senate seat Barack Obama vacated when he was elected president for campaign cash.
The court rejected an earlier appeal in 2016.
His best hope for a reprieve at this point would be a pardon or commutation of his sentence from President Donald Trump, who had a friendly relationship with the ex-governor when he appeared on Trump's "Celebrity Apprentice" reality show in 2010.
After Blagojevich was convicted a year later, Trump told Forbes magazine that he "felt bad for him and his family."
"It's a tragedy," Trump said at the time. "It just seemed like he was in over his head, you know what I mean?"
Blagojevich, 61, was arrested in December 2008 on charges of misusing his powers as governor in an array of wrongdoing, including most notably his attempts to sell the U.S. Senate seat vacated by President Barack Obama after his election to the White House. Blagojevich was convicted in 2011, less than a year after an initial trial ended with a jury deadlocked on all but one count of lying to the FBI, forcing the retrial. 
In Blagojevich's first appeal in 2015, the 7th U.S. Circuit Court of Appeals in Chicago threw out five counts involving the Senate seat on technical grounds. But the court tempered the small victory for Blagojevich by calling the evidence against him overwhelming and making it clear that the original sentence was not out of bounds.
That set up a resentencing hearing in August 2016 that focused largely on Blagojevich's purported rehabilitation in prison, where he teaches history and counsels inmates and even served as lead singer in a prison band, The Jailhouse Rockers. Both of Blagojevich's daughters gave impassioned pleas for mercy, and Blagojevich himself apologized for his "mistakes" without specifically mentioning the crimes for which he was convicted.
"I recognize it was my actions and my words that led me here," Blagojevich said in a soft voice from a conference room in the federal prison outside Denver. "This can be a beginning to make amends for the past."
U.S. District Judge James Zagel, however, resentenced Blagojevich to the original 14 years, meaning he's still slated to remain in prison until May 2024.
Last month, on the sixth anniversary of Blagojevich reporting to prison, his wife, Patti, asked her Facebook followers for support "as we make our final plea to the Supreme Court next month for justice for my husband and our family."
"Six long years ago today, Rod was forced to leave everyone he loved behind and start the insane and cruel sentence that was imposed upon him," she wrote. "… We are still fighting to get him home."
jmeisner@chicagotribune.com
Twitter @jmetr22b
Associated Press contributed to this report.
RELATED
Blagojevich again asks Supreme Court to hear his appeal »
Blagojevich, unrepentant but bruised, reflects on prison life »
Ex-Gov. Rod Blagojevich loses appeal as judges quickly uphold 14-year prison term »
Blagojevich again asks Supreme Court to hear his appeal »
Blagojevich, unrepentant but bruised, reflects on prison life »
Ex-Gov. Rod Blagojevich loses appeal as judges quickly uphold 14-year prison term »