U.S. to dismiss charges against 129 people in Trump inaugural protests

Reuters
1/19/2018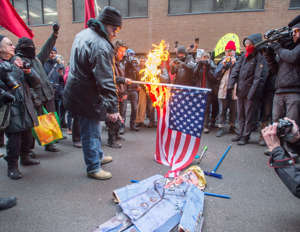 WASHINGTON - The U.S. Justice Department intends to dismiss criminalcharges against 129 defendants in connection with the protests that took place during President Donald Trump's Jan. 20, 2017 inauguration, according to a court filing on Thursday.

More than 200 people were arrested in connection with the protests in downtown Washington, during which black-clad activists smashed store windows, blocked traffic and fought with police.
A jury had already cleared six people of rioting charges in December, but the government said on Thursday it still intended to prosecute 59 remaining defendants.
In the court filing, government attorneys did not detail why they planned to dismiss so manycharges, but said the decision came in light of the December verdict. The government will focusits efforts on prosecuting people who participated in "identifiable acts" of violence, according to the filing.
Prosecutors have contended that the protesters were part of the group that became violent during the Inauguration Day protests. Those protests were far smaller than the Women's March the following day, in which hundreds of thousands of people poured into several major U.S. cities, including Washington. (Reporting by Sarah N. Lynch and Jason Lange; Editing by Susan Thomas and Richard Chang)