Wayfair employees stage walkout as company announces Red Cross donation

The Boston Globe
6/26/2019
Video by Reuters
Employees at the online housewares site Wayfair walked out Wednesday afternoon, protesting their company's sale of furniture to the operators of facilities that detain migrant children along the southern border.
Hundreds of supporters and employees gathered on the green in front of the Trinity Church around 1:30 p.m., holding handmade signs proclaiming "A prison with a bed is still a prison" and "workers say no to child detention!" The actual employees who walked out made themselves scarce in the crowd, declining to answer any questions and directing media to "PR at wayfair.com." It was unclear whether they had been organized by fellow employees or by management not to speak to press during the walkout.
The protest was lively and full of young people, taking place as it did in the middle of Copley Square during lunch hour. Organizers passed out water and sunscreen, and a band played musical interludes in between chants on the loudspeaker.
Jamie Allendorf, 22, held aloft a cardboard sign reading "Wayfair Making Concentration Camps Home Again." She had come to the protest because she has a friend who works at Wayfair; in the past she had benefitted from furniture discounts to outfit her home in Allston. She didn't plan to shop at Wayfair anymore, though.
"In light of this news its kind of not an option anymore," she said.
Another attendee, Mike O'Hare, 20, who works in finance and had wandered over during his lunch break, said he doubted he would shop at the company after reading the CEO's response to the employee letter.
"It felt sort of stubborn and selfish," he said. "It sounded like it wasn't a client-centered response but a revenue-centered response."
A number of protesters held signs bearing slogans such as "Complicity Will Not Be Tolerated" and "No profit from suffering & abuse of children at the hands of our government."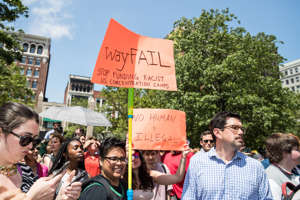 Slideshow by photo services
Protesters also engaged in chants of "Show me what democracy looks like! This is what democracy looks like," and "Hey Hey! Ho Ho! ICE contracts have got to go!" as musicians played drums and brass instruments. The demonstrators also chanted "What do we want? Justice! When do we want it? Now!" That chant was followed by "If we don't get it, shut it down!"
Several supporters of the walkout had gathered outside the office before the start of the demonstration, including Norah Dooley, a teacher from Brookline. She spent the time before the walkout painting messages on the Huntington Avenue sidewalk that said "No Kids In Cages" and "No Business w/ICE."
"This is a problem that needs to be amplified," Dooley said. "As a mother, the idea that I would have been ever separated from my children and that that would be called anything but inhumane is pretty tough."
Dooley acknowledged that some facilities on the southern border were opened by President Barack Obama, but blamed President Donald Trump for being on a "campaign to hate."
"This is a long standing problem, the one with the immigration, but treating human beings this way, is new. That's new, and that's Donald Trump," Dooley said.
Ride-hail driver Candice Woodson also joined the demonstrators.
"There's children being mistreated. They shouldn't even be there. It's illegal what they're doing," Woodson said. "Showing my support is all I can do."
Another attendee, writer Renée Greene, said "I've been crying for weeks wondering, when are we going to do something to help these children?"
News of the walkout had exploded internationally, drawing the support of progressive politicians such as Alexandria Ocasio-Cortez and Elizabeth Warren, as Wayfair's decision drew the ire of customers from across the country. And by Wednesday morning, the supportive Twitter account @wayfairwalkout had gained more than 20,000 followers.
Meanwhile, Wayfair cofounders Steve Conine and Niraj Shah wrote a note to employees saying they "care a great deal about humanitarian issues" and announcing the company would make a $100,000 donation to the American Red Cross to support its "effort to help those in dire need of basic necessities at the border."
"We believe strongly in the political process in our country and the power of individuals engaging in it to create change," the letter continued. "As we enter the next election cycle, the ability for everyone to contribute their views and be politically engaged is even more important."
The company confirmed that a letter had been sent but declined to comment further.
Last week, employees learned that Wayfair was planning to fulfill an order by BCFS, a government contractor that is operating camps at the border, for $200,000 of bedroom furniture.
"We believe that the current actions of the United States and their contractors at the Southern border do not represent an ethical business partnership Wayfair should choose to be a part of," more than 500 Wayfair employees wrote in a letter to leadership Friday. They asked Wayfair to cease business with BCFS and other contractors doing the same work, and also to establish a code of ethics for business-to-business sales.
Company executives wrote back to the employees Monday, saying they appreciated their "passion and commitment" but indicating that the sale would go through.
"It is our business to sell to any customer who is acting with the laws of the countries within we operate," the executives wrote in the unsigned letter.
BCFS made headlines last year as the operator of a tent city in Tornillo, Texas, where thousands of migrant children were detained; the camp became a symbol of the Trump administration's harsh treatment of unaccompanied children, with photos from above showing neat lines of children walking between rows of drab, industrial-style tents.
The furniture from Wayfair was destined for a 1,600-bed compound to detain unaccompanied children in Carizzo Springs, Texas. Lawyers who were allowed to visit another Texas facility detaining young migrants last week said the children, including three infants, were living in filthy conditions, without access to adequate food or water.
Management has indicated there will be no retaliation for employees who participate in the walkout.
Janelle Nanos, Travis Andersen, and Steve Annear of the Globe Staff and Globe Correspondents Allison Hagan and Aidan Ryan contributed to this story. Zoe Greenberg can be reached at zoe.greenberg@globe.com. Follow her on Twitter @zoegberg.