Weather Channel Reporter Roasted for Struggling During Hurricane While 2 People Easily Walk By

People
9/15/2018
A reporter for the Weather Channel went viral after a video shared online showed him struggling to maintain his balance during Hurricane Florence, even though two other people could be seen easily walking by him in the background.
In the video, which was taken in Wilmington, North Carolina, Mike Seidel can be seen repeatedly shifting his footing while bracing against the winds. Meanwhile, in the middle of the clip, two men can be seen casually walking around without any apparent difficulty.
"This is about as nasty as it's been," Seidel can be heard saying during the clip.
Wrote one social media user, "I like the Weather Channel. But look at this guy acting like the wind is about to blow him over as he rocks back and forth. Meanwhile, I guess he missed the guys walking behind him casually talking on their phones. OOPS!!"
I like the Weather Channel.But look at this guy acting like the wind is about to blow him over as he rocks back and forth.Meanwhile, I guess he missed the guys walking behind him casually talking on their phones.OOPS!!

I mean it's windy sure BUT...........#WalkAway pic.twitter.com/OPlio7VEWx

— 🇺🇸John #KAG🇺🇸🚂👊🐸 (@JohnCooper0610) September 14, 2018
Weather Channel dude: *about to be blown off his feet by the wind*

Two locals: *casually walking down the street taking cell phone vids*

I love you North Carolina pic.twitter.com/rEQtIupi5m

— Scott Coleman (@scottsalesforce) September 14, 2018
Weather Channel

This is a war zone I'm about to be blown away.....

wait who are those two guys walking in the background😂#FlorenceHurricane2018 pic.twitter.com/fIW6bcew1k

— Clinton Michael (@CM6142) September 15, 2018
And he Oscar goes to pic.twitter.com/KTuS6ar1cI

— 𝕶𝖆𝖙 𝕱𝖚𝖑𝖌𝖊𝖓𝖟 (@KatbeeFulgenz) September 14, 2018
RELATED: Florence, Now a Tropical Storm, Has Left 7 Dead and Nearly 1 Million Without Power
The Weather Channel went on to defend their reporter in a statement to PEOPLE.
"It's important to note that the two individuals in the background are walking on concrete, and Mike Seidel is trying to maintain his footing on wet grass, after reporting on-air until 1:00 a.m. ET this morning and is undoubtedly exhausted," a spokesperson wrote.
However, David Shuster, who was previously a news anchor for MSNBC, went on to share that he wasn't buying the explanation.
"I've stood on wet grass and concrete while reporting from hurricanes. The Weather Channel defense of their reporter is utter bull—-," he wrote on Twitter.
The Weather Channel did not immediately reply to PEOPLE's request for comment.
RELATED VIDEO: Hurricane Florence Weakened but Still Expected to Be Devastating as Some Refuse to Evacuate
The slow-moving storm — which began at sea as a Category 4 hurricane, made landfall as a Category 1 hurricane on Friday, and has since been downgraded to a tropical storm — is currently parked over eastern North Carolina, FEMA said in a press conference on Saturday morning.
CNN reported Saturday that Florence has wiped out power to about 950,000 customers throughout the Carolinas.
© Provided by TIME Inc.
RELATED: 'Thank God They Came' — Inside the Daring Rescues of Hurricane Florence
Florence's first two casualties were reported on Friday in Wilmington, North Carolina, when a tree fell through the roof of a home with a family of three inside at about 9:30 a.m., killing a mother and her 8-month-old infant. According to officials with the Wilmington Police Department, who confirmed the death in a statement to PEOPLE, the father was taken to the hospital with injuries.
One woman in Hampstead, North Carolina, died of a heart attack when first responders weren't able to reach her in time "because of all the downed trees in the roadway," Pender County public information officer Tammy Proctor told PEOPLE in a statement. "They were using a front-end loader to clear the roads. During that, a tree went into the windshield of that equipment."
Lenoir County Sheriff Ronnie Ingram said in a video update on the Lenoir County Emergency Services Facebook page on Friday that two people had died, both when they were outside in the rain. One was a 78-year-old male who was electrocuted in the rain as he tried to plug in his generator via two extension cords. Another was a 77-year-old man who suffered a cardiac arrest after he slipped and fell while trying to take care of his dogs.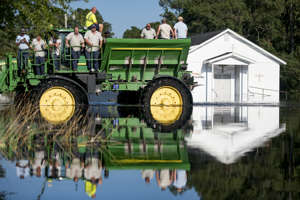 Slideshow by photo services
Meanwhile, Carteret County Director of Emergency Services Stephen Rea confirmed to PEOPLE that two people in Harkers Island, North Carolina had died on early Friday. Details were not immediately available.
RELATED: See the Most Powerful Photos as Hurricane Florence Slams North Carolina Coast
The National Weather Service reported on Saturday that a record 30.58 inches of rain was recorded in Swansboro, North Carolina — making it the most rain from a tropical cyclone. Those numbers are expected to rise throughout the day.
Forecasters are also anticipating landslides near the Appalachians, the National Weather Service reported.