Amazon rainforest fires: The truth behind the 'record-breaking' headlines

Newshub
8/22/2019
A viral photo claiming to prove the Amazon rainforest has been burning out-of-control for weeks was taken 30 years ago, it has emerged.
A tweet that's been shared nearly half-a-million times shows two images of the forest ablaze.
"The Amazon has been burning for 3 weeks, and I'm just now finding out because of the lack of media coverage," wrote Twitter user @tyswizzlee. 
The photo on the left was actually taken in 1989, Snopes reports, and can be seen in a 2007 Guardian article on deforestation of the South American forest. 
The image on the right isn't new either - it was used in an article published in 2012 by journal Nature, credited as a stock image. 
The tweet - and others sharing it on social media - has raised awareness of the Amazon's current fires, which are at 'record levels' - but only according to a single source, and only if you ignore every year before 2013.
Brazil's National Institute for Space Research (INPE) says there have been more than 72,000 individual blazes this year - up 80 percent on 2017 at the same time of year. But they've only been counting them since 2013.
Environmental scientist Dr Jonathan Foley shared a graph from environmental non-profit Mongabay showing how deforestation - whether through logging, fires or any other means - is actually well down on previous decades.
"The 'record' being broken is only since 2013," he noted on Twitter. "In fact, while this year is higher than recent years (and that's really worrisome!) it's lower than what we saw in the 80s and 90s."
Nasa said in a recent update on its site that "total fire activity in the Amazon basin was slightly below average in comparison to the past 15 years". 
"Though activity has been above average in Amazonas and to a lesser extent in Rondônia, it has been below average in Mato Grosso and Pará, according to the Global Fire Emissions Database."
A graph on the Global Fire Emissions Database suggests fire activity in Brazil is well below the peaks recorded between 2003 and 2006, and slightly below 2016, when there were "once-in-a-century" droughts, according to the US National Oceanic and Atmospheric Administration.
Fires are common in the Amazon at this time of year, and are usually over by the time the wet season starts in October.
"Many people use fire to maintain farmland and pastures or to clear land for other purposes. Typically, activity peaks in early September and mostly stops by November," Nasa said.
"There is nothing abnormal about the climate this year or the rainfall in the Amazon region, which is just a little below average," INPE researcher Alberto Setzer told Reuters.
"The dry season creates the favourable conditions for the use and spread of fire, but starting a fire is the work of humans, either deliberately or by accident."
Logging opens up the Amazon to the skies, letting heat in and humidity escape, also increasing the likelihood of natural fires, particularly with climate change encouraging droughts and heatwaves. Brazilian President Jair Bolsonaro has encouraged increased logging, but rejected blame for the current round of fires. 
Without evidence, he accused NGOs of setting the fires to make him look bad.
"I used to be called Captain Chainsaw. Now I am Nero, setting the Amazon aflame. But it is the season of the queimada."
Deforestation of the Amazon, through fires and logging, is proceeding at a far slower rate than it used to. Last year about 7900 square kilometres were lost - an area slightly larger than that covered by Auckland Council. In 2004, nearly 28,000 square kilometres were lost - about the size of Southland.
But with deforestation appearing to ramp up this year since Bolsonaro took power, there are fears the result could be the further destruction of the planet's lungs. 
Related Slideshow: Quotes from famous people about climate change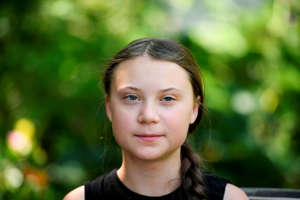 Newshub.