Chaos Grips Hong Kong's Airport as Police Clash with Protesters

The New York Times
8/13/2019
Video by The Associated Press
HONG KONG — Anti-government protesters clashed with Hong Kong riot police on Tuesday, crippling the airport for the second straight day and targeting a potent symbol of the city's position as a global center of commerce and finance that is essential to China.
The mass protests have forced the airport to suspend check-ins, creating long delays for passengers and forcing airlines to cancel hundreds of flights over the past two days. The disruptions were expected to continue through Wednesday.
[How the airport that symbolized Hong Kong's global stature became a hub of its unrest.]
The protests at the airport are deeply tactical, as the largely leaderless movement strikes at a vital economic artery. Hong Kong International Airport, which opened in 1998, a year after China reclaimed the territory from Britain, serves as a gateway to the rest of Asia. Sleek and well-run, the airport accommodates nearly 75 million passengers a year and handles more than 5.1 million metric tons of cargo.
Sign Up For the Morning Briefing Newsletter
The protesters are trying to intensify pressure on the government, which has refused to meet their demands. After earlier efforts to occupy local roads, shopping malls and parks failed to produce concessions, they decided to shift their efforts to a more global stage. At the airport, protesters have handed out pamphlets in different languages explaining their position.

Peter Tan, a 23-year-old student, said that protesters were sorry to inconvenience travelers, but that other tactics hadn't worked. "We want to spread the message to them so that they can spread the message to their country," he said. "We are trying to protect our rights and our city."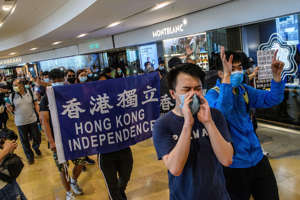 Slideshow by photo services
The clashes began late in the evening, after a group of demonstrators attacked a man they accused of being a mainland Chinese police officer impersonating a protester. As medics and the police tried to evacuate him in an ambulance, protesters blocked a road outside the departure hall.
Some officers in riot gear then began running after demonstrators, wrestling some to the ground. A group of protesters inside surrounded a police officer, taking his baton and beating him with it. They retreated after he pulled a gun, according to video footage and a police statement.
The Hong Kong government, in a statement, condemned the protesters' tactics, saying their "violent acts" at the airport "are outrageous and have overstepped the bottom line of a civilized society."
The disruptions are a direct affront to the Chinese leadership. The wave of protests began in June to oppose legislation that would have allowed extraditions to the mainland, where the courts are controlled by the Communist Party. Since then, they have evolved into a broader push to protect Hong Kong's autonomy and civil liberties, including a call for free elections that would be nonstarter for Beijing.
[Here's a guide to what prompted the Hong Kong protests and how they evolved.]
In recent days, China has taken an increasingly hard stance, warning protesters in strident terms to stand down or face consequences. Beijing has also ramped up its propaganda machine, portraying the demonstrators as violent gangsters whose activities are starting to look like terrorism.
President Trump said in a tweet on Tuesday that he had intelligence "that the Chinese government is moving troops to the border with Hong Kong." But it was unclear what information, if any, Mr. Trump had.
While Chinese security forces have recently conducted large-scale operations across the border from Hong Kong in Shenzhen, they appear mainly to be a nationalistic show of force. The possibility that China would send its military to restore order still looks remote.
The city's embattled leader, Carrie Lam, pleaded earlier on Tuesday for order after days of escalating street violence.
"The stability and well-being of seven million people are in jeopardy," Mrs. Lam said, her voice breaking slightly. "Take a minute to think about that. Look at our city, our home. Do we really want to push our home to the abyss where it will be smashed into pieces?"
In the news conference, Mrs. Lam was frequently interrupted by journalists who demanded an explanation for what protesters have called police misconduct. She looked more visibly emotional than she has at other recent public appearances.
"Will you apologize to the girl?" one reporter asked, referring to a woman who was hit in her right eye by a projectile during protests on Sunday. While the police have not confirmed the cause of her injury, the incident, widely reported by local news media, has helped galvanize protests at the airport.
"Why have you never condemned the police?" another journalist asked.
Toward the end of the briefing, Mrs. Lam said that police operations were not determined by "someone like myself, who is outside the police."
Local authorities have faced criticism from a broad cross-section of Hong Kong society for their use of force in the protests. During street clashes, the police have regularly fired tear gas, rubber bullets and bean bag rounds to disperse protesters, even in residential areas and crowded shopping districts.
On Sunday night, in addition to using tear gas in a train station, the police beat protesters and chased some down an escalator at another station. The authorities, for their part, accused protesters of attacking officers with bricks and gasoline bombs.
On Tuesday, the United Nations' human rights chief, Michelle Bachelet, said there was evidence that the Hong Kong police had violated international standards for the use of less-lethal weapons like tear gas. In a statement, she condemned violence in any form, urging authorities to act with restraint.
China's diplomatic mission in Geneva issued a testy rebuttal, expressing "deep dissatisfaction and firm opposition," saying the comments sent the wrong signal to "violent criminal offenders." It said Ms. Bachelet and the United Nations' human rights office should stop interfering in Hong Kong and China's domestic affairs.
Also on Tuesday, medical professionals held rallies at several local hospitals to protest against the police tactics and in solidarity with the woman who was hit in the eye on Sunday.
The rallies are a "direct response to what happened on Sunday," Dr. Alfred Wong, a cardiologist who works at Tuen Mun hospital in northwest Hong Kong, said at a gathering there that drew several hundred of his colleagues.
The disruptions at the airport have left some travelers frustrated and angry.
Maisa Sodebayashi, who is from Brazil and works in a car factory in Japan, said on Tuesday that while she understood the protesters were fighting for democracy, she also wanted to catch her flight to Rio de Janeiro. She had been stranded in the airport for about 24 hours.
"Honestly, I don't know what to do," Ms. Sodebayashi said, standing beside a customer service desk.
On Tuesday afternoon, thousands of demonstrators had occupied parts of the departure and arrival halls, with some using luggage trolleys to block travelers from reaching their gates. The Hong Kong Airport Authority later closed check-in services and advised all passengers to leave as soon as possible.
By early evening, some arriving flights were still scheduled, along with some departures, apparently for passengers who had managed to clear immigration before check-in closed. But Cathay Pacific Airways, Hong Kong's flagship carrier, told its customers to postpone "nonessential travel" out of the city for the rest of the day and on Wednesday.
The clashes at the airport began late in the evening when police vans arrived outside the departure hall, which was full of black-clad protesters. Some of the protesters obstructed the vans with makeshift blockades and threw plastic bottles at them.
As midnight neared, bands of protesters were still in the airport, while bewildered travelers, fresh off arriving flights, walked past them and into the sweltering night. The protest crowd later thinned, as did the police presence.
The police said in a statement issued just before dawn on Wednesday that they had arrested five people on charges of unlawful assembly, breach of peace, assault against police officers and possession of "offensive weapons." Two police officers had been injured, it said.
Much of the evening chaos at the airport centered on confrontations between protesters and the man accused of being a mainland Chinese police officer. The protesters pushed him to the ground, punching and kicking him, and he eventually fainted, prompting the ambulance evacuation. His identity could not be immediately confirmed.
Protesters also surrounded another man, bound his hands and feet, searched his belongings and punched him. Some accused him of being a "fake" reporter. He, too, was evacuated in an ambulance.
Hu Xijin, the editor in chief of The Global Times, a nationalist tabloid on the Chinese mainland, wrote in a Twitter post that the man, Fu Guohao, was one of his reporters. "This shows that they have lost their sense of reason," he later said of the protesters in a message to a New York Times reporter. "Hatred has muddled their minds."
In television footage of the incident, Mr. Fu can be heard telling his captors in Mandarin, the primary mainland Chinese dialect, that he supported the Hong Kong police.
"You can beat me up now," he said.
Reporting was contributed by Elsie Chen, Raymond Zhong, Austin Ramzy, Gillian Wong, Katherine Li, David Moll, Daniel Victor and Barbara Marcolini from Hong Kong; Nick Cumming-Bruce from Geneva; and Megan Specia from London.