Fact Check: Were Post Malone and Garand Thumb In Ukraine With Wagner Group?
Russia's gains in the war have stalled even further in the past few months, as Putin's troops fall back on territory captured in the east of Ukraine amid a persistent counteroffensive push by Kyiv's forces.
Failing to secure any tangible support around the globe, even from allies or neutrals, Putin is also feeling the heat at home. This week the Russian president faced claims that he was "hiding" from the mothers and wives of Russian soldiers, amid mounting civil opposition.
However, a photo posted on social media this week appeared to show a tandem of new superstar "fighters" in Post Malone and YouTuber Garand Thumb, with the caption purporting a connection between the U.S. celebrities and the Russian paramilitary Wagner Group.
The Claim
A tweet, posted on November 23, 2022, claimed a photo captured "Some of the first images we have of Frontline Wagner fighters that were freed from prison, note the Tattoos on the right man's face denoting that he spent time in a Far east prison in Siberia."
Some of the first images we have of Frontline Wagner fighters that were freed from prison, note the Tattoos on the right man's face denoting that he spent time in a Far east prison in Siberia. pic.twitter.com/UYvdcH6k1y

— krus🪖 (@krus_chiki) November 23, 2022
The Facts
In October 2022, The Wagner Group was reported to have recruited thousands of prisons to join its outfit. Olga Romanova, head of the prisoner advocacy group Russia Behind Bars, told Russian news outlet Agentstvo via Telegram that more than 20,000 Russian prisoners had been sent to fight Ukraine.
The news came amid Russia's ongoing struggles to bring new manpower to the frontlines after nearly nine months of conflict.
However, the photo shared on Twitter is taken out of context, perhaps as a joke. It does not depict Wagner fighters, nor is there evidence that it places Post Malone on the frontline alongside Russian mercenaries.
The picture is a press shot of Post Malone with YouTuber Garand Thumb (real name Michael Jones), a U.S. Air Force Veteran who has been posting videos on gun and military culture since May 2006.
The photo was posted on Garand Thumb's Twitter on November 22, 2022, with the caption "Post Thumb".
An Instagram post of the same image, on Garand Thumb's account, received more than 186,000 likes in less than 24 hours.
Garand Thumb told Newsweek that "It is in fact just a photo of me and Post Malone during a training event we put on for him in the United States."
This account also corresponds with Post Malone's tour schedule. The rapper has been touring stadiums across the U.S. since August 2022; his last performance was at the Crypto.com Arena in Los Angeles, California on November 16, 2022.
He is set to begin his international tour in December this year, launching in Riyadh, Saudi Arabia, according to his website.
Post Malone has supported pro-Ukrainian causes during the war, including hosting a charity Twitch stream for Project HOPE, which is described as a "global health & disaster relief org saving lives of children & families, providing aid to Ukraine, fighting COVID-19, & responding to global health crises and natural disasters."
The stream raised more than $58,000, $23,000 more than its set goal.
Post Malone also paid a tribute to Ukraine at a concert earlier this year.
He said: "So much love to Ukraine, so much love to everybody struggling and so much to everyone, literally f****** everybody."
While the news about the rapper is false, other celebrities have joined the Ukrainian military effort, including Odesa Oblast native boxer Vasiliy Lomachenko.
Former boxers Wladimir Klitschko and Vitali Klitschko (the latter of whom is the Mayor of Kyiv) also joined Ukraine's territorial defense at the start of the conflict, amid Russia's threat to take Kyiv.
By contrast, Russia has received little similar celebrity support. Action star Steven Seagal, a long-time supporter of Putin, was earlier this year subject of a false claim that he joined the Russian military in Ukraine, which was debunked by Newsweek.
Seagal was filmed in August 2022 allegedly preparing a documentary in the Donbas, in which he peddled Russian conspiracy theories. He now faces the possibility of U.S. sanctions for "perpetuating Russia's genocidal war in Ukraine."
Newsweek has contacted Garand Thumb's and Post Malone's representatives for comment.
The Ruling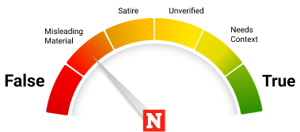 Misleading Material.
Although almost certainly meant as a joke, the photo is not of Wagner troops.
The picture was posted on YouTuber Garand Thumb's Twitter and Instagram with the caption "Post Thumb" in November 2022.
Garand Thumb confirmed the shoot took place in the U.S., which corresponds with Post Malone's recent domestic tour dates.
There is no other evidence that Post Malone and Garand Thumb were otherwise pictured in Ukraine or as part of a group of Russian paramilitaries.
FACT CHECK BY Newsweek's Fact Check team
Related Articles