How world leaders reacted to deadly Easter Sunday attacks on churches in Sri Lanka

The Boston Globe
4/21/2019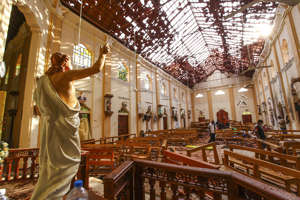 Slideshow by photo services
COLOMBO, Sri Lanka — The Archbishop of Colombo is calling for those responsible for the Easter Sunday blasts in Sri Lanka to be punished ''mercilessly.''
Cardinal Malcolm Ranjith called on Sri Lanka's government to launch a ''very impartial strong inquiry'' and to punish those found responsible ''mercilessly because only animals can behave like that." 
The series of blasts at three churches and three luxury hotels killed at least 138 people. It's the worst spout of violence in Sri Lanka since the South Asian country's bloody civil war ended a decade ago.
Prime Minister Ranil Wickremesinghe was meeting top military officials and tweeted earlier Sunday that ''the government is taking immediate steps to contain the situation.''
Meanwhile, the violence has drawn sympathies from around the world.
The archbishop of Paris and parishioners of fire-ravaged Notre Dame Cathedral are mourning the victims of the Easter Sunday attacks in Sri Lanka.
Archbishop Michel Aupetit tweeted: ''Why so much hate on this day when we celebrate love? On this Easter day, we are in communion with our murdered brethren of Sri Lanka.''
Aupetit celebrated Easter Mass for worshippers displaced from normal services at Notre Dame because of Monday's fire.
A soldier and several police guarded the building. It was unclear whether the extra security was linked to the Sri Lanka attack, but parishioner Monique Pigere said ''I understand why'' security is needed, lamenting the ''terrible'' news.
New Zealand Prime Minister Jacinda Ardern has condemned the ''devastating'' attacks.
In a statement, Ardern referred to the March 15 shootings at two mosques in the New Zealand city of Christchurch in which 50 died.
''New Zealand condemns all acts of terrorism and our resolve has only been strengthened by the attack on our soil,'' Ardern said. ''New Zealand rejects all forms of extremism and stands for freedom of religion and the right to worship safely.''
The New Zealand Ministry of Foreign Affairs and Trade says 115 New Zealanders are registered as being in Sri Lanka but more are likely to be there. There is no indication New Zealanders are among the victims.
European leaders also were expressing horror at the attacks.
German President Frank-Walter Steinmeier wrote in a message to his Sri Lankan counterpart that he was ''stunned and horrified'' by the ''cowardly terror attacks.'' Austrian Chancellor Sebastian Kurz wrote on Twitter that he was ''deeply shaken and concerned by (the) devious terrorist attacks.''
The head of the European Union's executive Commission, Jean-Claude Juncker, said he learned of the bombings ''with horror and sadness.''
British Prime Minister Teresa May has condemned what she called the ''truly appalling'' attacks.
May said on Twitter that ''The acts of violence against churches and hotels in Sri Lanka are truly appalling, and my deepest sympathies go out to all of those affected at this tragic time.''
She added, ''We must stand together to make sure that no one should ever have to (practice) their faith in fear.''
Three Gulf Arab nations have condemned the Easter Sunday bombings
Bahrain, Qatar and the United Arab Emirates all issued statements via their foreign ministries over the attack.
The UAE called upon ''the international community to close ranks and uproot the scourge of terrorism in order to ensure international peace and security.''
Qatar said it wanted to stress its ''its firm stance on rejecting violence and terrorism.''
Bahrain, meanwhile, said ''these acts of terrorism are incompatible with religious principles and human and moral values.''
Russian President Vladimir Putin has denounced the series of attacks on churches and hotels as ''cruel and cynical.''
In a telegram of condolences sent to his Sri Lankan counterpart, the Russian leader said Moscow remains a ''reliable partner of Sri Lanka in the fight against international terrorism.''
He added that the Russians ''share the grief of the relatives of those killed and wish a quick recovery to all those who were wounded'' after the blasts.
Putin voiced confidence that ''the perpetrators and the masterminds of such a cruel and cynical crime committed amid the Easter festivities will take the punishment they deserve.''
Turkish President Recep Tayyip Erdogan has condemned the Easter Sunday attacks.
In comments posted on Twitter, Erdogan offered his condolences to families of the victims and to the people of Sri Lanka.
Turkish Foreign Minister Mevlut Cavusoglu said: ''Regardless of the motive, the attack in Sri Lanka is the same as the traitorous attack in Christchurch: cowardly, barbaric and cruel.''