Live updates: Growing coronavirus quarantines upend life globally; Asian markets stabilize after Dow falls 3,000 points

The Washington Post
3/17/2020
Health departments in the United States on Monday reported the largest number of coronavirus-related deaths on any one day since the onset of the outbreak. As of Monday evening, officials had reported 18 people dead, bringing the nationwide total to 85, according to a Washington Post tally.
President Trump in a Monday news conference recommended that states with evidence of community transmission of the virus should close schools, as well as bars, restaurants, gyms and other gathering spots.
"It isn't an overreaction," Anthony S. Fauci, a leading member of the president's coronavirus task force, said of the recommendations released Monday. 
Subscribe to the Post Most newsletter: Today's most popular stories on The Washington Post
About 3,500 coronavirus cases have been reported in the United States, though experts suspect the true number is much higher.
Here are some other significant developments:
U.S. markets plunged, despite the Federal Reserve's emergency interest rate cut to zero.
President Trump told governors Monday that states should work on getting respirators and ventilators, and not wait for the federal government to provide them. The president's comment was confirmed by multiple officials briefed on the call to governors.
"When you look at the projections, there's every chance that we could be Italy," the U.S. surgeon general warned Monday. Widespread social distancing could help change that trajectory, he said.
The director general of the World Health Organization warned at a news conference there has not been an "urgent enough escalation" in testing, isolation and contact tracing.
France will begin a 15-day total lockdown, limiting the freedom of movement of citizens who are allowed to leave only to see doctors, buy food or walk to essential jobs.
Sign up for our coronavirus newsletter | Mapping the spread of the coronavirus | What you need to know about the virus | Post Reports: Your questions about coronavirus, answered | How has the outbreak disrupted your life? Share your experience with The Post 
3:08 AM: Trump announced Google was building a virus screening tool. Then someone had to build it.
Last week, a team of health science experts within Google parent Alphabet Inc. were exploring ways that software could help slow the spread of the coronavirus .
Then came the White House news conference, the California governor's endorsement, the scramble to build a disease screening website in three days — and on Monday, a crush of publicity around how the site failed to live up to expectations.
In a short period of time, a relatively obscure subsidiary of Alphabet called Verily has become a front-line player in the fight against a global pandemic.
President Trump's decree, during a Rose Garden briefing last Friday, that 1,700 engineers at Google were working on a coronavirus test-finding tool that would be ready in a few days sent executives at Verily into a panic, according to two people briefed on the episode.
He was referring to Verily. And they were nowhere close to launching such a tool.
Verily's rush to build a covid-19 screening tool on the fly underscored how tech companies have been forced to improvise to stay in Trump's good graces, despite the president's tendency to make false claims about their expansion plans, take credit for their research efforts and mix up the names of their CEOs.
Despite the White House's insistence on relying on the private sector for solutions, Verily's effort shows that Silicon Valley has no easy answers to a global health crisis that threatens to overwhelm U.S. hospitals with patients in the coming weeks.
By Douglas MacMillan, Heather Kelly, Elizabeth Dwoskin and Josh Dawsey
2:22 AM: New Zealand to deport two tourists after they violated quarantine
New Zealand will deport two visitors who entered the country from Southeast Asia and failed to follow orders to self-quarantine, local media reported Tuesday. Almost all visitors entering New Zealand from abroad are required to self-isolate for 14 days following their entry into the country.
Immigration official Stephen Vaughan called the tourists' behavior "completely irresponsible" and said it "will not be tolerated, which is why these individuals have been made liable for deportation," the New Zealand Herald reported Tuesday.
Vaughan said the two people are currently being held in forced quarantine and if they do not leave the country after that time they will be detained.
The newspaper reported that another visitor is facing similar consequences after she landed in the country and proceeded to a backpacking hostel rather than self-isolating.
The Herald reported that the woman indicated to officials she did not plan to self-quarantine and could soon be deported. Officials plan to check in on people who were forced into quarantine to ensure they are complying with government rules.
"There has been the odd person who has come through and perhaps expressed the view they weren't going to self-isolate, and they've been spoken to and convinced that it is the right thing to do," the newspaper quoted Ashley Bloomfield, director-general of health, as saying.
"We are also starting, from today, the spot checks on people who are self-isolating, just to help reassure us and other New Zealanders that people are doing the right thing."
By Siobhán O'Grady
2:17 AM: Trump calls on Americans to avoid gatherings as local officials order shutdowns
President Trump told Americans on Monday to avoid groups of 10 or more and refrain from eating in restaurants, marking what may be his most serious acknowledgement yet of the threat posed to the United States by the new coronavirus.
As millions of students stayed home from school, businesses and offices shut their doors and daily life came to a halt, Trump suggested at a news conference that the outbreak could last until July or August — just one day after he said the virus was under control.
As of late on Monday, more than 4,400 cases of the virus had been reported nationwide, including at least one patient in 49 states and the District of Columbia. At least 89 deaths had been confirmed, according to a Washington Post tally.
The ripple effects have been nothing short of striking: For the first time in a century, the Supreme Court postponed oral arguments. Even after the Federal Reserve said it was slashing interest rates to zero, stocks crashed to their worst single-day losses since 1987.
Governors and mayors announced their own sweeping measures to contain the virus, amid stalled testing and a warning from the surgeon general that the United States could face a situation similar to Italy, which has reported tens of thousands of cases.
Ohio ordered its polls not to open, and Puerto Rico said it would enforce a total shutdown of the island. In the San Francisco area, six counties ordered the area's more than 6.5 million residents to stay at home until at least April 7. The directive, the most drastic yet, goes into effect at 12:01 a.m. Pacific time (3:01 a.m. ET) on Tuesday.
Still, Trump told governors in a conference call that states must figure out how to obtain life-saving medical equipment by themselves. After the call, Trump went on Twitter to single out New York Gov. Andrew Cuomo (D) to "do more."
Cuomo soon shot back: "I have to do more? No — YOU have to do something! You're supposed to be the President."
By Teo Armus
1:14 AM: Hong Kong places all foreign arrivals under mandatory home quarantine, extends red travel alert to all countries
HONG KONG — Hong Kong on Tuesday announced mandatory 14-day self-quarantine for all foreign arrivals, as the Chinese territory said it would extend a travel alert to warn against nonessential travel to nearly all the planet.
A red outbound travel warning will be issued later Tuesday for all countries, Chief Executive Carrie Lam told reporters, except for mainland China, Taiwan and Macao. Mandatory quarantine arrangements have been in place for arrivals from mainland China since early February. The new restrictions will take effect from Thursday at midnight.
The Asian financial center experienced a surge in coronavirus cases in late January and early February, but has largely managed to bring the spread of the virus under control in the weeks since.
In recent days, though, Hong Kong has recorded a new uptick in cases, all of them imported from overseas. Of the 57 new cases in the past two weeks, 50 came from travelers arriving in Hong Kong from other countries, bringing the total in the city to 158 cases.
"We really need to preserve the results that we've achieved" in managing the virus, Lam said. New quarantine restrictions will not apply to Taiwan, the self-governing island which Beijing considers to be part of China.
Schools in Hong Kong have been closed since late January, but were slated to reopen in late April. Lam said Tuesday that timeline seems highly unlikely now, and that even if the situation were to stabilize, schools will open in phases. "This virus is a bit tricky, there's a lot of pre-symptomatic and asymptomatic cases in society," she said, urging continued vigilance.
By Shibani Mahtani
1:02 AM: South Korea's coronavirus success story underscores how the U.S. initially failed
There seems to be no shortage of grim tidings for those in the grip of the coronavirus pandemic. In the United States, public-health officials are bracing for cases of infection to skyrocket and hospitals to get overcrowded. The U.S. surgeon general, Jerome Adams, warned Monday that there's "every chance that we could be Italy" — a bleak analogy given the mounting death toll in Europe's worst-affected country.
But elsewhere there are greater signs of encouragement. Apart from China, South Korea was one of the worst-hit countries in the early stages of the coronavirus outbreak. But an aggressive response has made it one of the exemplars in the midst of the pandemic — thanks to its swift implementation of a mass-scale testing regime as well as its consistent, transparent messaging to the public throughout the arc of the crisis. On both counts in the initial months of the outbreak, the Trump administration fared poorly.
In South Korea, infections surged over a 10-day span in late February when a cluster of a few dozen cases mushroomed into more than 5,000. But rates of infection have slowed since the country snapped into action. Out of more than 8,000 confirmed cases of the virus, only 75 people have died so far — a fatality rate lower than the 3 percent average seen worldwide.
By Ishaan Tharoor
1:02 AM: Microsoft, Sephora among major stores to close or change their hours
The coronavirus outbreak is prompting more store closures and limited business hours in the United States, as public health officials warn against crowds and retail giants close their shops to contain the spread of the virus.
Dozens of retailers said earlier this week they would be closing , and more followed late on Monday and into Tuesday. Most companies said they are keeping their online stores open and compensating their hourly employees.
Here's a running list of stores that are closing or changing their hours:
The tech and software giant closed all stores around the world late on Monday until further notice.
The beauty retailer will be closing all of its stores starting Tuesday afternoon through April 3.
The wireless carrier is closing 80 percent of it stores nationwide. The remainder, which are distributed around the country, will operate on reduced schedules and only stay open for eight hours, generally from 10 a.m. to 6 p.m.
By Teo Armus
1:02 AM: China reports more imported than local infections as restrictions on travelers increase
HONG KONG — China again reported more imported than local cases of the virus, as fears mount that travelers entering the country from abroad could reignite an outbreak in the country. 

Chinese authorities reported 21 new infections in mainland China on Tuesday, and said 20 of them were recorded in people who had recently entered the country from abroad.
Reports of local cases have slowed dramatically in China in recent weeks, even in Hubei province, the once-epicenter of the crisis. But as the outbreak moved across the globe and China took drastic measures to try to control the spread of the virus, reported cases steadily ticked downward.
Authorities there are now imposing stringent measures on travelers entering from abroad, including forced quarantine.
By Siobhán O'Grady
1:01 AM: South Korea reports another slow day in new cases as recovery signs grow
South Korea reported 84 new cases of coronavirus on Tuesday, a relatively small number compared with earlier in its massive outbreak, adding to signs that the country — among the hardest hit initially — may be headed toward recovery.
Two people also died in the past day, bringing the country's total death toll to 81, according to the Korea Centers for Disease Control and Prevention.
Over the weekend, President Moon Jae-in's office declared some of the country's hardest-hit areas as "special disaster zones," which will allow the government to limit taxes on residents and pay for major recovery efforts.
By Siobhán O'Grady
11:26 AM: California allows local governments to halt evictions
California will allow local governments to stop evictions for renters and homeowners and protect against utility shut-offs, it said late Monday.
The order is meant to ensure that Californians are not punished for failing to keep up with their rents, mortgages and utility bills, Gov. Gavin Newsom (D) said, as the new coronavirus prompts many workers in the service industry or gig economy to lose substantial wages or lose their jobs entirely.
"People shouldn't lose or be forced out of their home because of the spread of COVID-19," Newsom said in a statement. "Over the next few weeks, everyone will have to make sacrifices — but a place to live shouldn't be one of them."
California was already grappling with soaring housing prices and one of the most severe homelessness crises in the country. While Newsom's order does not restrict a landlord's ability to recover overdue rent, it does ask that banks temporarily halt foreclosures and other evictions through the end of May.
Other jurisdictions have taken similar measures in recent days. New York state, Seattle and Boston have all imposed moratoriums on eviction proceedings.
11:01 PM: Ohio judge denies request to postpone the state's Tuesday primary
The coronavirus pandemic disrupted the 2020 presidential election as the Ohio governor announced late Monday that polls would not open "as a health emergency" despite a state judge's ruling that the election must go on.
"During this time when we face an unprecedented public health crisis, to conduct an election tomorrow would force poll workers and voters to place themselves at an unacceptable health risk of contracting coronavirus," Ohio Gov. Mike DeWine (R) said in a tweet. He also promised to push for a remedy through the courts "to extend voting options so that every voter who wants to vote will be granted that opportunity."
The announcement was sure to create more uncertainty as voters, poll workers and county election officials received yet another reversal regarding the fate of Tuesday's presidential primary, with voting set to begin at 6:30 a.m.
Earlier Monday, Franklin County Court of Common Pleas Judge Richard A. Frye rejected a temporary restraining order supported by DeWine to seek the delay, saying in a hearing late Monday that rescheduling the election would "set a terrible precedent."
"There are too many factors to balance in this uncharted territory," Frye said at a court hearing Monday evening.
Sign up for our daily Coronavirus Updates newsletter to track the outbreak. All stories linked in the newsletter are free to access.
By: Amy Gardner, Elise Viebeck and Isaac Stanley-Becker
10:47 PM: Food banks are seeing volunteers disappear and supplies evaporate
Advocates say they are growing increasingly concerned about how they are going to get food to millions of vulnerable Americans, especially in coronavirus "hot spots" across the country — and the many more facing food insecurity because of business closures and market upheaval.
The widening coronavirus outbreak is making it difficult for food banks, food pantries and soup kitchens to fulfill their missions at a time when they are needed the most, advocates say.
The challenges are greatest in the areas that have been hardest hit by the virus and where there has been a significant decrease in food donations from grocery stores.
Advocates also say that as grocery stores grapple with panic-buying and empty shelves, their focus has shifted to restocking and adequately sanitizing grocery surfaces.
"Not in my lifetime has there been a precedent for this," said Catherine D'Amato, chief executive of the Greater Boston Food Bank, which is servicing two coronavirus hot spots, Boston and Pittsfield, Mass. "We know how to respond to fires, earthquakes, floods. There isn't a playbook for this."
Read the full story here.
By: Laura Reiley
9:50 PM: FDA says states no longer need federal approval to roll out coronavirus tests developed in their labs
The Food and Drug Administration, in an effort to speed the development of coronavirus tests, on Monday announced that states could approve tests developed in laboratories in their states — without getting FDA authorization.
The step is similar to the latitude the agency granted the New York State Department of Health last week to regulate labs on coronavirus tests. The states would be the de facto regulator, and the labs would not have to interact with the FDA.
The agency also said commercial manufacturers developing coronavirus tests could distribute the tests for use before getting FDA approval, called emergency use authorization — another significant loosening of the rules.
Those companies would be required to validate the tests before selling them and to submit an application for authorization within 15 days. That flexibility is similar to the Feb. 29 guidance that the agency granted high-complexity laboratories in academic medical centers and other entities wanting to develop their own tests.
"This action demonstrates the FDA's ability to pivot and adapt as the situation warrants in light of a public health emergency," said FDA Commissioner Stephen Hahn on a telephone briefing with reporters.
Jeffrey Shuren, director of the FDA's Center for Devices and Radiological Health, acknowledged that the new latitude for commercial manufacturers is a trade-off that carries some risks — because the tests won't be reviewed by the FDA before being used on patients. But, he said, "That trade-off is worth doing," given the onslaught of the coronavirus.
The Trump administration has been under fire for its failure to provide widespread testing early in the pandemic — at a time when some experts say the outbreak might have been contained.
The agency also provided recommendations for companies developing serological tests for use during the outbreak. Such tests measure the amount of antibodies or proteins present in the blood when the body is responding to a specific infection.
The agency also announced that it issued emergency use authorizations to coronavirus tests by two more big manufacturers, Hologic and LabCorp.
By: Laurie McGinley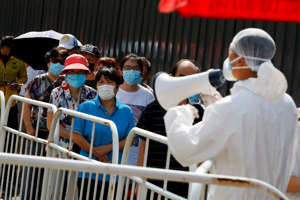 Slideshow by photo services
9:12 PM: Hundreds of Brazilian inmates escape prison after new coronavirus restrictions
RIO DE JANEIRO — Hundreds of inmates staged an extraordinary escape from prisons across southeastern Brazil on Monday evening following the imposition of tighter restrictions to try to limit the potential of a coronavirus outbreak behind bars.
Video on social media showed streams of men running out of a prison complex in Sao Paulo state as a siren blared and someone yelled, "Come back on Monday!"
The dramatic scene, staggered across multiple prisons, came soon after the state prison system suspended what are known as "saidinhas" — short-term prison recesses meant to help prisoners re-acclimate to society before their release.
The Brazilian newspaper Folha de Sao Paulo reported that at least 1,000 prisoners escaped. It wasn't yet clear Monday evening how the prisoners were sprung loose.
The escape again highlighted the profound dysfunction of the Brazilian prison system. Overcrowded, uncontrolled and extraordinarily violent, prisons in Brazil are often where the state appears to wield the least control, rather than the most.
Now, the novel coronavirus has become another complicating factor. As the virus moves across Latin America's largest country, authorities are taking increasingly aggressive measures to curb its rise — from canceling events and school classes to encouraging people to stay away from the beach.
So far, however, every day has brought more cases than the one before. On Monday, the count reached 234, the most in Latin America.
By: Terrence McCoy 
9:00 PM: San Francisco Bay area leaders call on 6 million residents to stay home to avoid coronavirus spread
SANTA BARBARA, Calif. — The leaders of six San Francisco Bay area counties, among the hardest hit by the widening coronavirus outbreak, called on more than 6 million California residents Monday to stay at home for weeks unless faced with an emergency.
The move, among the strictest steps taken nationally to isolate individuals from exposure to the virus, will be enforced by local sheriff's offices and police departments, though authorities said they would tread lightly at the outset as people become accustomed to remaining in and around their homes. Authorities referred to it as a remain-in-place order, something more commonly associated with earthquakes and mass shootings, although people will be allowed to leave home for groceries, to walk their dogs and to carry out other routine activities.
The directive is scheduled to take effect overnight and remain in place until at least April 7, and it covers six of the nine counties comprising the Bay Area, including Santa Clara County in the center of Silicon Valley, which has the most reported infections of any of the state's 58 counties. The county has reported nearly 140 cases of infection and two deaths.
Read more here.
By: Scott Wilson
8:22 PM: VA's mission to see civilian patients in times of crisis vanishes from its website
The Department of Veterans Affairs serves as a backup health system in times of crisis, but its mission statement for this crucial role was deleted from the agency's website Friday as many in the country grew concerned that the coronavirus could overload civilian hospitals.
VA has deployed medical resources to help veterans and civilians alike in the wake of hurricanes, floods and tornadoes. It even sent mental health clinicians to Orlando after the Pulse nightclub massacre in 2016.
But references to VA's "fourth mission" — absorbing the work of civilian hospitals in the event they overflow with patients — were scrubbed from VA's emergency management website and replaced with information that doesn't reference the mission at all.
"It's Orwellian," Kristofer Goldsmith, the associate director of policy and government affairs of Vietnam Veterans of America, said Monday. "It's really frightening to see the administration apparently trying to purge that from America's memory," he told The Washington Post.
The emergency management office's mission statement was updated in May 2019, agency spokeswoman Christina Mandreucci said, though she did not provide the text of that update. A Google cache of the page from Friday shows a mission statement that has remained nearly unchanged in cached pages stretching from 2014 to March 2019.
Bob Fetzer, a union representative of thousands of VA employees in four states, said he is concerned with what he is hearing from the field. "VA is unprepared. Health and safety officers are totally out of the loop throughout VA," he said.
Read more here.
By: Alex Horton
7:55 PM: U.S. sees largest one-day increase in death toll since the outbreak began
Health departments in the United States on Monday reported the largest number of coronavirus-related deaths on any one day since the onset of the outbreak.
Agencies in 10 states reported at least one new fatality and four states — South Carolina, Indiana, Kentucky and Nevada — counted their first deaths, more evidence of the pandemic's escalating effects across the country.
As of Monday evening, officials had reported 18 people dead, bringing the nationwide total to 85, according to a Washington Post tally.
A plurality of the newly reported deaths were found in Kings County, Wash., the epicenter of the U.S. outbreak, where the death toll is now 43 — far more than any other county or state has reported. Most of those deaths are connected to the Life Care Center nursing home in Kirkland.
It's the 17th straight day a death has been reported somewhere in the United States. At first, the numbers increased slowly, by two or three people, but by Friday, agencies were reporting more than half a dozen per day.
A complete picture of fatal cases — how many people have died and the identities of the victims — is not yet possible. Testing has lagged, obscuring the number of positive coronavirus cases, and health departments are wary of releasing information about patients, because of privacy laws. But at least one thing is clear: The numbers will continue to rise.
At a news conference at the State Capitol on Monday in Indianapolis, Indiana State Health Commissioner Kris Box could have been speaking for leaders everywhere, saying, "We expect to see more of this across the state of Indiana in the coming days and weeks."
By: Reis Thebault
7:13 PM: Fox News suddenly changes its tune about coronavirus
For weeks, some of Fox News's most popular hosts downplayed the threat of the coronavirus, characterizing it as a conspiracy by media organizations and Democrats to undermine President Trump.
Fox News personalities such as Sean Hannity and Laura In­graham had accused the news media of whipping up "mass hysteria" and being "panic pushers." Fox Business host Trish Regan called the alleged media-Democratic alliance "yet another attempt to impeach the president."
But that was then.
With Trump's declaration on Friday that the virus constitutes a national emergency, the tone on Fox News has quickly shifted.
On his program on Friday, Hannity — the most watched figure on cable news — lauded the president's handling of what the host is now, belatedly, referring to as a "crisis."
"Tonight, we are witnessing what will be a massive paradigm shift in the future of disease control and prevention," he said. "A bold, new precedent is being set, the world will once again benefit greatly from America's leadership. . . . The federal government, state governments, private businesses, top hospitals all coming together, under the president's leadership, to stem the tide of the coronavirus."
In all, it has been a complicated dance for a network whose hosts are among Trump's most ardent boosters and defenders — an increasingly challenging position to take as the crisis grew in magnitude.
Read more about Fox News's recent shift.
By: Paul Farhi and Sarah Ellison
6:58 PM: How long will social distancing for coronavirus have to last? Depends on these factors.
How long are we going to have to keep this up — the closed schools, working from home, six feet of personal space and zombie-apocalypse empty streets?
It's the question now preoccupying America as millions of parents silently scream it into the void amid the coronavirus pandemic. But it is an especially hard one for science to answer.
The best and most honest reply, according to epidemiologists and virologists, is simple: "It depends." It's not going to be over anytime soon — a matter of months rather than weeks.
Read more about the key factors that will determine just how long it may take.
By: William Wan
6:10 PM: White House officials teleworking amid coronavirus outbreak
Two senior White House officials are working remotely after coming in close proximity with those who have been diagnosed with the coronavirus or are being tested for it.
White House press secretary Stephanie Grisham said in an email Monday that she had been working from home after being in contact with a delegation from Brazil at President Trump's personal club in South Florida earlier this month.
Nestor Forster, the Brazilian ambassador to the United States who dined with Trump on March 7 at Mar-a-Lago, has tested positive for the virus, as has Fabio Wajngarten, the communications secretary for Brazilian President Jair Bolsonaro, who had posed for a photo with Trump.
"With my proximity to the President it's better to be safe than sorry," Grisham said, adding she will follow the advice of White House medical staff when gauging her return.
Outgoing acting chief of staff Mick Mulvaney is also teleworking "out of an abundance of caution" after being in contact with an individual whose coronavirus test result is pending, Grisham said.
By: Seung Min Kim
5:50 PM: Much of ACT and SAT college entrance testing halted because of coronavirus
Two nationwide sessions of college entrance testing in April and May were canceled Monday as fallout from the coronavirus crisis continued to hammer all aspects of the educational system.
The ACT session scheduled for April 4 was postponed till June 13, and the SAT session scheduled for May 2 was canceled outright. These actions were certain to disrupt the plans of high school juniors throughout the country who are preparing to apply to college.
Most selective colleges and universities require applicants to submit an ACT or SAT score, although there is a growing movement among colleges to make the tests optional.
The College Board, which owns the SAT, said it would issue refunds to those who registered for the May 2 session and to those who had signed up for the March 14 exam but were unable to take it last weekend because of numerous abrupt site closures.
By: Nick Anderson
5:43 PM: U.K. government takes heat for resisting coronavirus lockdowns
Britain's neighbors in Europe are shutting down the continent to confront the spread of the novel coronavirus: locking pubs in Dublin and cafes in Paris, closing schools, enacting curfews, and enforcing quarantines not seen since the Middle Ages.
But in London, the bars are still open. Most schools, museums and restaurants are, too.
Unlike Italy, France and Spain, the British government hasn't stopped anyone from going anywhere. Prime Minister Boris Johnson on Monday encouraged Britons to avoid "all non-essential contact with others," to work from home and to self-isolate if they are elderly. That prompted some London theaters to begin to go dark. But all the measures are voluntary.
In its go-slow approach, Johnson's government is charting its own course, resisting the tough restrictions adopted on the continent.
The timing is everything, said Chief Science Officer Patrick Vallance, who has expressed concern about "behavioral fatigue."
"If you tell people to stay at home too early," Vallance has said, "they get fed up with this at the very point where you need them to stay at home."
But a growing chorus of critics, in politics and science, want more done now.
"We are losing time," warned Devi Sridhar, chair of global public health at the University of Edinburgh's medical school. She called the British government's plan "worrying and possibly reckless."
By: William Booth
5:42 PM: After Trump's call with governors, Hogan: 'There's a problem' with ventilators
Maryland Gov. Larry Hogan (R), chair of the National Governors Association, said leaders nationwide are scrambling to secure ventilators to ready hospitals for a surge of coronavirus patients, but there are simply not enough available.
"There is a problem with supplies and ventilators," Hogan said. "There's not enough supplies. The states don't have enough. The federal government doesn't have enough. They're not getting distributed fast enough. And that's a problem for all of us."
He added some of the nation's governors "were pretty upset" that President Trump told governors to seek their own supply of ventilators during a conference call Monday, but he thought the crisis was too big for "Monday-morning quarterbacking. We just have to get this stuff done," he said. "There's a lot of tension and frustration (among) the governors."
Virginia Gov. Ralph Northam (D) also said he was surprised when Trump told the governors this morning that they should see if they can find ventilators on their own, comparing the fight to a war in which "we just heard our leader say you all need to get your own weapons at the state level to defeat this. But that's the way it's been."
By: Erin Cox and Gregory S. Schneider
5:36 PM: MLB's Opening Day is being pushed back indefinitely
Major League Baseball acknowledged the obvious reality Monday: Opening Day will not be arriving any time soon.
Commissioner Rob Manfred conducted a conference call Monday with team owners, and MLB later released a statement saying Opening Day would be delayed well beyond the April 9 date that it had originally targeted when it first announced a delay last week.
On Sunday, the CDC recommended halting public gatherings of more than 50 people, including sporting events, for eight weeks — which MLB cited in saying, "The opening of the 2020 regular season will be pushed back in accordance with that guidance."
The new, though nebulous timeline — with the second week of May now representing a best-case scenario — makes it increasingly unlikely that baseball can contest an entire, 162-game regular season in 2020.
Unlike the NBA or NHL, baseball's calendar is hemmed in by the winter weather in the northern half of the country, which would make it impossible to extend the postseason schedule deep into November or beyond — barring an unprecedented move to a neutral-site stadium with a dome or in a warmer climate.
In 1995, the last time Opening Day was delayed, teams conducted a condensed, two-week spring training before launching into an abbreviated, 144-game season.
The main difference this time is that spring training was already well underway when the stoppage came, with pitchers well into their arm-strengthening buildup of innings. Baseball would probably need to conduct an abbreviated, "second" spring training for the sake of pitchers before its rescheduled Opening Day.
By: Dave Sheinin
5:35 PM: Sen. Menendez says Pompeo hasn't been clear about infections among State Department staff
The top Democrat on the Senate Foreign Relations Committee sharply criticized Secretary of State Mike Pompeo's response to the coronavirus outbreak, accusing his department of failing to provide information about employees who were infected with the virus or plans to prevent the spread of covid-19 to other U.S. officials.
Sen. Robert Menendez (N.J.) said in a letter addressed to Pompeo that he was concerned about media reports that "at least one State Department embassy employee tested positive for COVID-19 — and may well have worked during a period when they were infectious."
He says he has learned that the department knows about "multiple positive cases in several different locations" but "failed to provide any guidance for employees or their families on COVID-19."
The State Department did not immediately respond to a request for comment.
On Saturday, the State Department authorized the departure of U.S. personnel and family members at embassies and consulates around the world "who have been medically determined to be at higher risk or a poor outcome if exposed to COVID-19." The order allows qualifying diplomats to return to Washington in the coming days and weeks.
The department has also implemented a telework schedule that involves a smaller number of employees coming in to work on a rotating basis.
Menendez's letter accuses Pompeo of failing to "provide any details" about "the Department's response to protect personnel and the surrounding community."
In the letter, Menendez also asks Pompeo to appear before the Foreign Relations Committee to answer questions.
By: John Hudson
5:16 PM: Amazon plans to hire 100,000 U.S. warehouse workers to deal with coronavirus-created demand
Amazon plans to hire 100,000 new warehouse workers in the United States to alleviate the strain its global network faces as shoppers turn to it while avoiding physical retailers during the rapid spread of the novel coronavirus.
The e-commerce giant has acknowledged in recent days that it's out of stock of some household staples, and that deliveries are taking longer than usual.
In addition to hiring new staff to address that challenge, Amazon will raise pay through April by $2 an hour in the United States, £2 an hour in the United Kingdom, and approximately €2 an hour in parts of the European Union. The company said that will cost $350 million.
"Getting a priority item to your doorstep is vital as communities practice social-distancing, particularly for the elderly and others with underlying health issues," Amazon senior vice president of worldwide operations Dave Clark wrote in a blog post Monday. "We are seeing a significant increase in demand, which means our labor needs are unprecedented for this time of year."
And Clark made a specific pitch to workers who have been furloughed by current employers who have suspended operations.
"We want those people to know we welcome them on our teams until things return to normal and their past employer is able to bring them back," Clark wrote.
The additional jobs come amid growing concern about low-wage workers not having job protections to stay at home or get health coverage if they come down with the virus. Amazon has said that people who can't work at home, such as warehouse workers, will receive "all of their usual paid and unpaid time-off benefits." And any employees diagnosed with the coronavirus or placed into quarantine will receive up to two weeks of pay, the company said.
Amazon CEO and founder Jeff Bezos owns The Washington Post.
Sign up for our daily Coronavirus Updates newsletter to track the outbreak. All stories linked in the newsletter are free to access.
By: Jay Greene
5:02 PM: Health officials unsure of how coronavirus affects pregnant women
One of the many unknowns about the coronavirus is how it affects pregnant women. There have been no guidelines on this from the U.S. government, even as Britain said Monday that pregnancy is considered an underlying health condition, which would make pregnant women part of the at-risk population.
The Trump administration isn't ready to go there yet. Speaking from the White House on Monday, coronavirus response coordinator Deborah Birx said there is little data when it comes to the effects on pregnant women. The only thing U.S. health officials know, she said, is that China reported that nine pregnant women infected with the coronavirus in their last trimester "delivered healthy children and they themselves were healthy and recovered. That is our total sample size."
That means health officials do not know how this virus may affect women in early pregnancy, a potentially more vulnerable time for the fetus, nor whether newborns can contract covid-19 from their mothers. Nor did the officials say if they know whether coronavirus can pass from a mother's breastmilk to her baby. Birx said she will try to get more data from European countries racked by the coronavirus. For now, there are no additional regulations in place for pregnant women in the United States.
By: Amber Phillips
4:54 PM: Employee in FAA office overseeing dozens of international airlines tests positive, spurring Chicago-area closure
An employee in the Federal Aviation Administration office responsible for overseeing United Express and other airlines at O'Hare International Airport tested positive for the coronavirus, according to an internal FAA emergency alert Monday.
As a result, an FAA office near O'Hare that performs safety and maintenance inspections has been closed "until further notice as a precaution due to secondary exposure" to the infected worker, according to the alert.
The employee who tested positive works at the FAA's Chicago Certificate Management Office, the alert said. Employees in that office perform inspections on Air Wisconsin Airlines, which operates as United Express and also has crews based at Washington Dulles International Airport and in Milwaukee and Columbia, S.C.
The office in Des Plaines, Ill., also oversees more than 50 foreign airlines, including those flying from O'Hare, Chicago Midway International and Chicago Rockford International, and airports in Milwaukee; South Bend, Ind.; and Gary, Ind., according to the FAA.
Spokesmen for United Airlines and Air Wisconsin Airlines did not immediately respond to questions about whether their employees may have had contact with the infected individual and if they are being quarantined or monitored.
The FAA alert said its Flight Standards District Office, which is also in the Des Plaines facility and has aviation safety inspectors, maintenance inspectors, managers and technicians working to make sure planes and airline operations are safe, was shut down, and its employees will telework.
An FAA spokesman did not immediately respond to questions about whether other agency employees have been tested or quarantined in connection with the case or what work it is doing to trace contacts with the infected employee.
By: Michael Laris
4:43 PM: Coronavirus cases in Pakistan spike to more than 180
KABUL — A sudden spike in coronavirus cases in Pakistan, due partly to religious travelers returning from visits to Iran, has brought the number of confirmed infections nationwide to 184, health officials said Monday. The number rose from 150, after doubling from the previous reported number of 76.
On Monday, health officials in Khyber Pakhtunkhwa province reported 15 confirmed cases, most of whom they said had come from Iran. In southwest Balochistan province, which borders Iran, 10 positive cases have been reported. A second case was confirmed Monday in Punjab province, as well as five in Gilgit Baltistan and two in the capital, Islamabad.
More than half of the country's confirmed cases are in Sindh province. Officials there ordered all schools closed until the end of May and established a screening center for arrivals at Karachi International Airport and a pandemic emergency care center with 2,000 beds in Sukkur city, where many cases have been reported.
Nationwide, authorities have imposed a ban on large public gatherings or rallies. All government workers have been urged to wear masks and avoid unnecessary visits to public offices.
There were reports that some Islamic clerics in Pakistan had issued decrees opposing quarantines on religious grounds, but officials from the National Council of Islamic Ideology rejected this stance, telling a news conference that Islam contains clear instructions to follow medical directives to protect against diseases.
Iran has reported nearly 15,000 coronavirus cases and more than 800 deaths. Pakistan, with a population of 208 million, is 90 percent Muslim, and Pakistani minority Shiites regularly travel to Iran to visit Shiite shrines.
By: Pamela Constable
4:42 PM: Merkel says U.S. coronavirus vaccine issue 'resolved,' investor says Trump reached out
BERLIN — German Chancellor Angela Merkel on Monday said that the furor surrounding reports of U.S. attempts to secure exclusive rights to a coronavirus vaccine from a German firm was "resolved," while the company's main investor said it was President Trump who personally tried to clinch a deal.
Her comments followed a report in a German newspaper, which said that the Trump administration had offered large sums to CureVac to secure a vaccine — but one exclusively for the United States. CureVac has repeatedly denied that there was an offer and says it "rejects all allegations in the press."
However, Merkel said that the issue had not been raised during a video conference call with Trump and other Group of Seven leaders Monday as the German "government took care of it very early on." The chancellor did not provide any other details.
In an interview with Germany's Sport 1 radio Monday, Dietmar Hopp, the German billionaire who holds an 80 percent stake in CureVac said it was Trump who "spoke to the company."
"They immediately informed me and asked what I thought of it," he said. "For me, it goes without saying, it cannot be that a German company develops the vaccine and it is used exclusively in the U.S.A."
Following Sunday's Welt am Sonntag report, a White House official said aides were unaware of any offer from Trump to CureVac. The official, who was not authorized to discuss the matter by name cautioned, however, that Trump often has private conversations of which his staff is not aware.
CureVac chief executive Daniel Menichella met with Trump and Vice President Pence earlier this month to discuss a coronavirus vaccine.
"CureVac has not received from the US government or related entities an offer before, during and since the Task Force meeting in the White House," the company tweeted Monday.
Sign up for our daily Coronavirus Updates newsletter to track the outbreak. All stories linked in the newsletter are free to access.
By: Loveday Morris and Luisa Beck
4:29 PM: D.C., Maryland restaurants, bars must shut down as Virginia reports 2nd coronavirus death
Maryland and the District on Monday ordered the closure of all bars and restaurants except for delivery service, as the number of reported novel coronavirus cases in the Washington region sailed past 100 and Virginia reported its second fatality.
"I will make whatever decisions and take whatever actions necessary to save the lives of Marylanders," Gov. Larry Hogan (R) said in Annapolis. Officials said the closures — which include health clubs and gyms and in Maryland start at 5 p.m. Monday — will be fully enforced.
"We're not fooling around anymore," Hogan said.
D.C. Mayor Muriel E. Bowser (D) said all restaurants and bars in the nation's capital must close for on-site service beginning at 10 p.m. Monday. "You may not dine in or visit the bar at those establishments," Bowser said.
The second death in the region from the virus was a man from York County, Va., who was in his 70s and died of respiratory failure in a hospital, officials said. The first fatality was a man in his 70s from nearby James City County who died Saturday, also of respiratory failure.
By: Antonio Olivo, Ovetta Wiggins and Hannah Natanson
4:23 PM: France orders 15-day lockdown to stop spread of coronavirus
PARIS — French President Emmanuel Macron announced Monday evening the imposition of a total lockdown of at least 15 days to stop the spread of the novel coronavirus.
The lockdown will begin Tuesday at noon and will severely limit the freedom of movement throughout the country. People will be allowed to leave their homes only to purchase food, see doctors and to walk to work if their jobs require it.
But Macron reiterated an earlier call for all businesses to embrace telecommuting as much as possible.
"It's the only way to protect vulnerable people," Macron said, noting that French citizens had ignored a previous government announcement, continuing to congregate in parks and crowded markets over the weekend.
His announcement also included a European decision to close the borders of the European Union for 30 days, which will entail the suspension of all nonessential travel into the European Union and even within its own borders, among its 26 member states. But French nationals abroad will be able to reenter their country during this temporary closure, Macron said.
The lockdown period, which may be extended, will also include a generous package of state subsidies to mitigate some of the damages to the French economy soon to come.
France will defer tax and social charges, suspend utility bills throughout the lockdown and a state guarantee of up to 300 billion euros ($335 billion) will be put in place to protect small businesses.
Macron, often criticized for seeming aloof and pro-big business, announced that no business — however small — would be allowed to fail because of the coronavirus shutdown.
"No business, whatever its size, will be left at risk of bankruptcy," Macron said. "No Frenchwoman and no Frenchman will be left without resources."
The French government already ordered the closure of all nonessential businesses, including restaurants, cafes and movie theaters, starting midnight Saturday.
By: James McAuley
4:21 PM: CDC confirms first case in one of its employees
The Centers for Disease Control and Prevention said Monday that it has confirmed the first coronavirus case in an employee of the 11,000-person agency.
"This individual is in good condition and is isolated to prevent spread of infection to others," the CDC said in a statement. "Our best wishes go to the employee for a rapid and full recovery."
The agency said the employee was not involved in the covid-19 response and has not been in their CDC workplace since March 6. At that time, the person was asymptomatic, according to the agency.
"After developing symptoms, the individual took the appropriate action and stayed home," the CDC said.
The CDC did not elaborate on the person's case, saying it wanted to respect the employee's privacy.
Staffers from the employee's unit are working from home while the office undergoes a "deep cleaning," according to the agency. The CDC is informing other employees who may have been exposed and "taking swift measures to mitigate the spread of the virus."
By: Derek Hawkins
3:57 PM: Trump says outbreak could last months and gatherings should be limited to 10 people
Trump said Monday that the novel coronavirus outbreak in the United States could last until July or August.
"People are talking about July, August, something like that … could be longer than that," Trump said one day after he said the virus was under control.
The president also said he is not planning a nationwide curfew, despite earlier reports that the administration may implement it.
"We haven't really determined to do that at all and hopefully we won't have to," Trump said. "It's a step we can take but hopefully we won't."
He told reporters "we were all surprised" by the advent of the infection that has spread from China across the globe. The president had a sober tone and seemed to have dropped a lot of the bravado he has employed when discussing the gravity of the pandemic. He said he had told one of his sons, who asked how bad the situation really is, that "It's bad, it's bad. But we are hopefully going to be a best case, not a worst case."
Trump also announced new coronavirus guidelines at the start of Monday's news conference, including calling for Americans to home-school their children when possible and avoid discretionary travel, eating in restaurants and bars, and groups of more than 10 people.
The guidelines came less than 24 hours after the CDC urged people to avoid gatherings of more than 50.
Sign up for our daily Coronavirus Updates newsletter to track the outbreak. All stories linked in the newsletter are free to access.
By: JM Rieger and Anne Gearan
3:54 PM: 'Hemorrhaging poll workers by the hour,' Florida asks sheriff's deputies to help manage voting booths
In Pasco County, north of Tampa, Supervisor of Elections Brian Corley said he is working to draft sheriff's deputies, school district workers and county employees to fill in for poll workers Tuesday who are afraid to work because of the coronavirus — and cautioned people who are sick should not vote in person.
"This is the only time you'll hear me discourage voting," Corley said. "But if you're sick, don't come to the polls." He said he doesn't want poll workers or other voters put in danger.
Corley said voters can ask someone to pick up a mail-in ballot for them at the supervisor of elections office and have it returned to the office by 7 p.m., when polls close.
"There is an alternative," Corley said. "I strongly urge that they not go to the polls if they're not feeling well."
Corley is among election officials in the four states slated to hold primaries Tuesday who frantically are trying to backfill their pool of workers. His office usually employs 1,000 poll workers, many of whom are retirement age.
By Monday morning, 150 said they would not be coming in — and he said he expects more to drop out.
"They just flat-out told me, 'I don't want to do this, I'm not comfortable possibly putting myself in danger,'" Corley said.
He said he has asked other county agencies to ask their employees to volunteer to fill in for poll workers.
"I reached out to our county administrator and the sheriff, and also the school supervisor, and I said, 'We're hemorrhaging poll workers by the hour, and we need your help,'" Corley said Monday.
Paul Lux, supervisor of elections in Okaloosa County in Florida's Panhandle, said he heard from four more poll workers Monday morning that they won't report for work Tuesday, and he expects the number to rise.
Lux also said he ordered the closure of a voting location inside an assisted living facility that serves only its residents after Gov. Ron DeSantis (R) on Sunday night banned visitors to such facilities. Lux plans to distribute ballots to the residents of the facility and then have an election official collect them in person.
By: Lori Rozsa and Amy Gardner
3:46 PM: More countries restrict entry to non-citizens
Days after President Trump announced restrictions on entry to the United States to noncitizens and nonresidents in a bid to stop the import of the novel coronavirus, a number of other nations have announced similar measures.
Canada's Justin Trudeau pledged Monday to ban entry to noncitizens and nonresidents, while Chilean President Sebastián Piñera also announced Monday that Chile would close its borders to foreigners starting Wednesday.
Russia announced that similar restrictions on entry to noncitizens would be in place from March 18 to May 1, and the European nations that make up the 26-country visa-free Schengen zone are also expected to announce similar measures later Monday, according to the Financial Times.
The spread of the arrival bans on foreign nationals, though often temporary and with large exemptions, are unprecedented in the modern era.
However, they reflect growing concern about countries' abilities to contain their own coronavirus outbreaks and the fear that more cases of the virus may be imported from travelers, stretching health systems further.
By: Adam Taylor
3:44 PM: Coronavirus has even prompted cancellation of flights to the North Pole
The effects of the coronavirus pandemic reached the North Pole this week, when organizers of the biggest Arctic expedition in history canceled survey flights in response to new travel restrictions aimed at fighting the virus.
The flights were slated to depart the Svalbard archipelago, located between Norway and the North Pole, in March and April as part of the Multidisciplinary drifting Observatory for the Study of Arctic Climate (MOSAiC), a 13-month, 17-nation effort to document climate change at the top of the globe. They would be supporting scientists on board the research vessel Polarstern, which has been drifting with the Arctic ice pack since last fall.
Last week Norway announced travelers from non-Nordic countries who do not hold a residence permit would be barred from entering the area or subjected to a 14-day quarantine.
"The highly unusual situation at the moment leaves us no choice" but to cancel, said Andreas Herber, a climate scientist at the Alfred Wegener Institute and coordinator of the MOSAiC airborne campaigns.
The start of the airborne campaign already had been pushed back after one participating researcher tested positive for coronavirus. That scientist and anyone who attended a training session with the scientist were placed under quarantine. But the virus will continue to pose challenges to the rest of the expedition, particularly an April crew exchange that also was set to depart from Svalbard. Participants may have to allot extra time in Norway to allow for two weeks of isolation.
The introduction of the virus to the Polarstern, which carries about five dozen people at a time, could be catastrophic. The ship is hundreds of miles from the nearest land, and rescue efforts can be delayed by storms. But organizers say all crew members will be tested for the virus before leaving their homes and before departing from Norway. The Polarstern also is equipped with a quarantine ward.
By: Sarah Kaplan
3:27 PM: San Francisco Bay area, Washington state and Pennsylvania announce sweeping shutdowns
The San Francisco Bay area will join at least two states and Puerto Rico in declaring statewide shutdowns amid the escalating public health crisis from the virus that causes covid-19.
On Monday afternoon, officials in six San Francisco area counties are expected to announce an order for all residents to "shelter in place" for the next three weeks. The shutdown will take effect at 12:01 a.m. Tuesday in San Francisco, Santa Clara, San Mateo, Marin, Contra Costa and Alameda counties and last until at least April 7.
News of the Bay Area lockdown preceded the official announcement after a local TV station published the alert early, the San Francisco Chronicle reported. At the center of the U.S. coronavirus outbreak in Washington state, Gov. Jay Inslee (D) announced similarly sweeping closures Monday, telling residents to treat the next two weeks as a quarantine.
While more than a dozen states have ordered bars and restaurants closed for dine-in service, Washington's shutdown affects virtually all businesses — from gyms to nail salons — exempting only a handful of the essential service providers, like grocery stores, banks and pharmacies.
"For the next several weeks, normal is not in our game plan," Inslee warned during a Monday news conference.
In Pennsylvania, Gov. Tom Wolf (D) expanded an existing four-county shutdown to the entire state, ordering all nonessential businesses to close.
Broad closures that will bring most of the northeast to a standstill were similarly announced Monday for New York, New Jersey and Connecticut; New Jersey's closure includes a daily curfew of 8 p.m. to 5 a.m.
None of the shutdowns in the continental U.S. are as severe yet as measures Puerto Rico issued early Monday when the governor announced a total shutdown of the island. During the lockdown, residents may only leave their homes between 5 a.m. and 9 p.m. for essential reasons like grocery shopping and medical visits. Those who flout the lockdown order may be subject to a fine of up to $5,000 or six months in jail.
Sign up for our daily Coronavirus Updates newsletter to track the outbreak. All stories linked in the newsletter are free to access.
By: Kim Bellware
3:25 PM: Statue of Liberty closed, along with at least 10 other National Park Service sites
The Trump administration closed the Statue of Liberty National Monument and Ellis Island on Monday in response to the coronavirus outbreak, adding it to at least 10 sites that were shuttered in Washington and in California's Golden Gate National Recreation Area over the weekend.
One of the most popular attractions in the National Park Service, the Statue of Liberty gets about 3.5 million visitors a year.
According to the Park Service website, visitors are now barred from sites such as the Washington Monument and Ford's Theatre National Historic Site in Washington as well as Alcatraz Island and Muir Woods National Monument in California.
"The health and safety of people working at and entering Liberty and Ellis Islands is our number one priority," said a statement issued by the Park Service, a division of the Interior Department. "The park is working with the NPS Office of Public Health, U.S. Public Health Service, and state and local authorities to closely monitor the outbreak of respiratory illness caused by the novel coronavirus."
Officials have not determined a date to reopen the sites.
By: Darryl Fears
3:18 PM: G-7 leaders hint at more economic stimulus action after a virtual summit
Leaders of the Group of Seven economic bloc agreed Monday to increase cooperation and coordination to confront the coronavirus outbreak, including coordination among central banks. The pandemic "poses major risks for the world economy," a statement from the group said.
They pledged to use "the full range of instruments, including monetary and fiscal measures, as well as targeted actions," an apparent reference to further stimulus measures to offset the economic slowdown caused by shuttered businesses, canceled travel and lower productivity. "We resolve to coordinate measures and do whatever it takes, using all policy tools, to achieve strong growth in the G-7 economies, and to safeguard against downside risks," they said.
The leaders of the United States, Canada, Britain, France, Germany, Italy and Japan met by teleconference Monday morning, at the request of French President Emmanuel Macron.
"While current challenges may require national emergency measures, we remain committed to the stability of the global economy," the statement said.
They agreed to accelerate efforts to strengthen health systems, provide supplies and seek a vaccine.
"We also ask our central banks to continue to coordinate to provide the necessary monetary measures in order to support economic and financial stability, and to promote recovery and growth," the statement said.
By: Anne Gearan
3:03 PM: Boris Johnson advises Britons to avoid 'contact with others,' but does not close down pubs, clubs or theaters
LONDON — Bowing to pressure to do more to confront the spread of coronavirus — and saying the time is now right for these measures — Prime Minister Boris Johnson advised Britons on Monday to avoid "all nonessential contact with others," meaning stay away from pubs, clubs and theaters.
The prime minister said people over 70 years old should avoid unnecessary social contact. He said those who can should work from home. The new cautions came as government "advice" to its citizens. All the measures are voluntary. Johnson and his scientific advisers have come under growing criticism for not taking tougher measures to fight the contagion.
Unlike Italy, Spain and France, Johnson did not order pubs, gyms, restaurants or theaters closed. Instead, he said people should avoid them.
Johnson said for now schools will remain open. The prime minister said citizens should avoid nonessential travel, but did not announce any travel restrictions.
Johnson said that Britain is approaching the "fast growth" phase of the growth curve for new infections and that the number of cases are doubling every five days. He warned the threat is "particularly serious" in London, which is several weeks ahead of the rest of Britain in terms of the spread of the virus.
Sign up for our daily Coronavirus Updates newsletter to track the outbreak. All stories linked in the newsletter are free to access.
By: William Booth
2:56 PM: Italy announces 349 new deaths from coronavirus, pushing death toll over 2,000
The Italian government announced 349 new deaths from the novel coronavirus on Monday, pushing the total death toll from the outbreak to 2,158.
More than half of Italy's dead have died in the past five days, though Monday's number was a drop from Sunday's announcement of 368 new deaths.
Italy has the largest number of confirmed cases of the novel coronavirus and deaths from the outbreak outside China. Due to an unprecedented lockdown across the country, funerals are sparsely attended.
As of Monday, the total number of those in the country who have contracted the disease is 27,980, of whom 2,749 have recovered.
Speaking to reporters, Emergency Commissioner and Civil Protection Chief Angelo Borrelli pointed to falling numbers in the hard-hit region of Lombardy as a positive sign.
"The trend is downward, let's register this fact," Borrelli said, according to the Ansa news agency.
By: Adam Taylor
2:39 PM: Germany announces country-wide closures
BERLIN — German Chancellor Angela Merkel on Monday outlined the country's plan to stop the spread of the coronavirus, including the closure of bars, restrictions on restaurant opening hours and the banning of religious services.
Nightclubs, theaters, museums, brothels, casinos, cinemas, swimming pools and gyms will all be closed, she said, adding the guidelines had been agreed to by all of Germany's federal states. Gatherings in churches, mosques, synagogues or any other places of worship will be banned.
"These rules are going to change our daily lives," she said.
The directive did not include recommendations to close schools and universities, though many states have already done so. In those that remain open, people who have been in high-risk areas abroad or in Germany in the last 14 days were asked not to attend. Visits to hospitals and nursing homes will be restricted, Merkel said, and restaurants will only be able to open between 6 a.m. and 6 p.m.
As of Sunday, 4,838 people in Germany had tested positive for the coronavirus, according to the Robert Koch Institute, and 12 people had died.
Merkel stressed that closures were only partial, and some businesses would stay open including grocery stores, weekly markets, gas stations, drugstores, banks, post offices, newsagents, laundromats and hardware and pet stores.
By: Louisa Loveluck and Luisa Beck
2:29 PM: Trump to governors: Work on getting your own respirators
President Trump said during a conference call with the nation's governors Monday morning that states should not rely on federal officials to provide respirators to aid those diagnosed with the coronavirus.
Instead, states should try to work on obtaining respirators, ventilators and other equipment on their own, according to two officials briefed on the call who spoke on the condition of anonymity to discuss the private teleconference.
The administration, particularly Vice President Pence, has been in regular contact with governors as states work to stem the pandemic that has claimed more than 60 lives in the United States, most of them in Washington state. More than 3,700 cases have been reported.
Trump tweeted Monday afternoon that he "just had a very good tele-conference with the Nations's Governors" and that it "went very well." But he singled out one particular state executive, calling on Gov. Andrew M. Cuomo (D-N.Y.) to "'do more.' "
Cuomo shot back via Twitter: "I have to do more? No — YOU have to do something! You're supposed to be the President."
The call with governors was first reported by the New York Times.
Sign up for our daily Coronavirus Updates newsletter to track the outbreak. All stories linked in the newsletter are free to access.
By: Seung Min Kim, Josh Dawsey and Erin Cox
2:05 PM: Canada shuts borders to noncitizens, bars those with coronavirus symptoms from flights
Canadian Prime Minister Justin Trudeau announced Monday that Canada would shut its borders to noncitizens as part of a series of measures designed to protect the country from the novel coronavirus outbreak.
Limited exemptions from the entry ban would be made to permanent residents, immediate families of citizens, air crews, diplomats and "at this time" U.S. citizens, Trudeau said. Airlines will receive directions to prohibit all passengers with symptoms of coronavirus from boarding a plane, even if they are Canadian citizens.
"I know this news will spark concern among Canadians traveling abroad. I want to assure you that our government will not leave you unsupported," Trudeau said, adding that the Canadian government would step in to help those who cannot travel.
From Wednesday, only four Canadian airports would allow international flights: Toronto Pearson, Montreal Trudeau, Vancouver International and Calgary International.
The Canadian leader said that the measures would be "far-reaching" but that they would save lives. "Exceptional circumstances calling for exceptional measures," Trudeau said.
Trudeau was speaking from Rideau Cottage, a government residence in Ottawa, where he has been under self-isolation since his wife, Sophie, was confirmed as having the novel coronavirus on Thursday.
By: Adam Taylor
1:49 PM: 'Stealth transmission' responsible for vast majority of cases, study says
The explosive spread of the coronavirus in Wuhan, China, was driven by people whose disease was never diagnosed, a new study has found, suggesting that people with symptoms so mild that they may not have known they were sick unwittingly spread disease in China and ultimately around the world.
Jeffrey Shaman, an infectious-disease expert at Columbia University who co-wrote the study, estimated that the true number of infections worldwide is larger than what has been reported. Given that there have been 169,000 confirmed cases in more than 150 countries, he said, more than 1 million people may be infected with the novel coronavirus globally.
The prevalence of "stealth transmission," Shaman said, underscores the need for social distancing. When even healthy-seeming people can transmit the virus, the safest thing to do is to stay away.
Shaman's study, published Monday in the journal Science, modeled the spread of the disease at its origin in Wuhan based on epidemiological research and mobile phone data.
Early in the epidemic, it suggests, there were six people with undocumented infections for every confirmed case of the disease. These cases were about half as infectious as the diagnosed ones, but because there were so many of them, they were behind at least two-thirds of documented infections, the researchers said.
After China imposed travel restrictions and ramped up testing on Jan. 23, the ratio of documented to undocumented cases flipped, Shaman said, so that about 60 percent of people carrying the virus were diagnosed. The spread of the virus in mainland China peaked a few weeks later. Now the number of new cases reported daily is down from thousands to tens.
"A radical increase in the identification and isolation of currently undocumented infections would be needed to fully control" the novel coronavirus, the study says.
Sign up for our daily Coronavirus Updates newsletter to track the outbreak. All stories linked in the newsletter are free to access.
By: Sarah Kaplan
1:37 PM: Cuba to allow U.K. cruise ship with coronavirus cases to dock
The Cuban government said Monday it would allow a British cruise ship with confirmed novel coronavirus cases to dock so that passengers can be evacuated.
Bruno Rodríguez, Cuba's foreign minister, wrote on Twitter that the decision was made "in response to [a] health emergency that might put the life of sick persons at risk."
At least five people have tested positive for the coronavirus aboard the MS Braemar, according to owner Fred Olsen Cruise Lines, though others have reported symptoms.
Twenty-two guests and 21 crew members are in isolation, after displaying influenza-like symptoms, Fred Olsen said in a statement Monday. The ship carries a total of 682 passengers and 381 crew members.
The MS Braemar had been anchored in the Bahamas, where it is flagged, since Saturday, but the local government and other Caribbean nations had refused to let the passengers leave.
"This decision is based on consideration for the protection of the health and safety of the Bahamian people and residents of The Bahamas," the Bahamas Ministry of Transport said in a statement.
Once the passengers arrive in Cuba, they will "immediately and safely [be] flown back to U.K.," Rodríguez said Monday.
Fred Olsen Cruise Lines has canceled all cruises until May 23, citing the "ongoing situation with COVID-19," the disease caused by the novel coronavirus, "multiple port closures and the recent government advisory for cruise travel."
By: Adam Taylor
1:15 PM: WHO says virus testing is 'backbone' of response and nations must screen more people
The director general of the World Health Organization said Monday that governments aren't doing enough to curb the spread of the novel coronavirus.
Tedros Adhanom Ghebreyesus acknowledged the rapid escalation of social-distancing measures and cancellations of large gatherings but said global efforts are still lacking.
"We have not seen an urgent enough escalation in testing, isolation and contact tracing, which is the backbone of the response," he said at a news conference.
Tedros noted that social distancing, hand-washing and coughing into one's elbow are helpful tactics to combat spread but noted that those actions aren't adequate on their own to extinguish the pandemic. He urged countries to increase their testing and isolation methods to truly make a difference.
"As I keep saying, countries need to take a more comprehensive approach," he said, emphasizing the need to break chains of transmission. "You cannot fight a fire blindfolded, and we cannot stop this pandemic if we don't know who is infected."
Tedros said the WHO is concerned about low-income countries and areas with a high HIV prevalence or malnourished children, and he warned against hoarding goods.
"This is the defining global health crisis of our time," he said. "The days, weeks and months ahead will be a test of our resolve, a test of our trust in science and a test of solidarity."
By: Lateshia Beachum
1:15 PM: The Verily online test-finding tool is live, and limited
A much hyped online tool from a Google sister company for finding and booking coronavirus tests went live Sunday night, after days of confusion about its scope and questions about how much it could actually help as local, state and federal officials scramble to ramp up testing in the United States.
To start, the Verily service is available only to people living in San Mateo County or Santa Clara County, both in the San Francisco Bay area. The site says only U.S. residents 18 and older who speak English can find coronavirus testing through this service. (More than 50 percent of Santa Clara County residents speak a language other than English at home, according to the last census.)
The process begins with a yes-no question: Are you experiencing severe symptoms? If not, it will ask about your age and location before revealing that you need to log in with a Google account to find out whether you qualify for in-person testing.
Verily's site will not make appointments for people who are experiencing severe symptoms — it recommends anyone with shortness of breath, a fever or other "concerning symptoms" seek medical care instead. The idea is to take some pressure off hospitals and health departments by directing people with noncritical issues directly to a testing site.
If you are well enough to get a test and willing to log in with a Google account, you have to sign an authorization form and answer more questions before being added to a queue. The company says all appointments require a callback to schedule an appointment, and if the schedule is full for the day, users might get a call the following day.
As of Monday morning, the site was not allowing anyone to log in and try to book an appointment and was showing a page that said, "Sorry, we are unable to schedule more appointments at this time."
"In these first few days of this pilot, we expect appointment availability to be limited as we stand up operations and that testing capacity will increase in the days to come," Verily said in a statement.
Sign up for our daily Coronavirus Updates newsletter to track the outbreak. All stories linked in the newsletter are free to access.
By: Heather Kelly
12:57 PM: Federal guidance to flight attendants: Avoid public transit, order room service to avoid virus
The Federal Aviation Administration and the Centers for Disease Control and Prevention have issued guidance to flight attendants and pilots as coronavirus infections soar and demand for air travel plummets.
Flight attendants and pilots should not take public transportation between the airport and their hotel during layovers, the guidance said, and should stay in their rooms and get food delivered rather than going to restaurants. And they should take their own temperature twice a day while on the job.
The measures are meant to protect crew members from contracting or spreading the virus through air travel, according to an FAA safety alert provided to operators Thursday.
Crews based or operating in the United States should follow the recommendations "to ensure crewmembers do not work while symptomatic, regardless of crewmembers' places of residence or flight itineraries," it said.
Airlines should arrange to transport their crews between the airports and hotels "aboard private ground transport that has been sanitized in advance," the guidance said. "Advise your crews to avoid public transportation unless it is an emergency."
It said companies should also make sure hotel rooms are sanitized. If room service or delivery is not an option, attendants should eat in the hotel, the guidance said, or, if that is not possible, eat somewhere close by and stay six feet away from others.
Crew members should immediately tell their airlines if they had a fever, cough or trouble breathing while working a flight, the guidance said, and the airlines should notify the CDC. The employees should not work again until they are cleared by public and occupational health officials, it says.
Workers who appear healthy but have "high-risk exposures" to the virus, including time spent with someone sick or caring for someone with a confirmed case of the virus, "may also need to be excluded from work."
The airlines, the guidance said, "may choose to exceed these recommendations based on their own policies."
By: Michael Laris
12:39 PM: Seoul hospital installs 'telephone booth' coronavirus testing facility
As the coronavirus spreads globally, South Korea has emerged as one of the models for rapid testing and response to the outbreak.
Although the country has one of the highest rates of infection, more than 8,000 cases as of Monday, it also has one of the highest rates of testing. As The Washington Post reported Friday, "more than 10,000 tests have been administered each day" since the virus spiked in the southern city of Daegu at the end of February.
From drive-through tests, hospitals and local clinics, the tests are largely free and readily available. Now, the Associated Press reports, the Yang Ji General Hospital in Seoul is adding another layer of testing for South Koreans.
Testing booths installed in the parking lot are designed to eliminate direct contact between medical workers and patients with symptoms.
Patients entering the booth are separated by plastic from the medical workers standing outside, who are then able to use gloves attached to the booth to interact with the patients.
"Physicians and nurses stand outside the booth, so there is no direct contact between the patients and medical staff," said Kim Sang-il, president of the department of oncology and hematology at the hospital.
"Once a patient is done with the virus check, we disinfect the booth and let it ventilate for a sufficient amount of time before a new patient enters the booth," he said.
Sign up for our daily Coronavirus Updates newsletter to track the outbreak. All stories linked in the newsletter are free to access.
By: Jason Aldag
12:36 PM: Duterte issues 'enhanced community quarantine' for more than half of population
MANILA — President Rodrigo Duterte on Monday declared a state of "enhanced community quarantine" across Luzon, the largest island in the Philippines, halting public transportation and limiting business operations.
This new order, to prevent the spread of the coronavirus, will run from Tuesday to April 12. Cabinet officials later announced the details of these restrictions: strict home quarantine; the suspension of mass public transport; limited land, sea and air travel; and work from home arrangements. Only private businesses related to food, medicine, banks and telecommunications will be allowed to operate.
Presidential spokesman Salvador Panelo also made the announcement, with fewer details, hours ahead of Duterte's address, resulting in panic and confusion.
People rushed to buy food and supplies, and broadcaster ABS-CBN reported commuters were prevented from going in and out of Manila. One video showed people running across the border after police gave them only 30 minutes to pass — even as curfew was not in place and Duterte had not announced the enhanced quarantine.
The "soft" lockdown of the capital region of Metro Manila began Sunday, with widely reported inefficiencies in its implementation — from a lack of coordination among government agencies to the lack of equipment for front-line workers at checkpoints.
Critics of Duterte, who is most known for a bloody war on drugs that has left thousands dead, raised concerns about possible human rights violations under this setup. Duterte insisted that enhanced quarantine was not equivalent to martial law, but warned that anyone who disobeyed the military and police could be arrested.
"Just follow [them]," he said, "and we don't have a problem."
The Philippines has 142 reported cases of the novel coronavirus and 12 deaths.
By: Regine Cabato
12:35 PM: Signs of supply-chain disruptions mount in Europe as more E.U. members restrict border traffic
BERLIN — Signs of supply-chain disruptions mounted Monday across Europe, a day after the E.U warned that coronavirus fallout could affect logistics networks.
French multinational automobile manufacturer PSA — which produces the Peugeot, DS, Opel, Citroën and Vauxhall brands — said Monday that it was closing European factories this week. In a statement, the company cited an acceleration in the spread of the virus, "supply disruptions from major suppliers, as well as the brutal decline in the automobile markets."
Other carmakers — including Fiat Chrysler and Renault-Nissan — have curtailed production at some factories. Meanwhile, the Financial Times reported Monday that German carmaker Volkswagen may similarly be forced to curb output at some plants, amid the disruption of supply chains from Italy and Spain. The governments of both countries have introduced nationwide lockdowns.
"We now see a lot of challenges in the supply chain," a VW spokesman told the Financial Times. "Things are getting more complicated and the situation is changing rapidly."
Hungary became the latest country to announce such measures Monday, following larger nations such as Germany. The latter announced new border controls along some frontiers Sunday, even though it exempted goods.
The moves came despite warnings from European Commission President Ursula von der Leyen, who urged member states Sunday to refrain from unilateral action.
"We need to keep goods flowing across Europe without obstacles," she said. "Thousands of bus and truck drivers are stranded at internal borders on parking lots, creating more health risks and disrupting our supply chains."
Supply chain disruptions may hit some economies more severely than others.
In Germany, a country that heavily depends on its export industry, the Economy Ministry said it was working under the assumption that supply chain disruptions with other countries would cause havoc until at least the third quarter of the year, according to Reuters.
By: Rick Noack
12:22 PM: USAID head to resign amid coronavirus pandemic
The head of the U.S. Agency for International Development, the nation's premier arm for administering humanitarian aid abroad, will step down next month amid a snowballing pandemic.
Mark Green said his resignation, submitted to President Trump in a letter Sunday, does not stem from any dissatisfaction with the administration's response to the coronavirus outbreak.
"They're not related at all," Green said in a telephone interview about his departure from USAID, where he has been the administrator for 2½ years.
But his departure leaves the administration with one less experienced hand to help coordinate a worldwide response to the most serious crisis to confront the Trump White House. That could have broader implications if the hot spot shifts from Europe, where USAID is less active, to regions where the agency is more entrenched, such as Africa and Southeast Asia.
Sign up for our daily Coronavirus Updates newsletter to track the outbreak. All stories linked in the newsletter are free to access.
By: Carol Morello
12:21 PM: U.S. states, Puerto Rico begin implementing strict confines on public life
Several U.S. states and officials in Puerto Rico have announced a host of limitations on public life that are the most strict the nation has seen in the ongoing battle against the coronavirus pandemic.
Puerto Rico Gov. Wanda Vázquez Garced announced a total shutdown of the island Monday, allowing residents to leave their homes between 5 a.m. and 9 p.m. only for essential reasons, including medical appointments and grocery shopping.
The severe restrictions also come with penalties for scofflaws: a fine of up to $5,000 or six months in jail for those who violate the order.
The governors of Connecticut, New Jersey, New York and Rhode Island on Monday announced new closures that would affect restaurants, bars and, in some cases, spaces such as casinos and gyms, and are turning the Centers for Disease Control and Prevention's Sunday night recommendation to suspend gatherings of more than 50 people into state-level mandates.
In New Jersey, Gov. Phil Murphy (D) announced a statewide curfew Monday in effect between 8 p.m. and 5 a.m., and is expected to announce statewide school closures later in the day.
In a joint news conference, Murphy and the governors of Connecticut and New York announced that all three states would shut down bars, movie theaters, gyms, casinos and restaurants except for delivery by 8 p.m. Monday until further notice. Gatherings of more than 50 people are also banned for the time being.
Pursuing new but less restrictive measures, Rhode Island Gov. Giana Raimondo (D) said that all bars and coffee shops in the state would shut down Tuesday and remain closed for two weeks and that the measure would be reevaluated after March 30. Restaurant dining rooms also would close, although establishments could continue takeout and delivery operations. Raimondo also banned gatherings of more than 25 people.
Kentucky and Indiana followed suit shortly after. Kentucky Gov. Andy Beshear (D) ordered bars and restaurants to close to dine-in service by 5 p.m. Monday until further notice. Indiana Gov. Joseph Holcomb (R) announced similar closings to dine-in service from restaurants, bars and nightclubs, though he did not specify when the closures would be implemented or how long they would last, the Indianapolis Star reports.
Louisiana Gov. John Bel Edwards (D) issued a similar command Monday that will be effective midnight Tuesday until a tentative reopen date of April 13. Pennsylvania Gov. Tom Wolf (D) issued a statewide shutdown for nonessential businesses that will take place for two weeks, SpotLight PA reported.
The new closures and restrictions come less than a day after such states as Illinois, Massachusetts, Ohio and Washington mandated closures or restrictions on bars and restaurants.
By: Kim Bellware, Katie Mettler and Lateshia Beachum
12:12 PM: How long will we continue social distancing? It depends, scientists say, but start thinking in months, not weeks.
How long are we going to have to keep this up? The closed schools, work from home, six feet of personal space and zombie-apocalypse empty streets.
It's the question that millions of parents are silently screaming into the void, and it's an especially tough one for science to answer. The best and most honest reply, experts say, is simply: "It depends." (But think months, rather than weeks.)
It depends when U.S. cases finally reach their peak. It took two months for the coronavirus outbreak in China to peak. It took South Korea about half a month. The number of cases in Italy is still climbing in scary fashion.
In the United States, however, we don't even know the actual number of cases because of limited testing. Even after our peak, we are very likely to need to persist with some drastic measures to help keep the virus at bay.
There could be second or third waves of outbreaks. Some actions — such as isolating those infected, obsessive hand-washing — may have to continue until we have a working vaccine (in 12 to 18 months, hopefully). And then there are several key-but-unknown characteristics about how this virus behaves that will influence how this all plays out.
Sign up for our daily Coronavirus Updates newsletter to track the outbreak. All stories linked in the newsletter are free to access.
By: William Wan
12:03 PM: 'It is okay to be scared,' Norwegian prime minister tells children
Norwegian Prime Minister Erna Solberg and other high-ranking officials held an unusual news conference on Monday, answering questions for children about the coronavirus pandemic.
The aim of the news conference, organized in conjunction with the children's television channel NRK Super and the children's paper Aftenposten Junior, was to reassure Norway's young, Solberg said.
"It is okay to be scared when so many things happen at the same time," she said, according to a translation from Reuters.
Norway has more than 1,200 confirmed cases of the novel coronavirus. Solberg invoked emergency powers to shut down schools and kindergartens as well as close airports and ports to foreign travelers.
Children had been asked to submit questions before the news conference. Some asked how long they would be out of school, whether the coronavirus could infect animals, and why one child had to cancel their birthday party.
"You can still celebrate your birthday with a friend, or be a little extra creative and celebrate it with friends over FaceTime or on Minecraft," said Kjell Ingolf Ropstad, Norway's minister for children, family and church affairs.
One child asked whether Solberg was embarrassed by a video that showed her going to shake the hand of a colleague shortly after advising Norwegians to avoid physical contact.
"Yes," the prime minister said. "And I think everyone should watch that video."
By: Adam Taylor
11:50 AM: Mexico's president criticized for dancing through the pandemic
MEXICO CITY — While Mexico's neighbors escalated containment measures against the novel coronavirus, President Andrés Manuel López Obrador hugged, kissed and danced with supporters this weekend during a tour of southern Mexico.
Even as members of his own administration raised concerns about the novel coronavirus, AMLO, as he is known, said he wasn't worried.
"I have a lot of faith that we are going to move our beloved Mexico forward," he said Sunday. "Misfortune and pandemics will not do anything to us."
Although the country has suspended classes, and its health ministry has encouraged people to maintain a "healthy distance," large public events continue. This weekend, tens of thousands of people attended the Vive Latino music festival in the capital, headlined by Guns n' Roses.
López Obrador on Sunday posted videos on his Twitter account promoting the beauty of the beaches of Guerrero state, and of him dancing in crowds.
As of Sunday, Mexico had 53 confirmed cases of coronavirus, but given the limited testing here, experts expect that the real number is much higher.
El Salvador and Guatemala, which have fewer cases, have taken a radically different approach to the virus, enacting early travel restrictions, including banning Americans from entering the countries.
On Monday, after facing criticism for his seemingly cavalier response to the virus, López Obrador said in a news conference he would test for the virus "if necessary."
"I am going to act in a very responsible way. I am going to follow the recommendations of the doctors, of the specialists," he said.
By: Kevin Sieff
11:46 AM: Inside Britain's supermarkets: mayhem and empty shelves
LONDON — Supermarket shelves in Britain emptied over the weekend as the impulse to stockpile groceries spread.
Photos shared on social media showed shelves empty of everything from canned soup and pasta to frozen pizza and bottles of bleach. Cashiers wearing gloves described scenes of chaos. Many stores put up signs limiting certain items, including toilet paper, to two per customer.
In a joint statement issued over the weekend, entitled "Working to feed the nation," 12 leading supermarkets asked customers to be considerate amid the outbreak, writing: "there is enough for everyone if we all work together."
"We understand your concerns but buying more than is needed can sometimes mean that others will be left without," the statement said.
The British government has come under criticism for its handling of the crisis, with many lawmakers calling on Prime Minister Boris Johnson to take more drastic steps to stop the spread of the virus. Gyms, bars, restaurants and the majority of businesses continue to operate as normal on British soil, despite Ireland closing schools and pubs, and much of Europe restricting travel.
With concerns for older shoppers on the rise, a location of the Iceland Foods grocery chain in Northern Ireland announced it would allocate shopping time specifically for older people, beginning Tuesday from 8 a.m. to 9 a.m. Many on social media praised the decision and urged other stores to follow the example.
Australian supermarket chain Woolworths also announced a window just for older customers, tweeting: "We're launching a dedicated shopping hour in our stores to help support the needs of the elderly & people with disability in the community."
Sign up for our daily Coronavirus Updates newsletter to track the outbreak. All stories linked in the newsletter are free to access.
By: Jennifer Hassan
11:42 AM: E.U. proposes restricting nonessential travel to much of continental Europe
BRUSSELS — The European Union proposed Monday sharply restricting travel to most of continental Europe, blocking most non-E. U. residents for 30 days.
The plan would require final sign-off from E.U. leaders, which is likely to happen Tuesday. It would bar access to the 26 countries that are in the European Union's borderless travel zone, which is most of continental Europe, except the Balkans.
"The less travel, the more we can contain the virus," European Commission President Ursula von der Leyen said in announcing the proposal.
Europe has struggled to contain the coronavirus, with many countries erecting temporary border controls, wiping away decades of efforts to allow people and goods to travel unimpeded across much of the continent.
E.U. citizens and long-term residents would be allowed to return home under the proposal.
The decision would not affect Ireland nor the United Kingdom. President Trump last week closed U.S. borders to most non-U. S. citizens who had traveled within Europe in the past 14 days.
By: Michael Birnbaum
11:36 AM: Social distancing requires Israel to swear in new parliament members in small batches
Israel swore in its 23rd Knesset today, but not in the usual mass of 120 lawmakers and their families, followed by hugs and backslaps.
Ceremony in the time of the coronavirus meant members of the Knesset, Israel's parliament, trooped into the all-but-empty chamber two or three at a time and assented by name to the oath recited by Knesset Speaker Yuli Edelstein. He, Israeli President Reuven Rivlin and a clerk were the only souls on the usually crowded dais. Occasionally, there was an elbow bump.
Each took 20 or 30 seconds before the next set filed in, sometimes after a delay. Several dozen reps would be required to install the whole body, which is Israel's third parliament in a year. None of them has produced a functioning government.
The first two lawmakers to be sworn in were the two politicians jockeying fiercely once again to assemble and lead a coalition drawn from the new Knesset, Prime Minister Benjamin Netanyahu and his rival Benny Gantz, a former chief of staff.
Earlier Monday, Gantz was awarded the right to go first in trying to form a government after he won the most support from members. Gantz has been reaching out to parties across Israel's political spectrum. Rivlin is encouraging Netanyahu and Gantz to join forces in a unity government.
"I have just one request to make of you," the president said to Knesset members in his opening remarks. "Give the people a government."
By: Steve Hendrix
11:32 AM: Supreme Court postpones oral arguments
The Supreme Court Monday said it is postponing its next round of oral arguments, scheduled to begin Monday, because of concerns over the coronavirus.
It is the first time the court has scheduled a pause in its work since 1918, when the Spanish flu epidemic hit Washington.
The court was scheduled to hold arguments March 23-25 and March 30-April 1. The most pressing case on the agenda is that last day: President Trump's challenge of efforts by congressional committees and a New York prosecutor to subpoena his financial records.
"The court will examine the options for rescheduling those cases in due course in light of the developing circumstances," said a statement from the court's public information office.
The justices will meet for their regularly schedule private conference on Friday, although some may participate via telephone.
The Supreme Court chamber holds about 500 people, and a majority of the justices are considered to be in the higher-risk category for the virus due to their ages. Justice Ruth Bader Ginsburg turned 87 on Sunday, and Justice Stephen G. Breyer is 81. Justice Clarence Thomas is 71, and Justice Samuel A. Alito Jr. turns 70 on April 1. Chief Justice John G. Roberts Jr. and Sonia Sotomayor are 65.
As the court's news release noted, little is clear about how the postponement will affect the court's work. It has one other two-week round of oral arguments scheduled to end April 29. Generally, the court doesn't hold oral arguments after that, to concentrate on writing and issuing opinions in the cases it has heard since October.
The court usually finishes its work by the end of June, but nothing would prevent it from extending the term. It rarely strays from its schedule. When the rest of Washington shutters for snowstorms, the court carries on.
It held oral arguments in 2012 when Hurricane Sandy had closed the rest of official Washington. But the court's statement noted that "postponement of argument sessions in light of public health concerns is not unprecedented."
Besides the 1918 recess, the court "also shortened its argument calendars in August 1793 and August 1798 in response to yellow fever outbreaks."
By: Robert Barnes
11:27 AM: White House says rumors of national quarantine are false
Text message rumors circulating Sunday night of a mandatory national quarantine are completely false, the White House said.
The messages, apparently intended to stoke apprehension in the midst of a pandemic, purported to pass along news from government officials that President Trump would order a two-week national quarantine. "Stock up on whatever you guys need to make sure you have a two week supply of everything," said one text message.
The White House National Security Council tweeted out on Sunday night: "Text message rumors of a national #quarantine are FAKE. There is no national lockdown. @CDCgov has and will continue to post the latest."
"There is an ongoing effort to spread disinformation and cause undue panic," a senior administration official said Monday. "There is no national quarantine for the United States. It's important we remain vigilant in ensuring our information is coming from verified sources."
Misinformation researchers in recent days began detecting texts and social media references to alleged plans to impose new, dramatic government restrictions on the ability of people to move, shop and socialize. Among the most widespread concerns claims that Trump shortly would invoke the Stafford Act, a 1988 disaster relief law, to impose a mandatory quarantine on the entire nation.
Some of these references — which are misleading and not based in fact, according to officials — also have begun to appear on Twitter and other social media platforms but typically as images that have been difficult to track using research tools designed to read and interpret written language.
"As social media companies focus on keywords like 'covid' and 'coronavirus,' there are pockets of conspiracy theories that are welling up that potentially have some offline impact," said Joan Donovan, director of the Technology and Social Change Research Project at Harvard's Shorenstein Center.
Sign up for our daily Coronavirus Updates newsletter to track the outbreak. All stories linked in the newsletter are free to access.
By: Ellen Nakashima and Craig Timberg
11:26 AM: National health-care experts rally behind 'Stay Home, Save Lives' initiative
A group of prominent health-care experts is encouraging Americans to abide by four simple words to change the trajectory of the novel coronavirus outbreak in the country: Stay home, save lives.
In a USA Today op-ed on Sunday, 16 doctors, epidemiologists and public health experts explained how staying home is the most critical action people can take to blunt the spread of the virus, which has been confirmed in more than 3,700 cases and has led to 66 reported deaths.
The signatories, who include former U.S. surgeon general Vivek H. Murthy and former Senate majority leader Bill Frist (R-Tenn.), offered simple advice that aligns with much of the current messaging from the Centers for Disease Control and Prevention, but it also calls for isolation measures that are not yet widely in effect: temporarily suspending commercial air and rail travel, enlisting the National Guard to prepare stadiums and other spaces to serve as quarantine residences, and setting up fever clinics to triage.
The letter, which has been republished on a stand-alone website, offers advice to state and local leaders, health-care workers and families, suggesting best practices for the former groups and alternatives to typical in-person activities for the latter.
"If you're going to spread anything, spread help, compassion and humor," the group wrote. "Above all, do not panic. Remember: Like all outbreaks, this too will eventually end."
By: Kim Bellware
11:10 AM: Restaurant, nightlife restrictions spread across the United States
Lawmakers across America are turning off the lights in bars and restaurants to stop the spread of the novel coronavirus.
New York Gov. Andrew M. Cuomo (D) announced that his state, along with Connecticut and New Jersey, are taking regional action to prevent the spread of the virus. Starting 8 p.m. Monday night, movie theaters and casinos will close in all three states, and restaurants and bars can only deliver meals or allow customers to carry out their orders. Grocery stores will remain open.
"Our primary goal is to slow the spread of #Coronavirus so that the wave doesn't crash our healthcare system. Social distancing is the best way to do that," Cuomo tweeted Monday.
Connecticut Gov. Ned Lamont (D), urged tribal casinos in his state to follow the state's goal of decreasing events with more than 50 people.
"This should not be a legal or jurisdictional discussion. It should be a discussion among tribal and state governmental partners in furtherance of public health. We will continue [to] have discussion with our CT tribes," he tweeted Monday.
Michigan Gov. Gretchen Whitmer (D) ordered all bars and restaurants to close dine-in seating as of 3 p.m. Monday, 9 & 10 News reporter Eric Loyd tweeted. Restaurants will only be able to deliver and process orders and allow takeouts.
"At the federal level, we're behind as a country. At the state level, we're taking this incredibly seriously and trying to do everything we can to mitigate the impacts of this virus," she told reporters via Skype, according to Sinclair Broadcast Group Michigan reporter Mikenzie Frost.
Governors throughout the country are issuing similar drastic orders along with states of emergency to curtail the spread of the virus. At least seven states have suspended casino activities, according to CDC Gaming Reports.
The Alabama Department of Public Health on Monday said it was recommending against gatherings of 50 people or more and urging senior citizens or people with chronic health issues to avoid air, train or bus travel as well as gatherings of more than 10 people who are not close family. They also said restaurants and other businesses should not allow more than 50 percent of their normal capacities.
Mayors also are cracking down on their constituents' activities.
On Sunday, New York Mayor Bill de Blasio (D) announced that he will sign an executive order Monday that will limit restaurants to takeout and delivery services and require all nightclubs, movie theaters, small theater houses and concert venues to close. The order will become effective Tuesday at 9 a.m.
"The virus can spread rapidly through the close interactions New Yorkers have in restaurants, bars and places where we sit close together. We have to break that cycle," he tweeted Sunday.
The mayor of the Big Apple acknowledged that the closings will take a huge bite out of the culture of the city, but said the metropolis is under an unprecedented threat that requires "a wartime mentality."
Boston Mayor Martin J. Walsh (D) ordered city bars, nightclubs and restaurants to operate at half their capacity, prevent lines from forming outside establishments and to close by 11 p.m.
Los Angeles Mayor Eric Garcetti (D) closed all bars, restaurants, entertainment venues and fitness centers as of Monday. Garcetti said closing the businesses wasn't an easy decision, but a necessary one, in a Sunday tweet.
"We will do everything we can to help businesses & workers impacted during this time," he said.
Sign up for our daily Coronavirus Updates newsletter to track the outbreak. All stories linked in the newsletter are free to access.
By: Lateshia Beachum
10:19 AM: 60 cases in 15 U.S. states linked to Nile River cruises
CAIRO – At least 60 coronavirus cases in 15 states have been linked to several Nile cruises in Egypt, the Centers for Disease Control and Prevention said in its latest health update on the spread of the novel coronavirus cases in the United States.
The number of cases associated with Nile River cruises are far larger and widespread than previously known in the United States. The cases are "associated with multiple Nile River cruises in Egypt," said the CDC, which suggests that more people, both foreigners and Egyptians, have been exposed to the virus and have carried it to many parts of the world.
"The proximity of passengers and crew on small ships and boats traveling on rivers may result in an even higher number of COVID-19 infections," said the CDC in its update, released late Sunday night.
Egyptian authorities, so far, have placed in quarantine only one Nile Cruise ship — the MS Asara — in Luxor. Even on that ship, the government cut short the quarantine period for at least 82 foreigners, including at least 26 Americans, and sent them back to their home countries on commercial flights.
There are now more than 110 cases of foreigners reportedly testing positive for the coronavirus after visiting tourist sites in Egypt, including citizens of France, Greece and Canada. On Sunday, Egypt announced 16 news cases, bring the total to 126, the health ministry said.
On Monday, the government announced a ban on all incoming and outgoing international flights from March 19 to April 1. After weeks of hesitation, the government has taken measures to combat the virus, closing schools and universities for two weeks and has temporarily banned large marriage celebrations and funerals at mosques and halls.
By: Sudarsan Raghavan
10:03 AM: Russian cases climb, but nationwide vote on constitution not likely to be postponed
MOSCOW — Russia announced a roughly 50 percent spike in its confirmed coronavirus cases in the past 24 hours, rising from 63 to 93.
But asked if the country plans to delay its April 22 nationwide vote on a package of constitutional amendments, presidential spokesman Dmitry Peskov said Monday that "there are no objective reasons for that."
One of the proposed amendments would allow President Vladimir Putin to run for reelection two more times once his current term expires in 2024.
"No alternative dates for the vote are being considered for now," Peskov said, adding that a presidential decree in the coming days would set the April 22 date in stone.
Russia's preventive measures have been mild compared to its European neighbors. Not all sporting events have been canceled, though there are attendance limits; at a St. Petersburg soccer match over the weekend, fans chanted, "We're all going to die." Moscow schools remain open, but attendance is optional.
Russian Orthodox churchgoers have been lining up to kiss a visiting relic of John the Baptist at the Kazan Cathedral in St. Petersburg. A volunteer wipes down the shrine after each smooch.
Russian Deputy Prime Minister Tatyana Golikova said Monday that up to 100,000 coronavirus testing systems are produced in Russia every day, according to the Interfax news agency.
Prime Minister Mikhail Mishustin said Russians who aren't presenting symptoms will be allowed to test themselves.
Sign up for our daily Coronavirus Updates newsletter to track the outbreak. All stories linked in the newsletter are free to access.
By: Isabelle Khurshudyan
9:53 AM: Surgeon general warns the U.S. 'could be Italy' if Americans don't practice social distancing
Surgeon General Jerome Adams said the United States is at "a critical inflection point" when it comes to the coronavirus outbreak, with numbers tracking closely with where Italy was two weeks ago.
"We have a choice to make as a nation: Do we want to go the direction of South Korea and really be aggressive and lower our mortality rates, or do we want to go the direction of Italy?" Adams said on "Fox and Friends."
Italy is experiencing one of the world's worst outbreaks, with nearly 25,000 cases forcing health officials to ration care. Already, more than 1,800 people have died. Daily life in the country has ground to a halt with schools, businesses and stores closed as people are ordered to stay inside, and away from each other.
As Fox host Steve Doocy mentioned the CDC's recommendation to halt all gatherings of more than 50 people — a move that affects weddings, sports, concerts and other events — Adams said such moves were necessary if the United States wants to avoid Italy's outcome.
"When you look at the projections, there's every chance that we could be Italy," Adams said. "But there's every hope that we will be South Korea if people actually listen, if people actually social distance, if people do the basic public health measures that we've all been talking about as doctors all along, such as washing your hands, such as covering your cough, and cleaning surfaces."
By: Kim Bellware
9:32 AM: Perspective: Locked down in Beijing, watching China battle the coronavirus
BEIJING — The grocery stores were brimming with shoppers and produce. Around the corner, a line was forming outside a stall selling pillowy white steamed buns.
The gray, brick-lined alleys of this old imperial capital, deserted several weeks ago, were congested again by newly licensed drivers struggling to park their new, outsized Audis.
I knew then: Beijing was slowly, unmistakably, returning to normal.
Six weeks earlier, I had watched China shut itself down as the novel coronavirus epidemic first exploded in Wuhan, and then spill across the country and beyond. For my work, I traveled around China, down empty boulevards, through empty airports, in empty train cars. I saw China's whole economic machinery, from the curbside noodle shop to sprawling tech campuses, clank to a halt as the government pulled out every stop to contain the virus's spread.
To help the nationwide social-mapping effort — and, I suspect, feed the government's ever-growing appetite for personal data — I begrudgingly gave my cellphone number to government workers at every train station, checked in via a smartphone app to enter office buildings and recited my passport number just to eat at a rare restaurant that remained open.
By mid-February, the clampdown tightened further.
Checkpoints were erected in a grid layout at every intersection in central Beijing. Residential neighborhoods were sealed after 10 p.m. Like all travelers arriving from out of town after a brief excursion, I was placed in quarantine at home for 14 days.
I emerged in recent days, precisely at a moment when life was returning to Chinese streets while much of the West seemed to be spiraling into panic and chaos. For me and countless others, the tilting scales raised the question: Are China's drastic measures a model for the rest of the world?
Read more here: Locked down in Beijing, I watched China beat back the coronavirus
By: Gerry Shih
9:09 AM: More than half of U.S. public school students won't be in class this week because of shutdowns
Thousands of schools across the United States are empty Monday morning as classes in 33 states plus some major city districts are closed, or preparing to do so, amid the coronavirus outbreak. From Washington state to Pennsylvania, the closures affect or have affected an estimated 32.5 million public school students in at least 64,000 schools, according to a tally kept by Education Week.
On Sunday alone, Arizona, Minnesota, Montana, Connecticut and North Dakota announced school closings, while Wyoming and Iowa strongly recommended that its districts do the same. While New York is not ordering statewide closures, New York City's public schools — the largest district in the nation — will be shuttered Monday, despite days of resistance by Mayor Bill de Blasio (D).
Many schools are planning to stay closed through spring break, which lands around mid-to-late April in most districts. But some state officials are already warning families to plan for even longer closures: Both Ohio Gov. Mike DeWine (R) and Texas Education Commissioner Mike Morath on Sunday warned that students may miss out on the rest of the school year, a move that would affect more than 7 million students across just those two states.
On Monday morning, de Blasio said the closures in New York City could last longer. "I would love nothing more than to reopen on April 20, which is right after our spring break," the mayor said on MSNBC. "But I fear that this crisis is going to start to crescendo through April, May before it ever gets better. The classic 'it's going to get a lot worse before it gets better.' I think that's a hard atmosphere to reopen schools in."
As more schools close to step up isolation and social-distancing efforts — which health officials say are crucial to "flattening the curve" and containing the virus to levels that won't overwhelm the United States' fragile health-care system — education and local government officials must also consider how to feed students who rely on free and subsidized meals and how to help families in which parents lack the ability to work from home. In some school districts, such as New York City, families will be able to pick up "grab and go" meals.
The widespread closures are putting a spotlight on Internet inequality among U.S. students: Millions of Americans lack Web access, a digital divide that will complicate educators' efforts to continue instruction during the coronavirus crisis.
Laura Meckler and Tony Romm contributed to this report.
Sign up for our daily Coronavirus Updates newsletter to track the outbreak. All stories linked in the newsletter are free to access.
By: Kim Bellware and Valerie Strauss
9:07 AM: Taylor Swift, Ariana Grande, Arnold Schwarzenegger, more celebrities beg people to stay home
Videos and photos of packed bars and restaurants taken over the weekend flooded the Internet, despite public health experts urging social distancing. Shortly afterward, Taylor Swift and Ariana Grande, two of the most-followed people on social media, begged everyone to stay indoors as much as possible.
"This is the time to cancel plans, actually truly isolate as much as you can, and don't assume that because you don't feel sick that you aren't possibly passing something on to someone elderly or vulnerable to this," Swift wrote to her 128 million followers in an Instagram story.
Grande, tweeting to her 72 million followers in a long thread, dryly noted, "like your hip hop yoga class can [expletive] wait i promise," and added the same to her 177 million Instagram followers.
More stars, including Kumail Nanjiani, Hilary Duff and Emily Ratajkowski, posted similar messages.
"The kindest/healthiest thing we can do is self-quarantine," Lady Gaga wrote.
Arnold Schwarzenegger encouraged everyone to "stay at home as much as possible. Listen to the experts, ignore the morons."
By: Emily Yahr
8:55 AM: Spring break revelers fail to heed coronavirus warnings in some popular destinations
With U.S. cases of the coronavirus pushing past 3,500, health officials warn that the public must step up isolation and social distancing measures if there's any hope of avoiding a spike in infections that will overwhelm the health-care system.
But the pleas are falling on deaf ears in some of the nation's biggest party destinations.
Despite a late Sunday recommendation by the Centers for Disease Control that Americans halt gatherings of more than 50 people for the next eight weeks, Spring Break plans at popular South Padre Island in Texas appear to be going forward.
As of Monday morning, the PadreU Spring Break Vacations website gave no indication it was canceling the party set to kick off later that day and stretch until March 25. South Padre is a major spring break destination that last year drew an estimated 50,000 people to the small town.
Thousands have petitioned online for Texas Gov. Greg Abbott (R) to cancel the events in South Padre, though it's unclear if he plans to act.
Police in New Orleans drove through the booze-soaked stretch of Bourbon Street on Saturday to break up revelers following the governor of Louisiana's ban on public gathering of more than 250 people.
Bars and restaurants in at least four states and the District of Columbia were ordered closed Sunday, including in Illinois, where Gov. J.B. Pritzker (D) was noticeably irked that thousands of mostly young people descended onto downtown Chicago to celebrate St. Patrick's Day over the weekend in defiance of calls to practice social distancing.
In Miami Beach, Fla., another spring break hot spot, Mayor Dan Gelber on Thursday reluctantly pulled the plug on major events scheduled to take place over the next month. Gelber said the decision was difficult considering the city's reliance on tourism.
But amid the outbreak, he made the message clear: "Spring break is over."
By: Kim Bellware
8:33 AM: More people have now died from coronavirus outside China than inside
HONG KONG — More people have now died of the novel coronavirus outside of China than inside, a worrying sign of how quickly the illness spread from where it first emerged.
According to a tally from Johns Hopkins University, around 3,200 people have died in China from the virus and about 3,300 have died outside, many in hot spots in Italy, South Korea, Germany, the United States and elsewhere.
Over the weekend, Italy recorded 368 deaths in a single day, its highest death toll since the crisis began. The death toll mounted even as the country implemented drastic measures to quarantine the population to try to control the outbreak. In Spain, the death toll jumped from 196 Saturday to 309 Monday, with a total caseload of 9,191.
Similarly, there are now more confirmed cases outside of China, which registered just over 80,000 cases, than inside, with some 90,000 cases identified elsewhere worldwide.
In France, where the death toll jumped dramatically over the weekend, Jérôme Salomon, the country's top health official, told France Inter Radio on Monday that he was concerned that so many people did not follow instructions to stay home on Sunday, meaning France is "not succeeding in curbing the outbreak of the epidemic."
The number of deaths in France also dramatically increased over the weekend, and more than 5,000 people are infected.
"We are seeing that the number of cases is doubling every three days," Salomon said.
Katie Mettler contributed to this report.
Sign up for our daily Coronavirus Updates newsletter to track the outbreak. All stories linked in the newsletter are free to access.
By: Siobhán O'Grady
8:20 AM: German officials to Trump administration: Exclusive rights to coronavirus vaccine research aren't for sale
BERLIN — After reports over the weekend that the United States was attempting to secure the rights to any coronavirus vaccine developed by a German pharmaceutical company, German politicians offered strong rebukes on Monday.
The country's foreign minister, Heiko Maas, told the Funke newspaper group that "we cannot allow others to secure exclusive rights to the results of [German company's] research" on vaccines or drugs.
Interior Minister Horst Seehofer, when asked to confirm a report that the Trump administration was attempting to secure exclusive rights to any vaccine created by the German biopharmaceutical firm CureVac, said he had "heard from several other members of government today that is the case." He added the government will discuss the matter during a regular emergency meeting on Monday.
Eric Mamer, the spokesman of the European Commission, said on Monday that Commission President Ursula von der Leyen will have a phone call with executives of CureVac.
"It is clear that the phone call which is taking place this afternoon is related to ensuring that this company can continue to operate and to do its research in Europe," Mamer told reporters. The call will follow a Group of Seven video-conference session meant to coordinate research efforts of the world's most powerful economies on the covid-19 outbreak, Mamer said.
In a statement, CureVac said it "rejects allegations about offers for acquisition of the company or its technology."
Germany's Welt am Sonntag newspaper had reported Sunday that the Trump administration wanted to secure the rights and move research and development to the United States. The vaccine would be developed "only for the USA," the newspaper said.
Top White House aides were unaware of any communication by or offer from President Trump to CureVac, according to a White House official who spoke on the condition of anonymity because the official was not authorized to discuss the matter by name. The official cautioned, however, that Trump often has private conversations of which his staff is not aware, and therefore the official could not definitively rule out that any such discussion had occurred.
Richard Grenell, the U.S. ambassador to Germany and the acting director of national intelligence, tweeted that the Welt am Sonntag report was "not true."
Read more here, German officials to discuss reported U.S. attempt to buy exclusive rights to coronavirus vaccine.
Rick Noack and Quentin Aries contributed.
By: Loveday Morris
8:18 AM: Iran reports biggest one day jump in virus cases
Iran reported its biggest one day jump in coronavirus infections on Monday as another senior figure in the country's clerical hierarchy died after contracting the covid-19 disease, according to Iranian news outlets.
Iran's health ministry said the number of new infections had increased by 1,053, bringing the total to 14,991. The number of deaths jumped by 129 to 853, state television reported.
One of the latest victims of the virus was Ayatollah Hashem Bathaie Golpayenagi, a member of the Council of Experts, who died on Monday after being infected with the coronavirus, Iranian news outlets reported.
The coronavirus has reached into the highest levels of the Iranian government, infecting ministers, members of parliament, Revolutionary Guards and two vice presidents.
President Hassan Rouhani called the latest figures "promising" and said they signaled Iran could be passing the peak of the disease. But in remarks made after meeting the top members of the country's coronavirus team, he urged citizens to continue to remain indoors.
It appears the authorities may be facing difficulties compelling citizens to adhere to measures being taken to try to halt the spread of the disease. On Sunday, Iran's Supreme Leader Ali Khamenei told Iranians that instructions issued with regard to the coronavirus are "compulsory."
The head of the coronavirus team in Tehran, Dr. Alireza Zali, complained on Monday that the city's residents are ignoring orders to shut businesses and stay home, citing the traffic jams on Tehran's streets."
By: Liz Sly
7:13 AM: Tennessee man who hoarded hand sanitizer says he will donate over 17,000 remaining bottles
When the new coronavirus arrived in the United States, bringing along a wave of panic-buying, Matt Colvin saw a business opportunity.
The 36-year-old Air Force veteran had made a six-figure career in Tennessee selling shoes and other trendy goods on Amazon, and shoppers were rushing to stores to get their hands on hand sanitizer.
So he decided to buy some bottles of the antibacterial gel — 17,700 to be exact — and resell them online.
Over the weekend, however, Colvin and his scheme became the subject of a viral New York Times story, the collective ire of the Internet and an investigation by Tennessee state authorities. Now, he told the newspaper, he plans to donate his stockpile of the alcohol-based disinfectant.
"It was never my intention to keep necessary medical supplies out of the hands of people who needed them," he tearfully told the Times on Sunday. "That's not who I am as a person."
On March 1, just after first U.S. coronavirus death was reported, Colvin and his brother Noah swept across stores in Tennessee and Kentucky, driving 1,300 miles to clear shelves of hand sanitizer. He immediately sold 300 bottles on Amazon, some for as much as $70 a pop.
But the next day, Amazon pulled Colvin's sales listings and thousands of other similar items, leaving him with a massive arsenal of hand sanitizer. (Amazon CEO Jeff Bezos owns The Washington Post.)
When the Times came calling, Colvin thought he might serve as a voice for frustrated online sellers unable to sell their products, a victim of a crackdown from the tech giant. Instead, he became the target of death threats, a face of someone trying to profit off the pandemic. State authorities opened a price-gouging investigation.
And on Sunday, volunteers from a local church emptied the sanitizer from his home and a storage locker, planning to pass it onto first responders in Tennessee and Kentucky.
Sign up for our daily Coronavirus Updates newsletter to track the outbreak. All stories linked in the newsletter are free to access.
By: Teo Armus
6:51 AM: Europe's Georgia bans all foreigners from entering the country
MOSCOW — Georgia has banned all foreigners from entering the country, the prime minister's spokesman said at a briefing Monday. The ban will start Wednesday.
"Our citizens who are abroad will be able to return to their homeland with the help of existing flights," Irakli Chikovani said, adding the ban will last at least two weeks.
Georgia has reported 33 coronavirus cases. Chikovani said the country will close all of its mountain resorts and suggested citizens over the age of 70 self-isolate.
The move will devastate the small eastern European country's surging tourist industry which in the past 20 years went from just 100,000 tourists a year to 6.5 million. Tourism in 2018 accounted for 7.5 percent of the country's GDP growth.
"It was also decided to recommend to all cafes, restaurants and bars to limit their activities" only to delivery rather than people dining in, Chikovani said.
By: Isabelle Khurshudyan
6:33 AM: Coronavirus lockdown has the Dutch queuing for cannabis
With the Dutch government ordering sporting clubs, cafes, schools and restaurants to close until at least April 6 to control the coronavirus outbreak, many people ventured out to stockpile one thing: marijuana.
Despite official advice to keep good social distance outside of the home, photos emerged on social media of people joining long lines to stock up on cannabis before Sunday's 6 p.m. closure of coffee shops along with bars, saunas and other businesses.
The Netherlands gained a substantial degree of fame among those who enjoy marijuana for its permissive policy toward the drug dating back decades. Long before it started becoming legal elsewhere, cannabis products were easily available in coffee shops, which became a kind of tourist attraction in their own right.
Video footage shared to Twitter showed queues of people snaking around the streets outside several of these famed coffee shops in Amsterdam as they made a last-minute attempt to purchase supplies while they still could.
While some on social media found the scenes of the rush for cannabis somewhat entertaining, others described the move as extreme and dangerous: "All coffee shops in the Netherlands are closing in 30 minutes till April 6. Here are the lines for people to buy weed, spreading the virus as far as possible in the closing minutes. Great job everyone," tweeted Dutch podcast host Remko Rinkema.
So far, the Netherlands has logged more than 1,000 cases of the virus and at least 20 deaths. Prime Minister Mark Rutte is expected to address the nation on Monday.
Sign up for our daily Coronavirus Updates newsletter to track the outbreak. All stories linked in the newsletter are free to access.
By: Jennifer Hassan
6:14 AM: Singapore introduced tough laws against fake news. Coronavirus has put them to the test.
SINGAPORE — At their sprawling Asia headquarters last month, Facebook executives considered the latest order from Singapore's authorities: Disable local access to a page that the city-state's government asserted contained false statements about its response to the coronavirus outbreak.
Legal analysis gave the company little choice, Facebook concluded. If it did not comply, the company would be found guilty of an offense and fined up to $14,400 a day under the law.
Within a day Facebook had blocked local access to the page, States Times Review. But in an unusually strong statement the social media giant said it was "deeply concerned" about the "precedent this sets for the stifling of freedom of expression in Singapore."
Governments are struggling to keep up with coronavirus disinformation flooding the Internet — bogus cures, false reports, and a conspiracy theory that the virus was cooked up in a Chinese lab. New York's attorney general served a cease and desist letter to radio host Alex Jones for peddling a fake cure that can turn skin blue, and Britain is funding social media influencers to disseminate accurate information.
Others are turning to a new weapon: laws criminalizing fake news.
Read the full report about how Singapore is wielding its new laws against pandemic misinformation.
By: Shibani Mahtani
6:00 AM: Airlines cut down on flights, jobs, salaries amid billion-dollar losses
Amid new border restrictions and a collapse in global travel, major airlines in the United States, Australia and Europe say they will continue to cut down on flights, jobs and salaries to cope with unprecedented economic losses.
Among the latest to announce steep cuts in flight capacity is United Airlines, which made $1.5 billion less in revenue this month than in the equivalent period last year, according to Reuters. The airline will reduce its capacity by half in April and May and slash salaries for corporate officers.
"This crisis is moving really quickly," the airline's top executives, Oscar Muñoz and Scott Kirby, said in a memo to employees on Sunday, according to the news agency, warning employees that planes could remain empty into the summer.
It was not the only one to announce such drastic cuts this weekend. On Saturday, American Airlines said it plans to cut three-quarters of its international flights through early May, parking most of the jumbo jets primarily used for those trips.
That means American, the country's largest airline, will put a stop to nearly all long-haul flights to Asia, Europe, South America and Oceania. Besides two flights a day to London, it will be operating just three flights to Asia each week via Tokyo.
Domestically, too, it will reduce its flight capacity by 20 percent for April and 30 percent for May, according to Reuters.
Trump and other administration officials have committed to working with Congress to supporting the airline industry as it continues to grapple with the spiraling crisis, though little action seems to have been taken to date.
In recent days, the Australian carrier Qantas, Scandinavian airline SAS, Europe's low-cost easyJet and British Airways all announced plans to ground significant portions of their air fleets. Willie Walsh, the owner of British Airways, stopped short of asking for government support but said he will push back his retirement six months while his company grapples with the pandemic.
Sign up for our daily Coronavirus Updates newsletter to track the outbreak. All stories linked in the newsletter are free to access.
By: Teo Armus
5:49 AM: German state of Bavaria declares emergency over virus outbreak, closes bars
BERLIN — The southern German state Bavaria has declared a state of emergency starting Monday and lasting for a minimum of 14 days.
Bars, libraries, swimming halls, movie theaters, and other select public and event spaces will be shut. The state will restrict nonessential shopping and nursing home visits.
Bavaria has already closed schools and kindergartens, and they will remain shut during the emergency period. Large events will continue to be banned. Supermarkets, pharmacies, and banks will remain open.
"The situation is very serious, and it's changing daily, unfortunately not for the better," said state premier, Markus Söder, in a news conference on Monday morning.
The state of emergency will create a command structure within the state to ensure quick coordination among local officials to respond to the crisis, he said. To overcome financial hardships, the state will provide up to 10 billion euros ($11.16 billion) in additional funds to support businesses, cultural venues, medical and other institutions.
Some 886 people have tested positive for covid-19 in Bavaria, with four people dying from the disease.
By: Luisa Beck
5:38 AM: Cathay Pacific rushes to add flights from U.S. cities, London to Hong Kong — now seen as a relative haven
HONG KONG — After dramatically slashing more than three-quarters of its flights, Hong Kong's Cathay Pacific airline is adding them back and deploying larger aircraft to U.S. cities and London, as thousands of travelers who sought refuge abroad rush back to the city.
It marks a stunning reversal from just seven weeks ago, when Hong Kong was threatened with travel restrictions because of its proximity to mainland China and early confirmation coronavirus was spreading in the community here.
Many expats rushed home to the United States and Europe, temporarily enrolling their children in schools and programs there.
But now, with domestic spread of the virus under control, authorities in Hong Kong, Singapore and elsewhere in the region are imposing mandatory quarantines on travelers coming from Europe and the United States, where cases are continuing to rise.
Cathay Pacific has resumed daily flights to Hong Kong from Boston and New York. More flights from London have also been reinstated. Larger flights will be used for Los Angeles, Seattle and San Francisco.
"As the home carrier of Hong Kong, Cathay Pacific understands that many Hong Kong students and citizens in North America and London are eager to come home as soon as possible and in time for the Easter break," the airline said in a statement.
Hong Kong officials have called on all residents to avoid "all nonessential travel outside Hong Kong." The government announced Sunday that visitors arriving from the United States, Britain, Ireland and Egypt will be forced to stay at home for 14 days, as of midnight on March 19.
Travelers coming from Europe's Schengen area will have similar measures starting March 17. Experts have called for more stringent measures, even asking officials to consider quarantine measures for all arrivals into the city.
By: Shibani Mahtani
5:25 AM: Leftist Indian state provides free rice to children after schools close
NEW DELHI — Officials in India's coastal Kerala state are ensuring rice is delivered to schoolchildren's houses, after closures led to concerns for children relying on government-provided lunches.
Kerala, a major tourist destination for its idyllic backwaters, announced schools would close on March 10 to prevent the spread of virus. Jeevan Babu K., director of general education in Kerala, said that government schools have been instructed to either deliver rice or have parents to pick it up for the rest of the month.
Nearly 2.6 million students in the state are provided with lunches at government schools.
Similar concerns over students missing out on school lunches have emerged in the United States, as schools face imminent long-term closures affecting millions of children.
Nearly a dozen U.S. states have closed down schools, with Ohio saying the closure could last as long as the end of this academic year. Last week, Rep. Ilhan Omar (D.-Minn.) introduced a bill that will allow the Agriculture Department to give waivers to schools so they can keep the affected students fed.
In addition to delivering food to people's homes, Kerala's progressive leftist government has been hailed for measures including extensive contact tracing and improving quality of Internet available at homes as it combats the outbreak.
By: Niha Masih
4:52 AM: Tom Hanks's life in Australia: Confined to quarantine, subsisting on Vegemite
Tom Hanks, who is quarantined in Australia after testing positive for the coronavirus, posted another update from isolation on Sunday, this time urging people to take care of each other.
"Thanks to the Helpers. Let's take care of ourselves and each other," the actor wrote, signing off with his trademark "Hanx." The star also shared a photo of a plate of Vegemite — a salty spread beloved by Australians — on toast, and a toy kangaroo holding the Australian flag.
In a social media post last week, the actor announced that both he and his wife Rita Wilson had contracted the virus while in Australia. Their diagnosis sparked an outpouring of love for the pair, with thousands offering the couple their well wishes.
The star's latest update, although short, became a talking point on Twitter as many debated the popularity of Vegemite and others tweeted to let Hanks know the product was spread "too thick."
"Okay you need to scrape around 60% of that Vegemite off, otherwise it's gonna be nasty and hurt your mouth friend," tweeted one person, while others had a simple question: "What is vegemite?"
In previous updates the star said the couple were taking things "one day at a time."
Hanks is one of several celebrities who has tested positive for coronavirus. On Sunday it was revealed that former James Bond actress Olga Kurylenko, who starred in the film "Quantum of Solace," had tested positive for the illness. In an Instagram post Kurylenko said "fever and fatigue" were her main symptoms and urged others to "take care and take this time seriously."
Last week, the first NBA player found to have contracted the virus donated $500,000 for relief efforts. Rudy Gobert took to Instagram to thank people for support, before adding: "I hope my story serves as a warning and causes everyone to take this seriously."
Sign up for our daily Coronavirus Updates newsletter to track the outbreak. All stories linked in the newsletter are free to access.
By: Jennifer Hassan
4:46 AM: Russia closes border with close ally Belarus
MOSCOW — Russia closed its border with close ally Belarus on Monday as a "proactive step," Prime Minister Mikhail Mishustin announced, leaving just two of its 14 international crossings without restrictions as concerns over a coronavirus outbreak in the country intensify.
Just Finland and Azerbaijan continue to have open borders with Russia. With the exception of citizens returning home, Russia's border closure with Georgia came into force Monday. Russia has also completely suspended or significantly reduced all passenger rail service to Ukraine, Latvia, China, Mongolia and other nations.
Russia first closed its 2,600-mile border with China on Jan. 30.
Rospotrebnadzor, the country's state health watchdog, has said there are 63 confirmed coronavirus cases in Russia through Sunday. Russian business magazine RBC reported Sunday that the first community transmission of the disease had taken place in Russia, but this information was later removed from Rospotrebnadzor's statement.
Russia's Science and Higher Education Ministry recommended that higher-education institutions switch to distance learning, and Moscow's mayor has already made school attendance optional in the nation's capital, where the bulk of the infections are.
By: Isabelle Khurshudyan
4:41 AM: European markets plunge amid virus fears, lockdowns
European markets plunged Monday, as several governments implemented increasingly stringent measures to prevent the spread of the coronavirus across the region and local economies essentially ground to a halt.
The U.S. Federal Reserve carried out an emergency interest rate cut on Sunday, but the move did little to calm investors' nerves, with U.S. stock futures dropping nearly 5 percent, pointing to a rocky start to the week on Wall Street.
New data out of China on Monday showed the country's industrial output dropped to its lowest in 30 years — far worse than what analysts initially expected — raising fears that the global economic impacts from the outbreak will cause long-term damage.
London's FTSE 100 was down more than 6 percent in early trading, while Australia's benchmark index had its worst day on record, falling almost 10 percent.
By: Siobhán O'Grady
4:09 AM: Traffic chaos erupts in Philippines as new quarantine measures go into effect
MANILA — Huge crowds of commuters were stranded or late for work on the first Monday of a month-long community quarantine that will limit movement in the Philippines' capital, as checkpoints established to monitor motorists' temperatures backed up morning traffic, sparking chaotic scenes.
Critics of President Rodrigo Duterte pointed to Monday's inefficient traffic — and the sheer volume of people crowded together — as potentially counterproductive to slowing down the spread of the virus.
Jedd Ugay, a transportation economist at AltMobility, a commuter rights advocacy group, said although authorities wanted to avoid overcrowding to prevent the spread of coronavirus, the crowding is now happening at the very checkpoints meant to help screen for the illness.
Jose Letada found himself stuck in the commuting mess on Monday while trying to reach a house he agreed to clean for extra cash after learning he would lose this month's salary due to scaled-down operations at the mall where normally works.
On Monday, after braving huge lines for public transport, he eventually walked more than 45 minutes to his destination.
His friend, Rey Enriquez, took a local bus where riders were spaced a seat apart. The driver charged an extra 15 cents to make up for lost income.
Metro Manila is home to 12 million, but the population balloons in the daytime, when workers commute to the city. Even before the outbreak, the city had long been known as one of the world's most congested.
Ugay suggested that the government should make its own vehicles available to ferry people to and from work, even if demand for transport will likely slow down if businesses cut costs and many people begin working from home.
"Even with this limited number of trips, public transport still can't accommodate them," he said.
Sign up for our daily Coronavirus Updates newsletter to track the outbreak. All stories linked in the newsletter are free to access.
By: Regine Cabato
3:56 AM: Saudi Arabia shuts down malls, parks, government offices to combat virus's spread
DUBAI — Saudi Arabia announced Monday sweeping new measures to combat the spread of the novel coronavirus, including shutting down all shopping malls, closing government offices and banning gatherings in parks or beaches.
The announcement comes as the wealthy states of the Persian Gulf enacted measures and announced economic stimulus programs to cope with the worldwide pandemic. Kuwait earlier closed all restaurants and commercial establishments. The United Arab Emirates, however, a major travel hub and tourist destination, has kept some establishments open for now.
Bahrain on Monday reported its first coronavirus fatality — the first among gulf Arab states — a 65-year-old female national with chronic health problems who had returned from Iran the month before. The island kingdom has confirmed 214 cases.
In Saudi Arabia, where 118 cases of the virus have been reported, government and public sector workers have been ordered to stay home for the next 16 days unless they work in "the health, security, and military sectors, the Electronic Security Center, and the remote education system."
All markets and malls have been closed except pharmacies and food stores, including supermarkets and hypermarkets, "provided that they commit to sterilizing shopping carts in them after each use of their clients," the statement from the Interior Ministry said.
Shops that aren't part of a commercial complex on a street can remain open and restaurants may only serve food on a takeaway basis. All expatriates coming into the country to work (nonresidents have already been banned) must quarantine themselves for 14 days. All court sessions, except those deemed urgent, have also been postponed until further notice.
In neighboring UAE, cinemas, theme parks and most tourist attractions have been ordered closed, but for now malls are still accessible. Dubai Mall's aquarium and skating rink were closed, as was the observation deck on the Burj Khalifa, the world's tallest building.
Most residential complexes have also shut down swimming pools and playgrounds to stem the spread of the virus, creating further challenges for parents as all children are at home following school closures 10 days ago.
On Sunday night, the UAE reported 12 new cases, bringing the country's total to 98. The country was the first in the Middle East to report coronavirus cases in Chinese tourists, but since then the spread has been minimal.
Sign up for our Coronavirus Updates newsletter to track the outbreak. All stories linked within the newsletter are free to access.
By: Paul Schemm
3:33 AM: Pope's lonely stroll through a near-deserted Rome
It is the perfect depiction of the surreal feel in Rome: One of the city's main shopping avenues, normally clogged with thousands of people, instead had only a few people out on the street on Sunday. One of those people was Pope Francis.
A photo released by the Vatican showed the pontiff, surrounded at a distance by five men in suits or dark jackets, walking down the sidewalk with Piazza Venezia in the background. Only a solitary biker was coming in the other direction.
Though almost all papal proceedings have been turned into private affairs in recent weeks, as a way to guard against the coronavirus, Francis on Sunday left the Vatican and visited two of Rome's most well-known churches.
His second stop was at the church of San Marcello on the Corso, which holds a crucifix that was carried through Rome in 1522 to protect the city from the plague. The Vatican said that Francis prayed for the end of the pandemic, for the healing of the sick, and for the doctors and health care workers on the front lines.
Sign up for our daily Coronavirus Updates newsletter to track the outbreak. All stories linked in the newsletter are free to access.
By: Chico Harlan
3:27 AM: Peace Corps suspends operations around the world
The Peace Corps said it will suspend its operations globally, a move that underscores the drastic, worldwide reach of the new coronavirus and its crippling effect on international travel.
In a letter on its website late Sunday, the federal agency said it would evacuate more than 7,000 volunteers from approximately 60 placements in developing countries around the world.
"As covid-19 continues to spread and international travel becomes more and more challenging by the day," wrote director Jody K. Olsen, "we are acting now to safeguard your well-being and prevent a situation where volunteers are unable to leave their host countries."
It is unclear if the Peace Corps has ever undergone a temporary suspension at such a wide scale since it was created in 1961. Last week, the agency evacuated all volunteers in China and Mongolia due to the pandemic.
Australia appeared to follow suit Monday morning, with media reporting that the government was bringing back overseas volunteers as part of an equivalent program amid the virus.
By: Teo Armus
2:56 AM: Emergency measures go into effect across U.S. as Trump tells country to 'relax'
State officials and mayors began imposing the most severe emergency measures to date over the weekend, pushing the United States into a state of quarantine as the new coronavirus spreads more rapidly and brings daily life to a standstill nationwide.
At least four states and a host of cities effectively forced restaurants, bars and other businesses to shut their doors. Widespread school closures and bans on large gatherings are also set to take effect.
In Washington, the Federal Reserve said Sunday it would drop interest rates to zero, part of a sweeping emergency action to make borrowing costs as low as possible and protect the economy as it hurtles toward recession.
As of early Monday, at least 67 people had died and more than 3,700 people had tested positive for the virus, after a dramatic jump over the weekend. In just 24 hours, the number of cases jumped by nearly a third, Vice President Mike Pence said.
Still, at the White House, President Trump and other administration officials offered mixed messaging about the pandemic.
"We're doing great. It will all pass," he said, encouraging Americans to "relax" and stop flocking to supermarkets to load up on groceries and other supplies.
But the weekend was nonetheless marked by chaos at airports around the country, as workers struggled to carry out "enhanced entry screenings" for travelers coming from Europe. Terminals were packed to the brim, flights were delayed for hours and passengers were stuck on long lines as they received questions about their health and instructions to self-quarantine.
At hospitals, meanwhile, medical professionals are bracing for the worst as they attempt to expand bed capacity and set up triage tents in preparation for an expected surge in coronavirus patients.
The pandemic cast a heavy shadow over the Democratic presidential debate, too, where former candidates Joseph R. Biden Jr. and Sen. Bernie Sanders (I-Vt.) collided on health policy — in front of an an empty audience, as states delay their primaries over the virus.
On Monday, Google will launch one of its much-anticipated websites dedicated to combating the pandemic and the White House says it will issue new guidance for Americans on how to best practice social distancing.
By: Teo Armus
2:45 AM: Japan reopens some schools after two-week closure
TOKYO — Some elementary and junior high schools in Japan resumed classes on Monday, around two weeks after closing to prevent the spread of the new coronavirus, Kyodo News reported.
Coronavirus infections have risen steadily in Japan over the past two months, but there has not been the explosive growth in cases or deaths seen in some other countries, and life seemed to return to normal in Tokyo on Sunday, with shopping streets, parks and restaurants busy on a sunny winter's day.
On Feb. 27, Prime Minister Shinzo Abe requested schools close until the end of spring break in early April, but the final decision was left up to local education boards.
With children much less affected by the virus than adults, and their parents mostly still working and commuting as normal, the decision to close schools had been controversial.
Shimane Prefecture, which had not seen any confirmed cases of the virus, chose not to close schools at all. Now, the education boards of the cities of Toyama, Shizuoka, Hamamatsu and Naha, as well as Okinawa Prefecture, have decided to reopen schools. That still leaves the vast majority of Japan's roughly 38,000 schools closed.
Kyodo reported that the Aoi Elementary school in Shizuoka has decided to separate pupils' desks and open classroom windows for ventilation. Children also submitted written reports on their body temperatures and state of health during the period when school was off. On Friday, parliament passed a law granting the government power to declare a state of emergency, which would allow it to force schools to close, but Abe said there was no need to take such a step at this stage.
Japan reported 31 new cases of coronavirus and two deaths on Sunday, to bring the total 804 cases and 24 deaths, excluding at least 712 people who contracted the virus on board the Diamond Princess cruise ship and seven who died.
By: Simon Denyer
2:08 AM: South Korea declares most-affected areas 'special disaster zones'
South Korean President Moon Jae-in has declared the hardest-hit areas of the country as "special disaster zones," his office announced, paving the way for the government to potentially pay for recovery efforts and withhold taxes on residents living there.
More than 8,000 people in South Korea have tested positive for the virus, although the number of daily recorded cases dropped over the past week, raising hopes the peak of the outbreak there may be winding down. South Korea has gone to extreme measures to try to control the spread of the virus, even publishing the movements of infected people in the days before they were diagnosed with the virus but when they may have been contagious.
Reuters reported that the new designation marks the first time in South Korean history that an area has been declared a special disaster zone due to a contagious illness.
The declaration includes North Gyeongsang province and the city of Daegu in the southeast.
Sign up for our daily Coronavirus Updates newsletter to track the outbreak. All stories linked in the newsletter are free to access.
By: Siobhán O'Grady
12:54 AM: Australia dramatically expands health officials' powers to contain virus
Parts of Australia have declared states of emergency that will grant health authorities broad new powers to try to control the spread of coronavirus, as the number of cases in the country increased to around 300 and the death toll rose to five.
The Australian Capital Territory, Victoria state, and Western Australia have all implemented emergency measures, which will allow officials to enforce quarantines as they see fit, Reuters reported.
Prime Minister Scott Morrison also announced mandatory quarantines for any international travelers arriving in the country.
"These powers have never been used before," Daniel Andrews, the top official in Victoria state, told reporters. "This, I hope provides a clear sense about the unprecedented nature of this public health emergency, this really significant challenge."
Australia also banned all non-essential gatherings involving more than 500 people, a much less harsh restriction than other countries banning even much smaller crowds.
Anxious Australians have flooded the country's supermarkets to stock up on supplies amid fears of shortages. Woolworths, the largest grocery store chain in the country, will open its doors for special hours to allow senior citizens and disabled people to shop on their own.
By: Siobhán O'Grady
12:37 AM: Air pollution, smoking and other strains on lungs may worsen impact of coronavirus
With thousands of deaths already recorded amid the raging coronavirus pandemic, it's clear the disease is worse for the elderly and those with preexisting health problems.
But scientists are considering whether more subtle factors may also intensify the disease or increase the initial chances of infection — including smoking and air pollution.
"Given what we know now, it is very likely that people who are exposed to more air pollution and who are smoking tobacco products are going to fare worse if infected with covid than those who are breathing cleaner air, and who don't smoke," said Aaron Bernstein, the interim director of the Center for Climate, Health, and the Global Environment at the Harvard T.H. Chan School of Public Health, referring to the disease caused by coronavirus.
By: Chris Mooney
12:37 AM: Justice Dept. suspends wide swath of immigration court hearings
The Justice Department announced late Sunday it would suspend a swath of immigration court hearings amid increasing fears over the spread of coronavirus.
The department said that effective Monday, it would postpone all master calendar hearings for those not already in custody that are scheduled through April 10. Master calendar hearings in immigration court are similar to arraignments in federal court, and are largely centered on scheduling and other matters. Merits hearings and hearings for those already in custody are not affected.
The National Association of Immigration Judges, the union representing immigration judges across the country, had last week called for the postponement of master calendar hearings for those not already in custody, saying such proceedings "typically bring 50 or more respondents into each courtroom," many of whom traveled internationally or had ties to those who did.
"This is exactly the type of situation the White House, CDC and other public health authorities urge us to avoid, and we trust that you will agree that it is untenable and irresponsible in light of the current spread of covid-19 infections across the country," the union's president wrote.
The Justice Department said at the time that hearings would proceed as scheduled. Before the department reversed course Sunday, the union had called the department to close all the immigration courts for two to four weeks.
Sign up for our daily Coronavirus Updates newsletter to track the outbreak. All stories linked in the newsletter are free to access.
By: Matt Zapotosky
12:37 AM: Virus's damage to Chinese economy is worse than analysts predicted
China's industrial output dropped 13.5 percent in January and February, its most dramatic contraction in 30 years, data released Monday showed.
Retail sales collapsed by more than 20 percent as businesses shut their doors and residents quarantined themselves to avoid contracting the virus. Factories shut down and large-scale travel bans were implemented, grinding production to a near-halt across swaths of the world's second-largest economy. The unemployment rate also increased to 6.5 percent over the first two months of the year, marking a new record for China, Bloomberg reported.
Monday's dire numbers indicated that the impact of the virus on China's economy was even worse than many analysts had predicted and could offer a frightening preview of what is yet to come in the United States, Europe and elsewhere, as businesses shutter and urban centers begin to essentially shut down, with residents preparing to hunker down for several weeks.
Even as parts of China, including the epicenter of the outbreak in Hubei province, are slowly reopening for business, the data suggest there will be long-term economic damage from the virus, particularly as much of the rest of the world is just beginning to grapple with the pandemic. In China, authorities are also introducing new restrictions on incoming travelers to try to prevent the virus from continuing to spread back to the country from elsewhere.
By: Siobhán O'Grady