N Korea winds back its clocks to make 'Pyongyang time'

Al Jazeera
8/7/2015
The change will put the standard time in North Korea at GMT+8:30, 30 minutes behind South Korea which, like Japan, is at GMT+9:00.
North Korea said the time change, approved on Wednesday by its rubber-stamp parliament and announced on Friday, would come into effect from August 15, which this year marks the 70th anniversary of the Korean peninsula's liberation from Japan's 1910-45 colonial rule.
"The wicked Japanese imperialists committed such unpardonable crimes as depriving Korea of even its standard time while mercilessly trampling down its land," the North's official KCNA news agency said.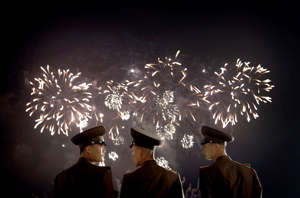 © AP Photo/Wong Maye-E North Korean soldiers watch as fireworks explode, Monday, July 27, 2015, in Pyongyang, North Korea as part of celebrations for the 62nd anniversary of the armistice that ended the Korean War. Standard time in pre-colonial Korea had run at GMT+8:30 but was changed to Japan standard time in 1912.
KCNA said the parliamentary decree reflected "the unshakable faith and will of the service personnel and people on the 70th anniversary of Korea's liberation."
OPINION: This just in - More crazy news from North Korea
Seoul's Unification Ministry, which deals with cross-border affairs, said it was aware of the announcement but had no immediate reaction.
South Korea had similarly changed its standard time in 1954 - again to reflect the break from Japanese rule - but reverted to Japan standard time in 1961 after Park Chung-Hee came to power in a military coup.
Park's rationale was partly that the two major US allies in the region - South Korea and Japan - should operate on the same time to facilitate operational planning.