New Israeli Syria Strikes Reported As Russia Condemns

Newsweek
2/12/2019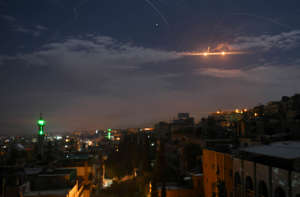 Official Syrian media has reported new strikes from Israel, just as a leading Russian diplomat condemned such actions.
The state-run Syrian Arab News Agency and the pro-government Al-Ikhbariya news station have reported a series of Israeli strikes near the town of Tel al-Durayya in the southwestern province of Al-Quneitra. The reports suggested that only material damage was inflicted, hitting the destroyed provincial hospital and an observation post in the town of Jubata al-Khashab.
Israel has traditionally neither confirmed nor denied its involvement in such attacks, but officials have recently spoken openly of "hundreds," and even "thousands" of such maneuvers, often said to target suspected Iranian or Iran-backed positions operating in support of the government in Syria. The latest strike, however, would come after a statement from Damascus' other major ally, Russia, which has hardened its language against the Israeli operations it previously ignored.
"For us, the security of Israel is paramount," Russian Deputy Foreign Minister Sergei Ryabkov said Monday, according to the state-run Sputnik News agency. "Having said that, I am not saying that Israel's unlawful attacks on targets in Syria, including targets that are in one way or another linked to Iran, are legitimate and can be justified.
"No, we condemn them, they are illegitimate," he added. "But this does not mean, again, that we should not care about the security of Israel."