Photos: Rescued Thai soccer team makes public appearance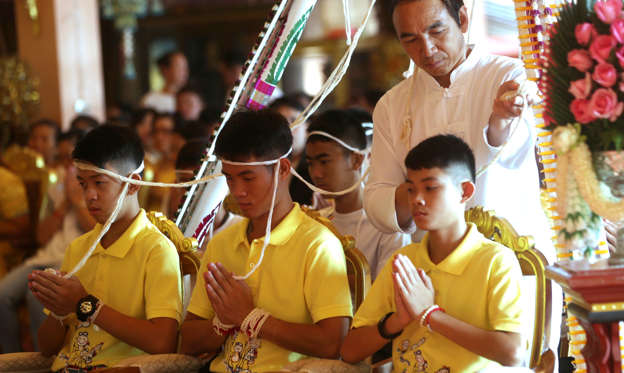 Thailand's rescued soccer team members woke up in their own homes for the first time in more than three weeks on July 19, with many rising at dawn to take part in a religious ceremony. The 12 boys, aged 11 to 16, and their 25-year-old coach rescued from a flooded cave in northern Thailand left the hospital where they had been recuperating and appeared at a news conference on July 18. They looked healthy and said that the ordeal made them stronger and taught them not to live carelessly. They also thanked those involved in their rescue.

(Pictured) Coach Ekkapol Janthawong (center) and members of the rescued soccer team attend a Buddhist ceremony that is believed to extend the lives of its attendees as well as ridding them of dangers and misfortunes in Mae Sai district, Chiang Rai province on July 19.
© Sakchai Lalit/AP Photo