Riots Flop as Italy's Far-Right Takes Election Fight to Facebook

Bloomberg
2/11/2018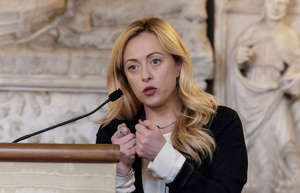 (Bloomberg) -- Italian authorities braced for the worst Saturday, deploying riot police across the country in anticipation of far-right street fighters wreaking havoc on marches by anti-racists and anti-fascists. One expected flashpoint town even shut down public transport as it went into lockdown.
But then the far-right largely failed to show. Instead of taking to the streets, it took to Facebook.
Giorgia Meloni, leader of the Brothers of Italy party, broadcasted from the campaign trail via Facebook Live a handful of times during the weekend. In one video from Milan she pointed at discarded syringes, denouncing heroin dealers "who for the most part are illegal immigrants." In another she visited a restaurateur who'd shot and killed a Romanian thief last year. He faces a relatively minor charge of excessive self-defense, according to Italian media.
And in response to Saturday's marches, Meloni posted a video of anti-right protesters hitting a policeman who had fallen to the ground. By lunchtime Sunday, the video had more than 700,000 views and her post was shared more than 18,000 times.
The pivot to Facebook is by design, in part, by Facebook itself. On Feb. 8 the social network announced it was introducing tools to support "civic participation" in Italy's March 4 elections.
The effort includes a "Points of View" box that pops up on Italian Facebook users' pages with policy information solicited from any political party with more than 1 percent support in polls. The box also provides links to the parties' Facebook pages.
The social network will also broadcast candidate interviews, it said in the Feb. 8 statement. Meloni will be a guest Monday in the first installment, alongside a candidate for the Green party, from Facebook's Italian headquarters, news agency Ansa said.
Meloni's online efforts haven't hurt. Her party gained more than any other in an Istituto Ixè poll published Sunday, rising half a percentage point to 4.8 percent, its best showing in the poll since early January.
The rival, anti-establishment Five Star Movement dropped by that same amount, to 28.3%, in the polling period that ended Feb. 7.
In coming weeks, Meloni may see her influence grow. Brothers of Italy is part of a center-right coalition, led by billionaire Silvio Berlusconi's Forza Italia, that has the greatest slice of the national vote in recent polls.
To contact the reporter on this story: Vernon Silver in Rome at vtsilver@bloomberg.net.
To contact the editors responsible for this story: Robert Blau at rblau1@bloomberg.net, Kevin Costelloe, Steve Geimann
©2018 Bloomberg L.P.