Russia Accuses U.S. of 'Stoking Chaos' in Venezuela

Newsweek
3/28/2019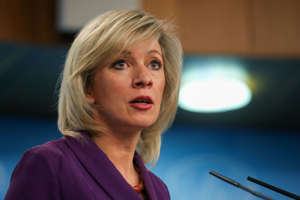 Russia has lashed out at the United States for its actions in Venezuela, after a series of strong rebukes directed at Moscow's support of embattled President Nicolas Maduro from President Donald Trump and other top administration officials on Wednesday.
Pointing to U.S. sanctions targeting the South American nation and other actions, Russian Foreign Ministry spokesperson Maria Zakharova told reporters Thursday that these efforts by Washington "could be branded as acts of sabotage against the country's electric power system," according to Russia's Tass news agency. Venezuela has suffered from major blackouts as financial problems, hyperinflation and endemic corruption wreak havoc on the economy.
Blaming the U.S. for the issues, Zakharova said: "All that is deliberately stoking chaos and the collapse of the state, which can result in no winners." The spokesperson also insisted that Russian troops who have been sent to Venezuela will remain in the country "as long as they need it, and as long as the Venezuelan government needs them." She insisted everything was being handled under "international and bilateral legal frameworks"
On Wednesday, Trump met with Fabiana Rosales, the wife of Venezuelan opposition leader Juan Guaidó. Asked by reporters about Russian troops arriving in the Latin American country, Trump said they need to "get out" and that "all options are open" for Washington to respond. Vice President Mike Pence also met with Rosales, saying Russia's actions were a "provocation," according to Reuters.
Rosales husband, Guaidó, leads Venezuela's legislature, the National Assembly. In January Guaidó declared himself interim president of the country. The U.S., along with other countries throughout the Americas and Europe, quickly supported him as the acting head of state of Venezuela, despite President Maduro's re-election last year. Guaidó and his supporters dismiss those polls as illegitimate, pointing to a boycott by a large portion of the population and allegations of voter fraud. The opposition leader claims his decision to declare himself interim president and call for new elections is in line with the Venezuelan constitution, which calls for the head of the National Assembly to step in as head of state in the absence of a president.
Maduro, who has been backed by Russia and China, has called Guaidó's actions a "coup." He has also repeatedly accused the U.S. of trying to kill him, while blaming Washington's sanctions for wreaking havoc on Venezuela's economy. Under Maduro's leadership, Venezuela has sunken into the worst financial crisis in its modern history. Due to the economic problems, rampant crime and a lack of food and medicine, millions of Venezuelans have fled the country, largely to nearby countries such as Brazil, Ecuador and Colombia.
Although many analysts have pointed to corruption and mismanagement as the principal driver behind the economic crisis in Venezuela, other experts have said sanctions have taken a drastic toll.
"Certainly poor management of the economy has contributed to the situation – but not to the same degree [as sanctions]," Alfred de Zayas, a lawyer and former rapporteur for the United Nations Human Rights commissioner who previously went on a fact-finding mission to the Latin American country, told Newsweek. "Certainly there is corruption, but there was surely more corruption in the 1980s and 1990s during the IMF-bound neo-liberal governments," he argued.
"As I have written: economic sanctions kill," he added. De Zayas also posited that if the opposition successfully ousts Maduro, "one can expect a Guaidó decree turning the clock back to the 'good old days' when the rich were rich and the poor were poor."