'Stateless' boy who emerged as leader in Thailand cave was key to rescue

CBS News
7/12/2018
have been hospitalized
since their 18-day ordeal ended earlier this week and are expected to spend at least a week at the hospital, followed by 30 days at home. 
The British divers who found the boys also had a helper inside the cave: a student who was able to take a leadership role by translating for them. Staff at his school told CBS News' Anna Werner that's not surprising. He's a boy who has already faced significant challenges in his life and overcome them.
Final group was pulled from Thai cave just before water pump malfunction
Teacher Kru Nice says 14-year-old Adun Sam-On has always been a leader, despite the fact he doesn't have his parents with him or even an official home.
Since Adun's parents slipped him out of Myanmar eight years ago to escape the ethnic conflicts there, he's become one of many students at this school considered "stateless." He's not a citizen of any country. Yet in Thailand, Adun is a top student and a standout athlete.
Kru said she was so worried when she learned Adun was trapped in the cave. But Adun's proficiency in languages – he speaks four – proved key inside the cave, as he acted as a translator for the British divers during the complicated rescue.
The boys were given anti-anxiety medication to keep them calm. In some portions of the journey, the boys were put into harnesses lying down. Rescuers used a rope system and high lines to pull them through the caverns.
Before they were found, a family member told CBS News the soccer players worked together to survive for nine days in the cave.  When the boys entered the cave they each had a flashlight, one watch and one mobile phone with light until the batteries died.
They were able to check a watch for the time for the first three days. They slept close together for warmth and took turns digging in the cave to try and redirect the water that had trapped them.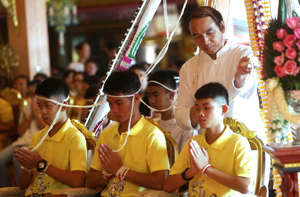 Slideshow by photo services
Now the boys are in the hospital where new video shows them sitting up in their beds, their relieved parents watching them through a window. It's the result Adun's teacher has been waiting for.
"He's a miracle boy," she said. "I'm so happy he's safe."
Thai Airways is providing round-trip tickets and an all-expenses-paid weeklong trip for all of the international volunteers who worked on the rescue. The tourism authority is also giving them all a five-year visa.
Thai officials said they plan to create an interactive museum at the cave that will feature items such as the clothing worn by rescuers. But for now, the cave is closed.