Syria signs Paris climate agreement and leaves U.S. isolated

The Guardian
11/7/2017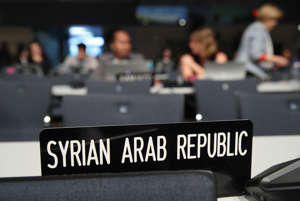 © Sean Gallup, Getty Images A sign marks the desk of the Syrian delegation at the COP23 United Nations climate change conference in Bonn, Germany, on Tuesday. Syria has decided to sign the Paris agreement on climate change, the world's final functioning state to do so. The surprise decision, taken amid a brutal civil war in the country, will leave the U.S. as the only country outside the agreement if it follows through on President Donald Trump's vow to leave.

The landmark 2015 agreement requires global governments to limit temperature rises to no more than 2 degrees Celsius, which scientists say is the threshold of safety, beyond which the ravages of global warming are likely to become catastrophic and irreversible.
Although Trump pledged this summer to withdraw, under the UN's legal processes this cannot happen until 2020. The prospective date for U.S. withdrawal falls on the day after the presidential election that year. Until then, the U.S. remains a participant in the accord.
An American delegation is present at the UN talks on climate change taking place in Bonn, Germany, and UN climate chief Patricia Esposito says they are participating in the negotiations.
Related: The COP23 climate change summit in Bonn and why it matters
The U.S., the world's largest economy and second biggest emitter of greenhouse gases after China, is the only government to have initiated withdrawal proceedings from the historic pact, the first after more than 20 years of negotiations to bind both developed and developing countries to a specific climate goal.
The U.S. delegation at the Bonn talks did not immediately comment.
Syria's decision follows that of the only other holdout on signing, Nicaragua, which joined the accord shortly before the current talks.
Syria's move is largely symbolic but has been welcomed by participants and nongovernmental organization observers at the COP23 talks in Bonn.