'Teeth-chattering' winter with plenty of snow, Farmers' Almanac predicts

USA TODAY
8/29/2018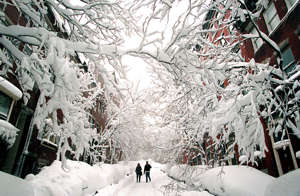 © Wendy Maeda/The Boston Globe/Getty Images A couple walk beneath tree branches laden with snow on Garden Street during the blizzard of 1997, often referred to as the April Fool's Day snow storm. Hold onto your wool caps: we may be in for a brutal winter.
Unlike other news stories predicting a warm, wet winter, the Farmers' Almanac predicts a "colder-than-normal" season, stretching from the Continental Divide to the Appalachians. 
"Contrary to the stories storming the web, our time-tested, long-range formula is pointing toward a very long, cold, and snow-filled winter," said editor Peter Geiger in a statement on the company's website. 
The popular forecaster said frigid conditions are expected in mid-February across the New England, Great Lakes, Ohio Valley and the Midwest.
Above-normal snowfall is predicted for the Great Lakes, Midwest, New England and Pacific Northwest, they said.
Stormy conditions are expected to hang around through the official start of spring.