Trump: U.S. troops will be out of Syria 'very soon'

The Hill
3/29/2018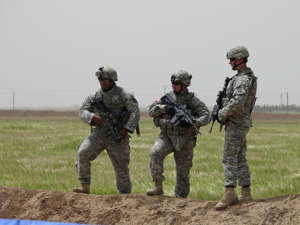 © Kianne Sadeq/NBC NewsWire US military soldiers standing guard on the burham that separates Iraq and Syria -- Photo taken on May 5, 2007 President Trump said on Thursday that the U.S. would be out of Syria "very soon" in the fight against ISIS.
"We're knocking the hell out of ISIS. We'll be coming out of Syria, like, very soon," President Trump said in an Ohio speech focused on infrastructure, referring to the Islamic State in Iraq and Syria terror group.
"Let the other people take care of it now. Very soon. Very soon, we're coming out. We're going to have a hundred percent of the caliphate, as they call it. Sometimes referred to as land, taking it all back. Quickly, quickly," he continued.
While the U.S. military presence in Syria has been aimed at ISIS, the Trump administration has also criticized Syrian President Bashar Assad, citing his human rights record.
Then-Secretary of State Rex Tillerson said in January that "total withdrawal" would allow Assad to "continue brutal treatment of his own people."
Trump announced earlier this month that Tillerson would be replaced by outgoing CIA Director Mike Pompeo.