Arnold, ex-Cub Ross dance to 'Go Cubs Go' on 'DWTS'

theScore
3/21/2017
You can take David Ross out of the ballgame, but you can't take the ballgame out of David Ross.
Ross and partner Lindsay Arnold didn't set the "Dancing with the Stars" dance floor on fire, but they did outperform Mr. T. The duo's baseball-themed performance - set to the song "Go Cubs Go" - earned them a score of 28 out of 40, while the former "A-Team" star managed a mere 20.
The former Cub is the first MLB player to grace the "DWTS" stage in its 24 seasons, and will not be sent home right away based on this performance.
Time will tell whether The Lady and the Gramp have the wherewithal to take home Ross' second championship title in the last calendar year.
Copyright © 2017 Score Media Ventures Inc. All rights reserved. Certain content reproduced under license.
PHOTOS: SPRING TRAINING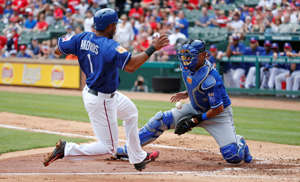 2017 spring training