Cubs reach deal with 7-time All-Star closer Craig Kimbrel after hot streak persuades Theo Epstein to get aggressive

Chicago Tribune
6/6/2019
Video by Yahoo
Jun. 6--The Cubs' rebound from a sluggish start to the top of the National League Central convinced President Theo Epstein to add reinforcements to a team with World Series aspirations.
Less than a week after signing Carlos Gonzalez to a minor-league contract and receiving instant production from the three-time All-Star outfielder, the Cubs made a massive strike Wednesday night by agreeing to terms with seven-time All-Star closer Craig Kimbrel.
The agreement will become official once Kimbrel, 31, passes a physical examination. Kimbrel's agreement with the Cubs was first reported by The Athletic's Ken Rosenthal. MLB Network's Jon Heyman reported the deal is worth $43 million and runs through 2021.
The addition of Kimbrel strengthens a bullpen already bolstered by the return of Pedro Strop, who said Tuesday he would gladly welcome a closer with the credentials of Kimbrel. The right-hander has a lifetime 1.91 ERA with 333 saves and 14.7 strikeouts per nine innings over nine seasons with the Braves, Padres and Red Sox.
The deal would end a bizarre offseason for Kimbrel, the top reliever on the free-agent market who hadn't signed since helping the Red Sox win the 2018 World Series.
By agreeing to terms with Kimbrel after Sunday night, the Cubs -- or any team that signed him -- would not lose a draft pick.
This marks the third time in four seasons Epstein and his staff acquired a closer, but this one did not cost them any prospects.
The Cubs acquired Aroldis Chapman from the Yankees in exchange for four players, led by dazzling infielder Gleyber Torres, one week before the July 31 trade deadline in 2016.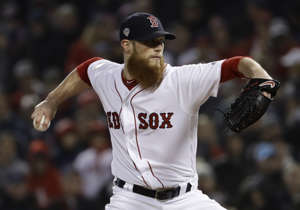 Less than five months later -- and one month after Chapman filed for free agency -- the Cubs acquired Wade Davis from the Royals for enigmatic outfielder Jorge Soler at the winter meetings.
The acquisition of Kimbrel nearly two months before the trade deadline stressed the importance of beating the competition for the prime reliever in a shallow market.
"I've been open about (how) we'll be aggressive this year with the bullpen," Epstein said two hours before the Kimbrel agreement was reported. "We've moved some pieces around internally, got some nice contributions from some guys in Triple A.
"We have a number of relievers throwing well, but we're trying to get better. We've been open about the fact at some point we'll probably get some help from outside the organization."
Since Brandon Morrow suffered an elbow injury midway through last season, the Cubs have piecemealed the back end of their bullpen. Strop handled the bulk of save chances in the second half of 2018 until he suffered a left hamstring strain, and the Cubs had converted only 11 of 22 save chances this year entering Wednesday night's game against the Rockies.
There are no guarantees Morrow will return, although Epstein said Morrow was throwing from 75 to 90 feet and mixing in breaking balls without any discomfort at the team's Arizona complex.
When the Cubs' interest in Kimbrel surfaced last weekend, manager Joe Maddon said it normally would take about three weeks for a closer such as Kimbrel to get ready for a major-league season.
The Cubs' 13-2 stretch that saw them jump from a 2 1/2 -game deficit April 27 to a 2 1/2 -game lead May 15 was a big step in giving Epstein the faith he could add reinforcements for a fifth consecutive playoff appearance.
"We're getting there," Epstein said. "It's a long way to the trade deadline. We've shown we have a lot of talent, and the way we bounced back from that early-season adversity showed some character. And the rotation has a chance to be a real strength for us and keep us in every game the way they've thrown the ball, which is great.
"Our offense has had ups and downs, as with any offense. But by and large, we've shown the second half of last season was an aberration and guys have made good adjustments. We're in a better spot now, up and down the lineup. We've had nice performances out of the pen, but certainly it's an area we plan to be aggressive, and an addition can help guys slide into the right spots and make it a real strength for us."
The Cubs are expected to get financial relief while infielder Ben Zobrist remains unpaid on the restricted list. That could free up as much as $9.3 million if he does not return -- perhaps alleviating any concerns after Chairman Tom Ricketts said in February the team didn't have the money to afford Kimbrel,
___
(c)2019 the Chicago Tribune
Visit the Chicago Tribune at www.chicagotribune.com
Distributed by Tribune Content Agency, LLC.
Related slideshow: 2019 MLB season (Provided by imagn)