Eckersley shades ex-teammate for stealing his wife 40 years ago

Larry Brown Sports
8/4/2018
Leave it to Dennis Eckersley to spill some 40-year-old tea while on the air.
During NESN's broadcast of the Boston Red Sox-New York Yankees game on Friday, the retired Hall of Fame pitcher-turned-analyst had one heck of a viral moment. In the second inning, the discussion turned to Red Sox pitcher Eduardo Rodriguez and his close relationship with Yankees counterpart Luis Severino. Eckersley and his broadcast partners got asked if there was ever anyone that they were close with despite being in the middle of a rivalry.
"I don't about rivalry," Eckersley replied. "I had a real close friend who stole my wife. How about that?"
Check out the video:
Dennis Eckersley tells all the children of New England about how his friend stole his wife. #ClassicEck #LoveIt pic.twitter.com/CndHOVJbjl

— JPS (@rsfpt) August 3, 2018
It turns out that the close friend in question here is Rick Manning, a retired outfielder and, ironically, also now a broadcaster for the Cleveland Indians. Manning and Eckersley began their MLB careers together on the Indians in 1975 before the latter was traded to the Red Sox in 1978.
Peter Gammons discussed the drama in a 1988 feature for Sports Illustrated:
Despite his flamboyance, Eckersley was going through a searing experience in his personal life. On March 30, 1978, Eck found out that he had been traded to Boston. The same day his first wife, Denise, told him that she didn't love him anymore. In June, he learned that she and his best friend. Rick Manning, a Cleveland outfielder, were having an affair (they would eventually be married).

"I was hurt at first," says Eckersley, "but Denise and I were kids when we got married. We were 18 and didn't know anything. What hurt was being separated from Mandee [his daughter]."
Manning and Denise would later end up divorcing after getting married. Eckersley, meanwhile, had two children with his second wife, Nancy, and is now married to his third wife, Jennifer.
As for his broadcasting career, the ex-Cy Young winner Eckersley is definitely known for having little filter while on the air. It's safe to say though that Friday's episode brought that to a whole new level.
Related slideshow: Best of MLB season (provided by photo services)
More from Larry Brown Sports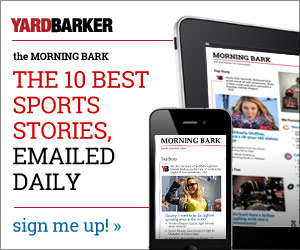 Larry Brown Sports