Joe West hurts Yankees with blown strike call on Brett Gardner

Larry Brown Sports
9/21/2019
New York Yankees fans are furious with umpire Joe West for blowing a call during Brett Gardner's final at-bat on Friday night.
The Yankees were trailing the Toronto Blue Jays 4-3 in the bottom of the ninth and had one out with Gardner facing closer Ken Giles. Gardner had a full count and Giles threw a pitch that was a solid few inches outside. Rather than call it a ball and put Gardner on base as he should have, West called it a strike, leaving the Yankees with only one more out.
Here's a look at the pitch:
Hey @MLB ,

You're going to have a missed call in the playoffs be the story instead of the game. No responsibility for the @MLBUA. At least Joe West took off his mask hoping Gardy would start a fight with him.

I'd say fix it but we'll wait till someone gets screwed in October. pic.twitter.com/SOtH8R7qqf

— Jake Story (@TalkinJake) September 21, 2019
Joe West just helped out the Astros. He called this pitch a strike to Brett Gardner in the 9th inning of a one-run game. Should have been ball four. Yankees lose. pic.twitter.com/SFOIaDHJKj

— John Alexander (@JohnAlex1313) September 21, 2019
The final pitch was tracked by MLB (seen as pitch 5 in the graphic) as being over the far side of the white chalk of the other batter's box.
Oh Joe West… pic.twitter.com/rqinJ2Am3M

— Jason Collette (@jasoncollette) September 21, 2019
Mike Ford followed by striking out to end the game.
Umpires should never be missing calls that badly. It stings even more when it's a one-run game and your team is competing with the Houston Astros for home-field advantage in the playoffs.
More from Larry Brown Sports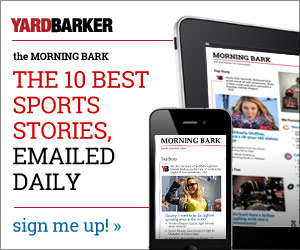 Larry Brown Sports