Our data provider is having technical issues, live scoring and stats are impacted. We are working with them to enable your sports experiences again as quickly as possible.
Time to wonder if Cespedes will ever be same player

New York Daily News
5/17/2018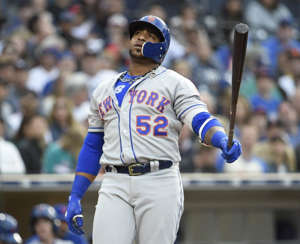 © Denis Poroy/Getty Images Yoenis Cespedes has been dealing with a nagging hip flexor/right quad issue. Less than 12 hours after the Mets coyly said they would "wait and see" about putting Yoenis Cespedes on the disabled list, they announced that they needed to put the 32-year-old slugger on the DL.
There is no real surprise in that for anyone who watched Cespedes try to play through the hip flexor/right quad issue and how the Mets handle the DL. (Though it's unfortunate that they once again lacked the preparation or conviction in their decision to put a player on the disabled list and left their team to play Tuesday night with just 24 available on the roster.)
The real question is which Cespedes will the Mets get back when he is eventually able to come off the disabled list.
"He may never be healthy again," said one evaluator who has watched Cespedes over the years. "Look at the way he's built, bulky with big legs. The nagging leg issues worry me."
And they obviously have to worry the Mets, who have invested $110 million in a contract that runs through the 2020 season.
Wednesday, Mickey Callaway said the ultimate decision to put him in the DL was an attempt to get him back to being the "Cespedes he can be."
"The information that I have is we can get this resolved with some rest. He could have continued to gut it out, continue to play. We were hoping with the off days and things like that that the progression of it would be where at some point this would go away while he was playing," the Mets manager said. "And I think it became evident after that one off day where he was feeling the same, not a lot of improvement, and then he got the MRI and it kind of made the decision for us. He was improving while he was playing and that kind of stopped, so let's take a different route and make sure that we're cautious with him and get him back to being the Cespedes he can be soon."
But what exactly is the best Cespedes can be right now? For the past two seasons, he's been battling nagging injuries with flashes of his old self.
"You get older, it gets harder," said another scout. "Power comes from using your legs, it has to be a concern that he is dealing with these issues. You have to wonder if he will ever be the guy we saw in 2015."
Back then, Cespedes was "La Potencia" of the Mets lineup. In 57 regular season games after being traded to the Mets by the Tigers, Cespedes hit .287 with 17 home runs and 44 RBI. In the playoffs, however, the Mets got a little foreshadowing of problems to come. After hitting a combined .264 with three homers in the division series and championship series, Cespedes suffered a shoulder injury and hit just .150 with one RBI in the World Series.
Still, the Mets have seen enough to re-sign Cespedes twice. In 2016, they saw him try to play through a nagging right quad issue that eventually resulted in a DL stint. In the first year of his current four-year deal, Cespedes played in just 81 games because of hamstring issues.
Cespedes has done his best to try to stay on the field this year.
Not only did he play through the nagging injury, which made it painful to watch him run over the weekend in Philadelphia, but he made a commitment to it this offseason. He cut back on using heavy weights on his legs during his offseason workouts and did more running. Cespedes not only took up yoga to try and keep his legs loose and limber, he gave up his favorite hobby during the season to try and stay fresh. Cespedes decided to give up golf during the season -- though there are mixed reports on whether he got in a few rounds after going through an early season slump -- to spend time off his feet and resting his legs.
"He was doing everything we asked of him, not only through the offseason, but in-season with everything he was doing a great job," Callaway said. "So his preparation and the way he went about his business is definitely not the reason this happened. It's just wear and tear on the body through the major league season that everybody goes through."
And eventually, that wear and tear accumulates on an aging body to the point where you have to wonder if Cespedes will ever be the same player again.
Related slideshow: Best of MLB season (provided by photo services)