Watch: Top Mariners prospect Jarred Kelenic goes Bo Jackson, snaps bat in two

Larry Brown Sports
9/7/2019
Jarred Kelenic had quite the show of strength on Friday … after his at-bat.
The 20-year-old Kelenic, a top prospect in the Seattle Mariners organization, struck out during a third-inning plate appearance for the Double-A Arkansas Travelers and took out his frustration on his lumber. Have a look as he takes a page out of Bo Jackson's book and effortlessly snaps the bat in half:
Jarred Kelenic gonna need a new bat. pic.twitter.com/FjtcReGILg

— Mariners Minors (@MiLBMariners) September 7, 2019
Kelenic, a lefty outfielder, has hit 23 homers in 117 games in the minors this season, so power is definitely the name of his game. He has also stolen 20 bases on the year, giving the Mariners a serious athlete to look forward to.
The last young slugger we saw level his bat like that has developed into quite the player, so perhaps Kelenic will be following in his footsteps down the line.
More from Larry Brown Sports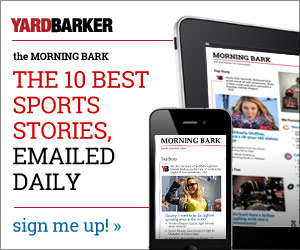 Larry Brown Sports