Fantasy Football Week 14 Tight End Preview: Projections, streamers, DFS plays and more

CBS Sports
12/7/2021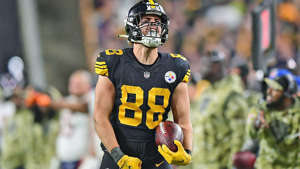 Coming into the season there weren't many people who liked Noah Fant more than I did, but virtually everyone agreed he was a must-start tight end. Pat Freiermuth was a different story. He emerged midseason and it seemed like everyone liked him more than I did. But like Fant, we all agreed he was a starter. Entering the Fantasy playoffs, I'm not sure I was to start either of them, and it's for a similar reason.
The duo has combined for four games over 50 yards this season, but only Fant has done it since Week 6. They're both averaging below 9 yards per reception and below 6.5 yards per target. Worse yet, neither has more than five catches in a game since Week 6.
This type of profile makes them very touchdown-dependent, just like two-thirds of the tight ends in the league. And you might think that because Freiermuth has already scored six touchdowns to Fant's three, that makes him a more reliable option. I would disagree because at this small of sample size, I just don't think touchdowns are that predictive, but also because Freiermuth's quarterback has thrown just 16 touchdowns this season, just like Fant's QB.
Week 14
Running Back Preview
Quarterback Preview
Wide Receiver Preview
When you look at the projections below, you won't see Freiermuth or Fant in my top 12, and that's with Dallas Goedert and Mike Gesicki on a bye. They're both still great Dynasty options, but their current roles are not the type I'm interested in starting. Look to the waiver wire for three options I would start over them.
Here's everything else you need to know about tight end in Week 14: 
Week 14 TE Preview
Video: NBA Daily Fantasy Picks - Dec. 8 (Yahoo! Sports)
Who's Out
Numbers to Know
Matchups That Matter
Waiver Wire Targets
DFS Plays
Projections
The following players are not being projected to play Week 14 at this time. Here's what it means:
TE Preview
Numbers to Know
TE Preview
Matchups that matter
TE Preview
Waiver Wire Targets
TE Preview
Heath's Projections
2021 NFL jerseys now available
The new NFL season is here! Win or lose, you can shop jerseys, shirts, hats, and much more to support your favorite team. Shop here and show your colors.
We may receive a commission for purchases made through these links.