Arash Markazi: How one of the most noticeable Lakers season-ticket holders is happy with the team missing the playoffs

Los Angeles Times
3/21/2019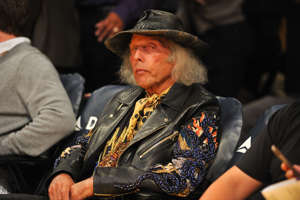 © 2017 Allen Berezovsky LOS ANGELES, CA - NOVEMBER 05: Jimmy Goldstein attends a basketball game between the Los Angeles Lakers and the Memphis Grizzlies at Staples Center on November 5, 2017 in Los Angeles, California. (Photo by Allen Berezovsky/Getty Images) Mar. 21--The Lakers are going to miss the playoffs for a sixth consecutive season and there is perhaps no one happier about their predicament than longtime Lakers season-ticket holder Jimmy Goldstein.
If you don't know Goldstein by name, you've certainly seen him courtside for years. He's the older gentleman sitting on the baseline next to the visitor's bench dressed in a leather jacket, leather pants, leather boots, neck scarf and a custom-made python-skin hat covering his frizzy grey hair.
Goldstein, 79, has been a courtside fixture at Lakers games since moving to Los Angeles in 1962, two years after the Lakers arrived from Minneapolis, and at Clippers game since the team moved to L.A. from San Diego in 1984. He estimates he goes to over 100 games per year, including almost all of the Lakers and Clippers home games at Staples Center. Goldstein has had a front-row seat for most of the biggest moments in Lakers history but doesn't care if he doesn't see another one again.
"I am a big Clippers fan and I have always been an anti-Lakers fan," Goldstein told me before taking in the Clippers' win over the Pacers on Tuesday. "I'm always rooting for the visiting team. Everywhere I go, all over the world, people walk up to me and say, 'Go Lakers!' I tell them, 'I'm not a Lakers fan.' They look shocked. They say, 'But you go to all the games?' And I say, 'Yes, to watch basketball, not to root for the Lakers.'"
Goldstein, who credits his wealth to "property investments that have turned out reasonably well," estimates he spends over $500,000 per season on NBA tickets. During the first and second rounds of the playoffs, he says he travels every day and is courtside at a different postseason game each night. By the time the playoffs are done he estimates he has gone to about 35 games, including every NBA Finals game. He doesn't mind traveling more now with the Lakers being out of the playoffs in recent years. He would rather travel to see a small-market team win than see the Lakers win another championship.
"I didn't grow up in Los Angeles so when I came to L.A. I didn't feel any compulsion to suddenly root for the Lakers when I never had before," he said. "I also like to root for the underdog and I don't like to go with the crowd. The Lakers have had it too easy over the years. They've had a big advantage over other teams. They've always gotten the star players from other teams whether it's Wilt Chamberlain, Kareem Abdul-Jabbar, Shaquille O'Neal and now LeBron James. They've had such a huge advantage over small-town teams. It motivated me to root for the other teams. Plus, the Lakers fans are so biased in favor of the Lakers, it makes me root against them."
It's hard to imagine another Lakers season-ticket holder, let alone one for 50 years, getting as much joy in the Lakers' struggles as Goldstein. A big smile came over his normally stoic face when he was told the Lakers missed the playoffs only five times from 1949 to 2013 before their current drought.
"I have to chuckle over the Lakers' problems, missing the playoffs six years in a row and not even finishing close to .500," Goldstein said. "The Lakers fans deserve it."
___
(c)2019 the Los Angeles Times
Visit the Los Angeles Times at www.latimes.com
Distributed by Tribune Content Agency, LLC.
Related slideshow: 2018-19 NBA Season (Provided by imagn)