Dwyane Wade still waiting for moment when he feels like, 'Oh dang, I really retired'

Sun Sentinel
8/11/2019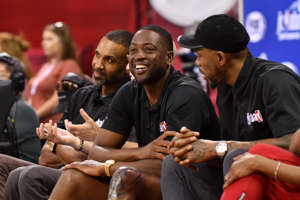 © Getty ORLANDO, FL - AUGUST 11: Grant Hill, Dwyane Wade , and Udonis Haslem attend a game between the U.S. Central Girls and Canada Girls during the Girls Jr. NBA Global Championship on August 11, 2019 at the ESPN Wide World of Sports Complex in Orlando, Florida. NOTE TO USER: User expressly acknowledges and agrees that, by downloading and/or using this photograph, user is consenting to the terms and conditions of the Getty Images License Agreement. Mandatory Copyright Notice: Copyright 2019 NBAE (Photo by David Dow/NBAE via Getty Images) MIAMI - Dwyane Wade said Sunday he is taking comfort both in his retirement and the knowledge that Miami Heat culture will endure with Udonis Haslem remaining in the locker room.
Speaking at the Jr. NBA Global Championships in Orlando, where he and Haslem served as Global Ambassadors, Wade said there has been no looking back since stepping off the court in April for the final time after his 16-season career.
"I feel complete," he said. "I've done everything I want and more."
As for Haslem, Wade said he appreciated that his friend wants to offer more, this past week committing to a 17th season with the franchise.
"I think it's great," he said of the return of the Heat captain. "We had many talks throughout last year, throughout this summer. It's something he still wants to do. He wasn't ready to walk away from the game.
"He still has so much to give to those players in that locker room, continue to move the culture forward. He's an important piece of leadership and he's a big piece for Erik Spoelstra. I think they understood that. I think both sides, the Miami Heat and UD, came together and said, 'Hey, we still want you involved in your role and what you do for the players.' "
As for his break from the game, Wade said, "I'm just enjoying myself, spending time with my family, trying to get a little time away."
Asked during his media session if retirement fully had hit home, he paused.
"I don't feel retired yet," he said. "I'm sure once training camp starts, media day, all those things that I'm used to when I'm not involved in that, that's when it will feel like, 'Oh dang, I really retired.'
"So when that time comes, I'll have a moment like, dang,' and then I'll move on."
But, no, no looking back.
"I feel complete," said Wade, who won three NBA championships with the Heat. "That's why I was able to walk away from the game like I did, because I felt complete. My career, it surpassed everything that I ever dreamed of.
"I think that's the thing, some guys don't accomplish some of the things that they want to, and they feel like they still have something in them from that standpoint. For me, I'm complete, man. I've done everything I wanted to do and more."
Among the priorities these days is the basketball arc of his oldest son, Zaire.
"I'm enjoying watching my 17-year-old son kind of go through this process," he said. "I'm good being a part of that, having more time. I got a 9-month old daughter, as well, at home and I got to be there.
"But I'm enjoying from a basketball side of being a part of helping my son grow. Hopefully one day he can play on the big stage. He's got a lot of work to do. But I'm able to give whatever I have to him right now, and that means more than what I can give to the NBA right now. I can give a little bit, but I can give more to him."
As far as the Heat's next wave, the perspective now is coming from afar, confident that first-round pick Tyler Herro will be able to find his own place in the Heat's culture.
"I followed the summer league and got to see whatever the Heat posted on their page," Wade said of the team's social media. "I haven't been around the players yet, but I like what I see.
"When the Miami Heat draft somebody, you gotta know how they're built. So I already know he has a special build about him and now it's just about what work he wants to put in to become whatever player he wants to become. He looks like he wants it. I can't wait to see what happens this year in his rookie year. I look forward to it."
Visit the Sun Sentinel (Fort Lauderdale, Fla.) at www.sun-sentinel.com