Real or Fake? Fantasy Basketball Players Whose Stats Will Be Better In 2023

RotoBaller
1/26/2023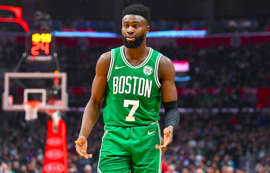 © Provided by RotoBaller With the NBA season nearing its halfway point, we have a pretty healthy sample size when it comes to player stats. Rather than relying solely on offseason speculation, gut feelings, and hot takes, we now have hard data to form our opinions on.
This article is a companion piece to one written by my colleague Alex Burns last week which you can read here. He focused on some first-half stats that are "too good to be true" and bound for regression over the larger sample that the rest of the season brings.
The truth is, there are statistical outliers every season and each should be analyzed on a case-by-case basis. Today, I'm going to do the opposite of what Alex did last week and instead focus on a handful of specific stats that I think are heading for a correction that will positively impact that player's value going forward. Let's get to it already!
Fake stat: Shooting 43% from the field
It's been a tough year in the desert for the Suns. CP3 has missed a handful of games and they've also been without Devin Booker for a huge stretch of games (and still are right now) in addition to their top big man (and CP3's favorite pick-and-roll partner) Deandre Ayton being in and out of the lineup. Phoenix is only one game over .500 and would be the #6 seed in the West if the playoffs began today.
But there are some reasons for optimism for the Suns to get back on track and for Chris Paul to improve his current fantasy value. CP3 is ranked 42nd in overall value on Basketball Monster's 9-cat player rater, which is something we aren't used to seeing as Paul has been a 9-cat stud for his entire career and was a top-3 player annually in his prime. Last year he finished 19th overall in 65 games played for the Suns and while his scoring has dipped late in his career, he's been able to make up for that with some elite shooting percentages for a guard.
Since going to Phoenix, Paul shot 50% from the field in 2020-2021 and 49% from the field last year. He's a career 47% shooter and a career 52% shooter on 2-point shots.
This season he's down to 43% overall and only 51% on two-pointers. He's shooting 40% from behind the arc, which is awesome except he's taking attempts from downtown and fewer from inside the stripe which has resulted in the dip in his overall shooting percentage. I chalk that up to him having to produce more offensively with Booker out and probably forcing up more shots than he normally would be in this offense. The beauty of Paul's game at this stage of his career is that he always takes the defense is giving him or finds a teammate for an open shot. He knows how to get to his spots and take the shots that he wants to take. He's not going to be a volume shooter, nor has he ever been.
Paul's worst season as a shooter was in Houston when he finished at 42% from the field. That offense had him playing a very different style of basketball than he's accustomed to playing. Other than that outlier in 2018-2019 in Houston, Paul has not shot worse than 46% from the field since his first two years in the league back in 2005-2007.
We have already seen a small correction toward the norm in the first two games since he returned from injury. He shot 14-27 (52%) in those two games and led the Suns to two straight wins. If he finishes the season anywhere around 46% or higher, he's going to jump up the rankings into the top 30 with ease. CP3 is far from dead, the Point-God shall reign once again.
Fake stat: Shooting a career-low 33.6% on 3PA
Let's start by giving Brown the props he deserves for the season he's having. He's currently the 38th-ranked player in 9-cat and while Jayson Tatum gets most of the attention for this team (and he's having a tremendous year of his own), Brown took a huge leap this year, too, as he finished last season all the way down at 62.
Brown and Tatum have the Celtics poised for another deep postseason run and the addition of Malcolm Brogdon hasn't hurt either of their production in the least. Brown is averaging a career-high 26.9 points per game and he's doing it on 49% shooting from the field. His rebounding is up as well, as he's pulling down 7.1 boards per game (also a career-high). And the rest of his stats are pretty much in line with what he did last year for the most part.
So what's wild is that Brown is enjoying a career year even while making threes at the worst clip of his career. He's never shot worse than 34% and actually hit 39% from deep twice in his career. His average over 6.5 seasons is a solid 37%, which means he's shooting a full 3.5% worse from deep than he has over his career.
He's taking more attempts (7.5) than he ever has before, too. So if we think that his shooting corrects even just to his career 37%, we are looking at an additional .3 made threes per game and another full point of scoring per game. If his other numbers hold steady, you're talking about a player who could finish inside the top 30 or even the top 25. Brown is not a guy to sell high on, the best could still be to come.
Fake stat: Averaging 3.5 turnovers
The fourth-year guard is having his best season as a pro in terms of his scoring (21.2 points) but has seen a huge increase in his turnovers. He's playing around the same amount of minutes as last year (30) but averaging a full 1.0 turnovers more than he did in the 2021-2022 season.
It's pretty clear why this happened when you break down Poole's splits this year into games with Steph Curry in the lineup and games that Steph missed.
In the 15 games that Curry has missed this year, Poole averaged 4.9 turnovers a game as he had to take over as the main ball-handler and scorer for this Golden State team. When Curry is healthy and in the lineup, Poole shifts back off the ball and usually back to the bench (though lately he's been starting alongside Curry and Thompson in a three-guard lineup). His turnovers drop back to an acceptable 2.8 per game in these games.
You might not think the turnovers matter that much, but consider that Poole is ranked 137 overall in the Basketball Monster 9-cat player ratings. By comparison, he finished 64th last season on the strength of his efficiency over the volume that he's putting up this year. If you were to punt turnovers entirely, he jumps all the way up to 77 in the ratings right now, showing you just how much the TOs are dragging down his value.
If Curry stays healthy the rest of the season, we should see Poole's turnovers subside and his fantasy value rise. He might finish higher than his 2.5 TOs last year only because of that crazy stretch where he was turning it over five times a night, but I definitely think we see them drop under 3.0 per game by the end of the year.