Report: Daughter of Wisconsin assistant coach Moore dies in car crash

Milwaukee Journal-Sentinel
5/25/2019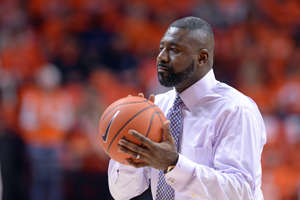 © Michael Allio/Icon Sportswire via Getty Images CHAMPAIGN, IL - JANUARY 23: Wisconsin Badgers assistant coach Howard Moore holds on to a basketball as players warm up for the Big Ten Conference college basketball game between the Wisconsin Badgers and the Illinois Fighting Illini on January 23, 2019, at the State Farm Center in Champaign, Illinois. (Photo by Michael Allio/Icon Sportswire via Getty Images)

MADISON – University of Wisconsin men's basketball assistant Howard Moore, his wife and two children were involved in tragic, head-on collision in Michigan early Saturday morning.
According to reports:
A vehicle driven by a 23-year-old woman was going the wrong way on M-14 early Saturday morning and caused a multiple-vehicle crash that resulted in two fatalities.
The woman was pronounced dead at the scene, along with a female child in Moore's vehicle.
Moore, his wife Jennifer and their son Jerrell survived. But their daughter Jaidyn was killed in the crash.
A third vehicle was involved but the drive of that vehicle was treated for minor injuries.
UW head coach Greg Gard planned to fly to Michigan Saturday to be with the Moore family.
This article originally appeared on Milwaukee Journal Sentinel: UW assistant Howard Moore, his wife and two children involved in fatal car crash in Michigan