Brentwood Academy 2025 4-star QB George MacIntyre offered by Colorado, Deion Sanders
The Tennessean (Nashville)
1/25/2023
Brentwood Academy sophomore quarterback George MacIntyre continues to bring in scholarship offers.
MacIntyre tweeted Wednesday that he received an offer from Colorado and new coach Deion Sanders, one of the many he has received since the beginning of the calendar year.
MacIntyre, who has been on unofficial visits to Tennessee, Vanderbilt and Florida State, has been offered by Texas A&M, Miami (Fla.), Maryland and Virginia Tech among other schools this month.
Start the day smarter. Get all the news you need in your inbox each morning.
The 6-foot-5, 178-pound quarterback also holds offers from three schools he visited last fall, as well as Michigan, Ole Miss and Auburn among others.
MacIntyre led Brentwood Academy to the Division II-AAA state semifinals in his first full season as a starter. The sophomore was 175-of-270 passing for 2,341 yards with 19 touchdowns and four interceptions in 2022.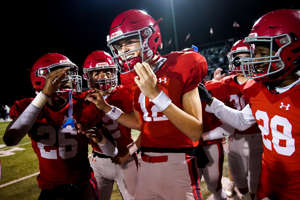 MacIntyre is named after his grandfather, former Vanderbilt football coach George MacIntyre. His uncle Mike MacIntyre is the current FIU football coach and a former Colorado head coach.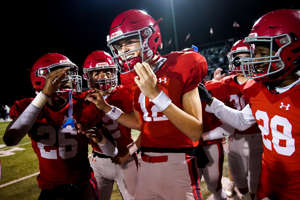 This article originally appeared on Nashville Tennessean: Brentwood Academy 2025 4-star QB George MacIntyre offered by Colorado, Deion Sanders