Mac Engel: Texas A&M Aggies blah football season exposing coach Jimbo Fisher as a fraud

Fort Worth Star-Telegram
11/20/2018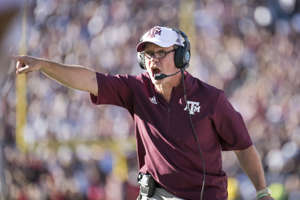 © AP Photo/Sean Rayford, File FILE - In this Oct. 13, 2018, file photo, Texas A&M head coach Jimbo Fisher directs with players during the first half of an NCAA college football game Saturday,, in Columbia, S.C. First-year coach Jimbo Fisher and the Aggies are trying to bounce back from a two-game losing skid when they host Ole Miss on Saturday. (AP Photo/Sean Rayford, File) Nov. 20--Year No. 1 of the Great Jimbo Cash Grab has been a bust, because it has exposed Jimbo Fisher as another coach who looks great when he has an NFL quarterback to tear it up.
It was nearly one year ago when Texas A&M buried Jimbo Fisher in so much money it offended the Ohio State athletic director even though OSU pays Urban Meyer even more than Jimbo.
One year later it's apparent the only way this expensive experiment is going to work out the way the Aggies want is Jimbo finding his big-money, NFL bound quarterback.
Current Aggies quarterback Kellen Mond is a nice college player who may be high-end college passer when he's a senior. Maybe.
Watching Kyler Murray do what he's doing at Oklahoma must make every Aggie only slightly ill; what would their team look like had both Murray not transferred from A&M, in part because of how the previous Aggies staff was unable to control Johnny Manziel?
As Arizona is learning, Sumlin was never a good hire and while Jimbo may be the right guy in College Station the Aggies are currently 7-4; the record says they don't look too much different than they did under "Coach Dennis Sherman Sumlin."
At times the Aggies look good, even dominant, but the record remains blah.
The Jimbo trend
I asked Jimbo, in his experience, what is the common thread of teams that he has been a part of that broke through to win the types of games that have eluded the Aggies for ... well, maybe forever.
"It's understanding how to go higher; it was like that our first year at Florida State," Jimbo said of his first FSU team in 2010 that finished 10-4. In 2013, the Seminoles won the national title.
"It was an educational process and a teaching process. It was believing you can do it, and how to do it, and how much strain and effort and total concentration it takes. You have to understand, when you get to the top of the mountain and play against the elite, elite teams, the difference between winning and losing is one play. It is six inches. It is two inches on a play."
If you think his answer sounds like a lot of coachey-coach BS, you are right. There is also truth to it.
The uglier truth: When Jimbo talks about his trajectory at Florida State, always take the following into consideration: His quarterback his first season was Christian Ponder.
Jimbo's next quarterback at E.J. Manuel.
Jimbo's third quarterback at FSU was Jameis Winston.
Ponder would go on to be the 12th overall pick of the 2011 NFL Draft by the Minnesota Vikings. Manuel would go on to be the 16th overall pick of the 2013 NFL Draft by the Buffalo Bills.
Winston would go on to win the Heisman Trophy, and be the No. 1 overall pick of the 2015 NFL Draft by the Tampa Bay Buccaneers.
Neither Ponder nor Manuel did much in the NFL, but in college they were special passers who could beat up an opposing defense. In college, they were the type of individual talents who could make not just a coach, but his entire staff, look good.
Winston was physical freak who is currently being exposed in the NFL. Generously, the jury is out on Jameis as a pro but all signs point to him being fantastic bust.
Jimbo can't worry about any of his players once they enter the NFL, but his track record is showing his teams are dominant when his passer can throw it.
The Aggie trend
Texas A&M gave Jimbo $75 million to essentially win its final home game of this season. For Jimbo to be a success he must beat the team that A&M simply, for reasons known only to God or other celestial powers, have not defeated on a regular basis.
His last chance to do that this season is at home, on Saturday night, against No. 7 LSU.
Oddsmakers have LSU at A&M as an even play; for the Aggies, in this series, that's progress.
His predecessors have done what he's has achieved thus far in College Station, and the only thing that will separate Jimbo from the others is to win this game.
The Aggies like to call their series with LSU a "rivalry," but it is in name only. A&M has never in six tries defeated LSU as a member of the SEC. The last time the Aggies defeated LSU was in 1995, when the trajectory of both programs were nearly opposite.
There is that possibility A&M will finish this season a Franchione-ish 7-6. A final record of 9-4 with a close home loss against Clemson, plus a win over No. 7 LSU, and life will look considerably better.
Jimbo says he has seen progress to date, but ... what is he going to say?
"Much more physical on the offensive and defensive lines," he said when I asked him where he saw the team improve. "Learning how to compete through a game. Understanding where we are overall. We lost the Auburn game, but we were dominant at times, but we have to learn how to finish things."
This is a fact, and a trend.
At times throughout this season, A&M has played with, and even been better, than Clemson, Auburn and, briefly, Alabama.
Here is the reality: The Aggies still lost.
This has been a trend for far too long for the good folks who sign the big checks in College Station.
If this trend is going to change, Jimbo and A&M must not just defeat Arkansas or Mississippi State, but LSU.
For Jimbo to do that, he must return to his trend of finding a Christian E.J. Winston.
___
(c)2018 the Fort Worth Star-Telegram
Visit the Fort Worth Star-Telegram at www.star-telegram.com
Distributed by Tribune Content Agency, LLC.