Ole Miss women's basketball beats Mississippi State, sweeps regular-season series
The Clarion-Ledger (Jackson)
1/27/2023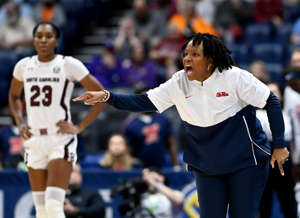 OXFORD — It has been a year of broken skids for Ole Miss women's basketball, largely at the expense of rival Mississippi State.
It started Jan. 1, when Ole Miss won in Starkville for the first time since 2007. It continued Thursday at the SJB Pavilion, where the Rebels won 78-63 against the Bulldogs.
Ole Miss has swept the teams' regular-season series for the first time since the 2003-2004 season. The Rebels also secured two wins in a season against the Bulldogs for the first time since 2007-2008, when the Rebels won a regular season game and an SEC tournament game.
For coach Yolett McPhee-McCuin and Ole Miss (17-4, 6-2 SEC), it was a much-needed win to snap a two-game losing skid with matchups against No. 24 Arkansas, Tennessee, No. 3 LSU and No. 1 South Carolina still looming.
For Mississippi State (15-6, 4-4) and first-year coach Sam Purcell, the loss snaps a three-game win streak. The Bulldogs are still searching for a notable victory this season. In the latest ESPN bracketology, MSU was among the last four teams earning a bye in the NCAA Tournament.
ANGEL BAKER:How Angel Baker's star turn has Ole Miss basketball on track for NCAA Tournament return
ANASTASIA HAYES:Why Mississippi State women's basketball guard Anastasia Hayes is embracing new roles
Ole Miss maintains momentum
The Rebels outscored the Bulldogs 14-6 in the fourth quarter in Starkville. Ole Miss took that defensive momentum back to Oxford.
MSU was outscored 20-8 in the first quarter of Thursday's meeting, bringing back memories of last season in Oxford when MSU had an SEC-minimum seven available players and an interim head coach.  
The Bulldogs were 3-for-15 from the field, 0-for-2 from deep and 2-for-4 from the free throw line in the opening frame. It marked the second straight game MSU only scored eight points in the first quarter – the lowest scoring first-quarter output from the team this season.
Myah Taylor ignites the Rebels
Her last two times out, Ole Miss guard Myah Taylor scored a combined six points. Playing against Mississippi State, where she spent five seasons before transferring last offseason, she came out determined.
Taylor scored all seven of her points in the first half. She also added three rebounds, six assists and a steal.
What's next?
Mississippi State stays on the road to face Georgia on Sunday (1 p.m., SEC Network+). Ole Miss travels to face Arkansas on Sunday (4 p.m., SEC Network).
This article originally appeared on Mississippi Clarion Ledger: Ole Miss women's basketball beats Mississippi State, sweeps regular-season series