Why Auburn football's Hugh Freeze isn't calling plays for first time as a head coach

The Montgomery Advertiser
2/2/2023
AUBURN — Auburn football coach Hugh Freeze revealed in December that offensive coordinator Philip Montgomery would be in charge of calling plays next season. That's a changeup for Freeze, who has had those responsibilities at each of his previous stops as a head coach.
So why the sudden change so deep into his career?
"I think there's a point in time where your whole concern is just what is best for whatever program you're leading," Freeze said Thursday. "There's so many dynamics to running a program at this level today that are maybe a little bit new and different. ...
"I think there's an enormous amount of time that I can put into that to help us. ... I'm still going to call a share of them. Depending on what that looks like, probably more in the tempo world, we really don't know exactly what it looks like (yet), but I know that I have great confidence in Philip as a play-caller."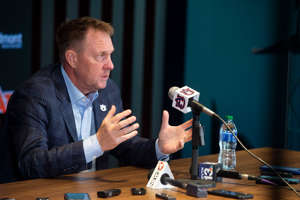 RECRUITING:Why 4-star RB Jeremiah Cobb remained committed to Hugh Freeze and Auburn football
TO-DO LIST:What Auburn football coach Hugh Freeze said he'd like to accomplish before spring practice
Montgomery was hired to Freeze's staff in December. He spent the previous eight seasons as the head coach at Tulsa and before that had stints in various roles at Baylor, Houston and Tarleton State spanning over two decades.
"We're all a product of our experiences," Freeze said. "And then, obviously, Philip having a vast amount of those is always helpful."
Freeze said he and Montgomery are in the process of "marrying" their offensive schemes ahead of spring practice, which is scheduled to begin Feb. 27 and culminate in Auburn's A-Day on April 8.
"There's a lot of times you feel like you need to be on the defensive channel as a head coach ... but you're also torn because (when you're calling plays) you need to be on the (offensive) headset saying, 'Guys, what in the heck are we going to do in the next series to fix this?'
"So, I think Philip's experiences are great, but ultimately the game management part rests on me and I think (Montgomery calling plays) will help me be more in tune in the moment of things that we need to do."
Richard Silva is the Auburn athletics beat writer for the Montgomery Advertiser. He can be reached via email at rsilva@gannett.com or on Twitter @rich_silva18.
This article originally appeared on Montgomery Advertiser: Why Auburn football's Hugh Freeze isn't calling plays for first time as a head coach