High-Upside Bench Stashes: Weekend Waiver Wire for Week 3 Includes Jared Goff, Nelson Agholor, Sterling Shepard, Rachaad White

RotoBaller
9/25/2022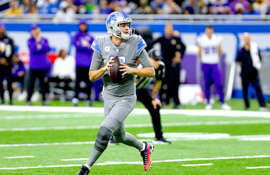 © Provided by RotoBaller jared goff fantasy football rankings NFL DFS lineup picks If you are 0-2 so far to start the fantasy season, don't panic. It's a long season. While having a solid draft is important for the success of your season, I would argue that being smart with your FAAB and waiver pickups, as well as starting the right players each week is just as important of a skill as drafting itself. In fantasy, we always want to be looking for backup running backs who are one spot away on the depth chart to have some fantasy value. While we aren't openly rooting for the starter to get benched or injured, unfortunately, injuries are a harsh reality of fantasy football that we must be prepared for.
If you are in a league that allows you to drop bench players after Thursday Night Football, you might be able to make some free additions to your teams before Sunday. It's important to keep a keen eye on the injury reports and statuses of all teams as we head into the weekend. Whenever a player is injured or ruled out for the game, the first thing that pops into your head should be: "Who benefits the most from this on their team?" If you can develop that skill over time you will become a maestro on waivers, as well as be able to capitalize on player values and pick the right starts each week. Like an investor in the stock market, we always want to be conscious of a simple thing called cause and effect.
Week to week it is my job to keep my ear to the local scuttlebutt of all that is going on with 32 teams to help you bargain hunt for some free options on your league's waiver wire. Here are this week's selections for you to keep an eye on.
Weekend Waiver Wire Stashes Before Week 3
Jared Goff, Detroit Lions - 40% rostered
Often underappreciated by many in the fantasy community, Jared Goff has seen his share of ups and downs in the fantasy landscape and in real life. Right now, however, he is leading an emerging Lions offense that is quickly becoming a weekly highlight reel on top of being great for fantasy.
The Lions changed offensive play-callers late in the 2021 season and in the last 7 games that Goff has been healthy, he has thrown for 17 TDs with a 66% completion percentage, a total passer rating of 104.9, and just 3 interceptions. In 2020 and 2021, Goff was 29th and 32nd in the NFL in average air yards per pass attempt, but so far this season he is up to 7th with an 8.5 average. This Lions offense is going places and it's only a matter of time before the rest of the fantasy market catches up. The Lions finish out the fantasy season with the Jaguars, Vikings, Jets, Panthers, and Bears.
I am buying Goff as a value this year in deeper leagues and Superflex formats. This Lions offense is legit and when it gets Jameson Williams back fully healthy, man oh man. *Chef's kiss*
Nelson Agholor, New England Patriots - 11% rostered
While Jakobi Meyers is in danger of being ruled out for New England's Week Three matchup against the Baltimore Ravens, Agholor is a player worth your attention. The Ravens' defense is dead last in passing yards allowed in the NFL through two weeks and is allowing the most fantasy points per game to wide receivers so far this season!
Agholor is a player who has shown some flashes during his career, including a 2020 season on the Raiders where he averaged 18.7 yards per catch and had 8 TDs. While the Patriots' offense has been less than exciting so far *coughs* Matt Patricia take the pencil out of your ear, Mac Jones is a quarterback with room to grow as a passer and could get better as the season goes on, especially if the Patriots are forced to pass more.
Unless you are in a very deep league, Agholor likely isn't worth rostering right now, but if Meyers is indeed out for Sunday and you're thin at receiver and need a player with upside who can start for your team, Agholor is likely your guy.
Rachaad White, Tampa Bay Bucs - 30% rostered
A player with more moves than the queen of chess, when White has the ball in his hands he basically glides. Arguably the best pass-catching running back of the 2022 rookie class, White was taken by the Bucs in the 3rd Round of the 2022 Draft and has the potential to win you your league.
While he hasn't seen much action yet, he would become a must-start if anything were to happen to Leonard Fournette, who was on the injury report this week nursing a hamstring injury. The key to White getting on the field is going to be earning the trust of Tom Brady and improving in pass protection. So far Fournette has played 76 and 87% of the offensive snaps in Tampa.
Last season at Arizona State, White rushed for over 1,000 yards averaging 5.5 yards per carry while having 43 receptions for 456 yards and a TD. While he hasn't done much yet at the NFL level, he will get on the field at some point. In deeper formats, he is a great stash to hold on your roster. While the Bucs seem to be stumbling out of the gate offensively, they are still 2-0. Much like an aging, veteran San Antonio Spurs team at the end of their dynasty, the Bucs' approach for this season seems to want to keep the team well rested and firing on all cylinders just in time for the postseason. Hold White. He's a special talent. You heard it here first.
Jimmy Garappolo, San Francisco 49ers - 33% rostered
Like a cockroach crawling out from beneath a crack in the wall after it has been slapped with a rolled up newspaper several times, Jimmy Garappolo just refuses to die. Wait, people still read a physical newspaper? After an unfortunate season-ending injury took place to Trey Lance in Week Two, Jimmy G was thrust back into the starting lineup for the 49ers.
Starting running back Elijah Mitchell is still sidelined with a knee injury and the 49ers have struggled to get their running game of old going again. This will result in the team relying more on the ultra-talented Deebo Samuel, but also on Garappolo as the team may be forced to pass more than Kyle Shanahan would prefer.
While Jimmy doesn't have much value in a 1QB or 10-team league, if you are in a Superflex league or a deeper 1QB league with 14 teams, he is worth rostering due to scarcity alone. In 15 starts last season, Garappolo only went over 20 fantasy points just twice. He isn't a player you can start with confidence right now, but if the situation changes in San Francisco, he could be asked to throw more which would increase his fantasy value.
Sterling Shepard, New York Giants - 20% rostered
A talented player in his own right, Shepard fell off the fantasy radar much like Curtis Samuel after injuries also derailed his 2021 campaign. With Kadarius Toney and Kenny Golladay grounded and sent to their rooms like Will Ferrell and John C. Reilly in Step Brothers by Brian Daboll, an opportunity has opened up for Shepard to have some fantasy value this season.
These aren't the same Giants that featured the dysfunctional offenses of Pat Shurmur and Joe Judge anymore. Off to a 2-0 start, Daboll is bringing some much-needed swagger back to New York and to their offense. Shepard is looking fully healthy and has a chance to be the number one target on the team after having 10 targets last week against the Panthers.
Last week Jones overthrew Shepard on what could have been a relatively long gain. While it might be hard to start any of the Giants wide receivers right now, Shepard is one worth keeping an eye on as he has featured five seasons of 83+ targets in his career.
Evan Engram, Jacksonville Jaguars - 25% rostered
A former darling of the fantasy community who has now been thrown outside the city walls and left to beg for bread in the streets, Evan Engram found a new home this offseason and has already established some chemistry with Trevor Lawrence, earning 12 targets through just two weeks.
While he hasn't broken out yet for fantasy, it's important to remember who the new head coach is on the Jaguars and how tight ends were featured in Doug Pederson's offenses in Philadelphia. With Christian Kirk looking like the alpha in the offense right now, there is still enough of a slice of the pie for somebody to earn the number two role in Jacksonville. Could that be Engram?
In 2020, Engram had 109 targets on a bad Giants offense before injuries derailed his 2021 season. Now that he is in a new home, Engram has the potential to be a great late value for fantasy. If you already have a top tight end on your roster, Engram isn't much of value to you right now outside of a bye week, but if you went late tight end in your league and are still looking for a reliable starter he is a player with some potential.
Jaylen Warren, Pittsburgh Steelers - 10% rostered
While incumbent running back Najee Harris already played against the Cleveland Browns this week, this season he has made me think that I was watching an old episode of NFL films. Harris has been banged up with a sprained lisfranc and hasn't looked like his old self after featuring an 84% snap share in the 2021 season where the Steelers treated him like Boxer in Animal Farm.
Warren had a long gain that was called back on a penalty, but in his limited touches in Week Three he looked like the much faster and explosive running back of the two while rushing 4 times for 30 yards and having 1 reception for 3 yards.
In no way am I suggesting that Warren is going to overtake Harris on the depth chart this year, but I think it has become pretty clear to the Steelers coaching staff and front office that they need to do a better job of keeping Najee fresh during games and the season. If anything were to happen to Harris, Warren would arguably become a must-start, but he may be able to carve out a role in the Steelers' offense if TNF's trend continues.
Is there a quarterback change coming in Pittsburgh soon as well? Warren is a player worth keeping an eye on even if you aren't rostering him.
Zamir White, Las Vegas Raiders - 13% rostered
Incumbent running back Josh Jacobs did not travel with the team to Nashville yesterday after being diagnosed with an undisclosed illness. A stomach bug most likely. This leaves his Week Three status very much in doubt for Sunday.
Zamir White was drafted in the fourth round of the 2022 Draft by the Raiders and looked good in his limited action during the preseason. However, he hasn't done much so far this season as he hasn't gotten to play much with just one carry for 2 yards. We have seen how difficult it can be in the past to trust Josh McDaniels' word when it comes to running backs, as well as committees.
For this reason it would be very difficult to start Zamir White or Brandon Bolden on Sunday against Tennessee. White is worth rostering if you have a spot solely as a pure lottery ticket in case he has such a great game that he catches the attention of the coaching staff and could potentially cut into Jacobs' number one role. It's not likely, but in fantasy we always want to try and be one step ahead of our opponents in the sense of being proactive versus reactive.
I hope you enjoyed these picks. Feel free to follow me on Twitter for more waiver and player analysis throughout the season!