Raiders announce return of Martavis Bryant

NBC Sports
9/12/2018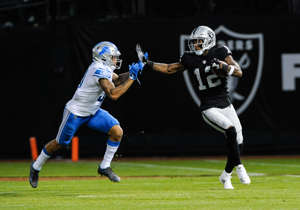 After playing zero games in his first stint with the Raiders, Martavis Bryant is back for a second stint.
Bryant, the wide receiver whom the Raiders acquired this offseason only to cut him before the start of the regular season, has officially signed on to return to Oakland.
The whole situation with Bryant and the Raiders has been bizarre. Oakland sent its third-round draft pick to Pittsburgh to acquire Bryant, a staggeringly high price to pay for a player who had proven himself to be unreliable both on and off the field in his time with the Steelers. Then reports emerged that Bryant was facing another suspension under the NFL's substance-abuse policy. Then Raiders coach Jon Gruden acknowledged that Bryant was struggling in camp. When the Raiders released Bryant, it appeared to be clear that they were done with him.
And now, a week later, Bryant is back. It remains unclear whether he'll be suspended for violating the league's substance-abuse policy, but the NFL has recently moved more toward prioritizing drug abuse treatment over punishment, so it's possible Bryant will be allowed to keep playing as long as he shows that he is taking his recovery seriously. Bryant is a Raider again, and may be on the field on Sunday against the Broncos.
Ranking the 32 biggest blunders by every NFL team (Provided by USA TODAY Sports)