Vrabel: Titans QB Mariota 'good to go' Sunday

Reuters
9/12/2018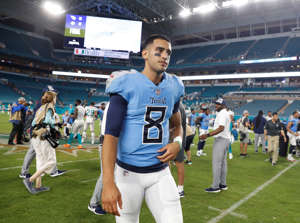 Tennessee Titans quarterback Marcus Mariota made it through a complete practice without issue on Wednesday, resulting in a thumbs up from head coach Mike Vrabel.
Mariota left the season-opening loss at Miami last week with an elbow injury.
"He made it through everything," Vrabel said of Mariota practicing Wednesday. "Barring any setbacks, Marcus is going to be good to go on Sunday."
The Titans host the Houston Texans this week.
Left tackle Taylor Lewan is in concussion protocol. Vrabel said on Monday that felt Lewan was targeted by Dolphins defensive tackle Alan Branch. Field microphones picked up Branch yelling what sounds like "bodybag" when Lewan is being helped off the field.
Vrabel, who was biting his tongue for most of the Lewan discussion, said he "knows things were said" on the sideline.
"He will not be out here. He will not do anything until he is ready," Vrabel said of Lewan.
The Titans worked Week 1 without their other starting tackle, Jack Conklin, who is recovering from a season-ending knee injury in January.
--Field Level Media
Ranking the 32 biggest blunders by every NFL team (Provided by USA TODAY Sports)