'All hands on deck' as the Admirals make a playoff run with newcomers and makeshift lineups
Milwaukee Journal-Sentinel
3/20/2023
Milwaukee Admirals players are coming off the ice after a morning skate.
Standing in the hallway between the bench and locker room, a man sticks out his hand to greet one of them.
"Hi," he says. "Jon Greenberg. I'm the team president."
Get daily updates on the Packers during the season.
That's the way it's been for the Nashville Predators' American Hockey League affiliate over the past month.
With the struggling Predators trading players for draft picks, the Admirals have been hit hard by call-ups and have had a slew of newcomers moving into their locker room at a pace that has even the higher-ups scrambling to keep track.
"When you lose your top four centermen, that was what hurt," Admirals general manager Scott Nichol said.
"So we've asked a lot of players to play out of position this year. … They're smart players so it's been kind of like all hands on deck with players playing positions maybe they haven't played since they were in bantam or peewee hockey."
That's a hazard of the business in minor-league hockey. One mission is to develop players for the parent club, while the other is win games and entertain fans.
 This season – with exceptional turnover even by AHL standards – the Admirals have managed to do both.
After taking two of three home games over the weekend, the Admirals are 35-20-3-2, tied with the Texas Stars for the lead in the Central Division. Their 75 points are eighth-most among the AHL's 32 teams with just under a month to play.
"We have great leadership, we have a great culture and we have a great staff, between our trainers, our coaches," Nichol said. "But when it does come down to it, your Cole Schneiders, your Tim Schallers, Jordan Gross, (Roland) McKeown … these guys, they've been there. They still lead the charge. And guys are still getting an opportunity here like our guys are getting opportunity up there."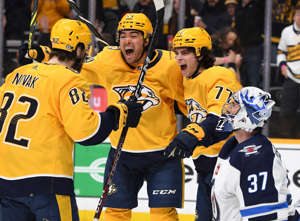 Last week, Kiefer Sherwood, Tommy Novak and Luke Evangelista – still three of the Admirals' top 10 scorers this season – comprised the Predators' second line. Six of Nashville's 12 forwards started the season in Milwaukee, as did the injured Juuso Parssinen, and another, Michael McCarron, was with the team for 13 games from late January to early March.
Anticipating the Predators' need for Admirals players, Nichol picked up Isaac Ratcliffe (Lehigh Valley), Austin Reuschhoff (Hartford) and Anthony Angello (Springfield) for future consideration. Ratcliffe has nine points in nine games, Reuschhoff has scored three goals and Angello has notched four points in five games.
Tye Felhaber (three goals and two assists in nine games), Cole Coskey and Gordie Green all have come up from the ECHL to play for the Admirals on professional tryout contracts. Then the Predators sent their 2022 top draft pick, 18-year-old Finn Joakim Kemell, to Milwaukee last week.
"Guys came in pretty quick," said Schneider, the Admirals captain. "A few of them didn't even have practice with us. But the core group of guys did good and those guys came in wanting to win and willing to work too. So it's a good combination."
While it's Nichol's job to procure the pieces, putting together the puzzle falls on the staff led by fifth-year head coach Karl Taylor, Schneider and the rest of the team's leadership group.
Aside from having life uprooted by a trade, Ratcliffe said, fitting into a competitive team in the midst of a playoff run has been remarkably easy.
"Obviously it starts with Schneids," Ratcliffe said. "He's the leader in the locker room. He's been here the longest too. He knows the city, the ins and outs here. He's a fan favorite here too. He makes the new guys feel welcome.
"There's been a ton of us in the last few weeks too. He's just kind of pulled together, made sure everyone feels included in any situation, whether it's at the rink or away from the rink too. He's made everyone's life easier."
There's a flip side to all the promotions for Admirals players throughout a Nashville rebuild. If the Predators fail to qualify for the playoffs – they started the week five points out of the final Western Conference wild card spot – the Admirals could be stacked with well-seasoned two-way players for a Calder Cup run.
"You're never going to say no to a good player coming back to your team," Schneider said. "So if it happens, they'll be welcomed with open arms. We'll be happy to see them."
This article originally appeared on Milwaukee Journal Sentinel: 'All hands on deck' as the Admirals make a playoff run with newcomers and makeshift lineups