Comment: If you think ball-tampering is our national sporting shame, you haven't met Matt Lodge.

Mamamia
3/30/2018
Video provided by Nine News
The disgrace of a nation. Australia's shame.

A dark time for sport in this country.
It's been a rough week for our national obsession.
BALL-TAMPERING SCANDAL: All you need to know
We've seen three men hailed as heroes brought to their knees by their own stupidity and arrogance.
It's shocking, really.
Steve Smith, Dave Warner and Cameron Bancroft flew back to their homeland to pay the price of a dumb decision, a morally bankrupt call, a low act.
We can't remember the last time we all felt so let down by our sporting heroes.
It certainly wasn't when Greg Bird – then a star player for the National Rugby League's Cronulla Sharks – was found guilty of smashing a glass into his girlfriend's face.
It wasn't when Nick Stevens – a former vice-captain of Carlton AFL club – admitted to repeatedly beating his partner Laima McKenna, including threatening to kill her and kicking her while she lay cowering on the floor.
It wasn't that time the Sydney's Roosters' Blake Ferguson was convicted of indecently assaulting a woman in a nightclub or when South Sydney's Kirisome Auva'a pleaded guilty to drunkenly assaulting his ex-girlfriend.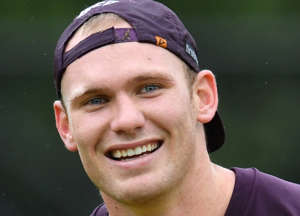 © AAP Image/Darren England Matt Lodge. And it wasn't when North Melbourne and Adelaide "legend" Wayne Carey broke a glass in his girlfriend's face and was then convicted of kicking a responding policewoman in the mouth.
No, none of those incidents were a national disgrace.
As the new football season begins, the NRL boasts four players who have been charged with domestic violence.

And that number doesn't even include Matthew Lodge, the Brisbane Broncos player who is expected to be a star for the Queensland team this season despite an ongoing dispute over $1.6 million in damages he owes an American couple for beating and terrorising them – and their nine-year-old son – during a home invasion in 2015.
Lodge was walking on a Manhattan street when he began to harass Carolin Deykeyser, a young German woman. It was 4am when he followed her and repeatedly told her "tonight's the night you're going to die". Terrified, she began to madly press the doorbell of a random apartment.
The man who lived there – Joseph Cartwright – opened the door to save Deykeyser from this drunk, furious Australian footballer. Instead, Lodge barged into the apartment's foyer and began to beat Cartwright, punching him repeatedly in the face. He then ran into the apartment, where Ruth Fowler, Cartwright's partner, and their nine-year-old son were hiding from the ruckus in the bathroom. Lodge began to smash up all the apartment's furniture, while a terrified Cartwright was locked outside, waiting for help.
By the time the police came, Lodge was trying to punch his way through the bathroom door to the little boy and his mum.
Now, Matthew Lodge is back in Australia, and has been cleared by the NRL to be one of the Bronco's poster boys this year.
''We let back blokes back into the game who touched women and hit women. I wouldn't put him in that class with other blokes like that still playing, so let's just move on,'' coach of the Cronulla Sharks, Paul Gallen, told the media ahead of his team's opening game against Lodge's Broncos.
Oh. Well, then.
None of this behaviour is a national disgrace, of course. None of it brings sport into disrepute, or points to a toxic culture, or sees big-name stars stood down for significant periods, losing their status and income. None of these incidents dominate the news cycle for days and days at a time.
No. If a sportsman really wants to feel the wrath of Australia, it seems, he needs to damage a cricket ball.
Not a woman.
Pictures: Aussie cricket cheating scandal: How it unfolded