AA miles begin expiring again at the end of this month — here's how to keep them alive

The Points Guy
12/1/2021
MSN has partnered with The Points Guy for our coverage of credit card products. MSN and The Points Guy may receive a commission from card issuers.
It's almost unbelievable that airline miles (or hotel points, for that matter) still have expiration dates. It's like saying that dollar bill in your pocket can only be used for a year or two after you earn it. Still, many airlines enforce expiration terms on their frequent-flyer miles, and one of the largest to do so is American Airlines.
Like most other frequent-flyer programs, American Airlines AAdvantage actually paused mileage expiration in several phases due to the COVID-19 pandemic. For now, the airline has extended the amnesty date through December 2021.
That still means your miles could expire in January 2022 if you don't have any account activity, though.
For more TPG news, deals and points and miles tips delivered each morning to your inbox, subscribe to our daily newsletter!
It also makes now the perfect (and essential) moment to log into your mileage account and make note of when your AAdvantage miles are set to expire. Then you can take action if necessary to preserve your hard-earned miles next year.
In This Post
Check your AAdvantage account
First things first – check your American Airlines AAdvantage account to see when your miles are set to expire.
Go to AA.com and log in using your AAdvantage credentials.
On the left-hand side of the screen, click, "Your account," and you'll be redirected to a page displaying your mileage and elite-status progress.
At the top of the page, you should see your name and AAdvantage number, then your mileage balance listed under that. Next to that figure, you will see your exact expiration date – it should be 18 months from your last mileage activity.
Hopefully, that's a long way off. But if you haven't been earning or redeeming AAdvantage miles throughout the pandemic, you could be fast approaching your deadline come December.
Keeping your American Airlines miles from expiring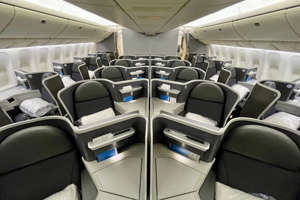 Per the AAdvantage program terms and conditions, American Airlines miles expire after 18 months of no activity. For the occasional flyer, that might not seem like a lot of time. But there are plenty of ways to keep your miles active beyond simply hopping on an American Airlines flight.
As a side note, miles don't expire for members under 21 years of age.
What counts as mileage activity?
Before we jump into your options, it's important to recognize that mileage "activity" includes both earning and redeeming miles. That means you can earn or redeem as little as a single American Airlines AAdvantage mile to reset the clock. So you don't need to take a ton of flights or book a lot of award travel.
Best ways to keep your American Airlines AAdvantage miles active
The good news is, there are almost too many ways to keep your American Airlines miles from expiring. Here are the top ones to consider.
Take a cheap flight
Let's start with the most obvious one: Just take an inexpensive American Airlines flight, or one with its many, many partners that you can credit to your AAdvantage account.
It's probably not worth hopping on a flight gratuitously. But if you do have upcoming travel plans, it makes sense to choose American or its partners for your trip, especially if other things like pricing and schedules are equal.
American Airlines is part of oneworld, along with other carriers like Alaska Airlines (as of March 2021), British Airways, and Iberia; but you can also now earn AAdvantage miles on JetBlue flights, so you have a lot of options.
Any flight you take where you earn American Airlines miles will restart the clock on your miles and give them all another 18 months of life.
Related: Your ultimate guide to American Airlines AAdvantage
Redeem miles for travel
On the flip side, you can also redeem some of your American Airlines AAdvantage miles for flights to keep your miles active. Avoid other travel options such as vacation packages or cruises since you don't get very good value from them.
As with earning, you should be able to redeem American Airlines miles for flights on the carrier's own metal as well as partner flights.
Related: How to redeem miles with the American Airlines AAdvantage program
Spend on an American Airlines credit card
You might not have realized this, but it's not just flights that count as activity for your mileage account. You just have to earn or redeem miles, and there are a variety of ways to do that. The easiest and fastest is probably just to use an American Airlines cobranded credit card for everyday purchases.
If you already have one of the airline's credit cards, that's simple enough. If you don't, though, you might want to apply for one now not just to make keeping your account active easier, but also to score a bunch of miles. Among the ones to consider are…
Citi® / AAdvantage® Platinum Select® World Elite Mastercard®: Earn 50,000 bonus miles after making $2,500 in purchases within the first three months of account opening. It earns 2x miles per dollar on eligible American Airlines purchases, at restaurants and gas stations; and 1x on everything else. The $99 annual fee is waived the first year.
Citi® / AAdvantage® Executive World Elite Mastercard®: Earn 50,000 bonus miles after making $5,000 in purchases within the first three months of account opening. This card's main perk is Admirals Club membership, though it will also reimburse you for a Global Entry or TSA PreCheck application (worth up to $100) once every five years. The annual fee is $450.
AAdvantage® Aviator® Red World Elite Mastercard®: Earn 60,000 bonus miles and all you have to do is make a single purchase and pay the $99 annual fee within the first 90 days. Among other benefits, it offers up to $25 back in statement credits for in-flight Wi-Fi purchases each account year.
The information for the Citi AAdvantage Platinum Select and AAdvantage Aviator Red has been collected independently by The Points Guy. The card details on this page have not been reviewed or provided by the card issuer.
Related: The best credit cards for American Airlines flyers
Shop online
Like many other airlines, American Airlines has an online shopping portal called AAdvantage e-Shopping (we agree, the name needs some work!).
Log in using your frequent-flyer credentials and then browse the 950+ retailers offering bonus miles on purchases, such as Apple, The Home Depot, Macy's and Disney.
Once you find the merchant you want, just click on their tab and you'll be redirected to their site. Shop as usual, and you should see your bonus miles deposited into your AAdvantage account within a couple of weeks (though usually sooner).
If you don't plan to fly and you don't carry an American Airlines cobranded credit card, this is an excellent option to reset your mileage expiration clock since there's no minimum dollar amount you have to spend to earn miles.
If you have a Mastercard, specifically, you can register with the airline's SimplyMiles program to earn bonus miles on purchase from specific merchants along with other limited-time and personalized offers.
Related: Your guide to maximizing shopping portals for your online purchases
Dining Rewards
AAdvantage members can earn bonus miles on charges at thousands of participating restaurants around the country through the airline's dining program. Just register with your frequent-flyer number and add a credit or debit card to your account. Then, when you eat out or order from a participating restaurant, you'll automatically earn bonus miles.
Related: Complete guide to airline and hotel dining rewards programs
Car rental partnerships
American Airlines has forged partnerships with Alamo, Avis, Budget, Dollar, Hertz, National, Payless and Thrifty so its frequent flyers can earn bonus miles and enjoy discounts on car rentals. So even if you're not flying, you can still leverage your AAdvantage account to earn miles on a road trip this summer and beyond.
Related: How to never pay full price for a car rental
Hotels and cruises
Although you might want to book directly with hotels to earn miles and elite status, or with cruise lines for perks they might be offering, you can always opt for an American Airlines Vacations package, a partner hotel booking, or a voyage purchased through American Airlines cruises to earn a bumper crop of bonus miles and reset your expiration date.
Take advantage of the Hyatt partnership
Back in 2019, American Airlines and Hyatt launched a partnership to let AAdvantage and World of Hyatt members earn miles and points on both flights and hotel stays. So if you have AAdvantage elite status at the moment but don't anticipate flying anytime soon, you can still earn miles on hotel stays booked with Hyatt.
Related: American Airlines and Hyatt Elites now get reciprocal benefits
Buy, gift, or transfer miles
It's not cheap, but one of the simplest ways to generate a little activity in your account is just to buy miles for yourself or another AAdvantage member, or transfer miles to or from another member.
Related: Is it worth buying American Airlines miles?
Donate to charities or purchase a newspaper subscription
Although these are generally not high-value rewards, and you'd be better off just writing a check, in a pinch, you could consider donating some miles to one of American Airlines' charity partners, or purchasing a newspaper subscription using them.
Alternatively, you can earn 10x miles per dollar on donations of $25 or more to the airline's Stand Up To Cancer campaign.
Transfer credit card or hotel points
Although American Airlines isn't a transfer partner of the major credit card points programs like American Express Membership Rewards or Chase Ultimate Rewards, Bilt Rewards points do transfer to American at a 1:1 transfer ratio.
(Editor's note: TPG founder Brian Kelly is a Bilt advisor and investor.)
Further, you can convert various types of hotel points into AAdvantage miles. These include:
World of Hyatt
IHG Rewards
Granted, the transfer ratios aren't great, but this can still be just the thing you need if time is getting short.
Other earning partners
You can earn AAdvantage miles through one-off promotions and activities with a number of other partners.
These include things like opening a Bask Savings Account, purchasing access to WeWork, signing up for SimpliSafe home security,
Bottom line
It's an unfortunate fact that American Airlines AAdvantage miles expire after 18 months of no activity. That said, it's quite easy to keep your account active and in good standing without going to a huge amount of effort or expense.
The options include flying with American Airlines or its partners, using a cobranded airline credit card, booking through the airline's hotel, cruise and car rental partnerships, or just buying a parcel of miles if you really need to, among other great choices.
The key is paying attention to your mileage expiration date and getting ahead of it so that any qualifying activity you incur resets the clock in time and your miles live on to help you with whatever travels you're planning in the future.
Featured image by Zach Griff / The Points Guy.
SPONSORED: With states reopening, enjoying a meal from a restaurant no longer just means curbside pickup.
And when you do spend on dining, you should use a credit card that will maximize your rewards and potentially even score special discounts. Thanks to temporary card bonuses and changes due to coronavirus, you may even be able to score a meal at your favorite restaurant for free. 
These are the best credit cards for dining out, taking out, and ordering in to maximize every meal purchase.
--
Editorial Disclaimer: Opinions expressed here are the author's alone, not those of any bank, credit card issuer, airlines or hotel chain, and have not been reviewed, approved or otherwise endorsed by any of these entities.