How I earned 100,000 points before signing up for my 1st credit card

The Points Guy
8/4/2022
MSN has partnered with The Points Guy for our coverage of credit card products. MSN and The Points Guy may receive a commission from card issuers.
Imagine a business-class ticket to Europe, two round-trip tickets to Hawaii, numerous short domestic flights or a night of being pampered at a swanky resort. Now imagine those luxuries for free. Sounds great, doesn't it?
These things can be achieved on a budget, often with 100,000 points or less from various loyalty programs. For many individuals, earning these currencies comes down to two primary options: credit cards rewards and/or traveling.
When traveling as cheaply as possible by redeeming rewards, one cannot accrue awards, as most airlines and hotel brands prohibit earning points and miles from a redemption. Even when paying for travel, many earning structures are directly correlated to the cost of the purchase, so by only taking those cheap flights, it will take a long time to build a substantial balance. How can one secure sufficient points and miles to enjoy these redemptions without buying plane tickets and staying in hotels?
Credit card rewards can be earned quickly via everyday spending and the TPG fan favorite: credit card welcome offers, with the ability to earn 100,000-plus points at once. But there is one issue. If you cannot sign up for credit cards because you are holding off on applications during a home buying process, are out of your country or, in my case, are under 18 years of age and too young, then you cannot earn the associated bonuses. What then?
Want more credit card news and advice from TPG? Sign up for our daily newsletter.
With a strong desire to travel, I tried to earn as many miles as I could before I was eligible to sign up for my first credit card. While not as substantial as a sign-up bonus, over time, I used the following strategies to earn 100,000 points and miles, many before my 18th birthday.
In This Post
Shopping portals
Let's face it, a lot of us spend more money online than we care to admit. Maximizing those purchases is where online shopping portals come into play.
Shopping portals make it easy to earn rewards, only requiring a couple of extra clicks. Rather than going directly to Macy's or Adidas, clicking through a portal can easily earn 2 or more miles per dollar with very little additional effort. Some stores will occasionally have increased offers, making it easier to build your balance.
While it rarely makes sense to spend extra money just to earn miles, there is no harm in clicking through the portal for purchases you were already going to make.
Many of the miles I earned before turning 18 came from American Airlines' shopping portal. Every time I bought a birthday present, clothes for school or new shoes, I purchased them through the portal and slowly but surely started building my balance.
If I needed to order something but did not have an imminent deadline, I waited for a better offer, such as earning 10 miles per dollar instead of 2, or I waited for a shopping portal bonus that would earn bonus points after spending a set amount of money.
Adding a shopping portal button to my browser only increased my earnings. I convinced my parents to add my American button to their browser so in addition to my parents earning rewards by using their credit card, I earned rewards without my parents' need to navigate the portal.
In addition to American, other airlines and hotel programs have portals, such as Delta, United, Wyndham and more. Make sure to check Cashback Monitor for earning rates and TPG's points and miles valuations to see the value of the points you can earn.
Related: The beginners guide to airline shopping portals
 Card-linked programs
In addition to shopping portals, another way to earn more miles is by linking credit and debit cards to different card-linked programs. When your card is used to pay a certain merchant, the merchant notifies the program. This lets you earn bonus miles, sometimes per dollar spent or on purchases over a certain amount.
I linked my parents' card to SimplyMiles, an American Airlines partner, which allowed me to earn miles after clicking on offers provided by the program. When they took advantage of an offer, I earned points.
While this approach has helped me earn some points, it does not have nearly as significant or robust a selection of merchants as the AAdvantage shopping portal.
The one thing to note about SimplyMiles is that you must link it to a valid Mastercard. Other airlines such as JetBlue and United offer similar programs through their shopping portals, but some offers are limited to in-store purchases only.
Related: How I plan to earn American Airlines Executive Platinum status with Loyalty Points
Dining programs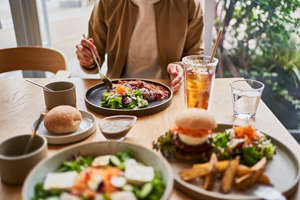 Like card-linked programs, dining programs allow you to link a card to your account. When that card is used at eligible restaurants, rewards from that purchase will be added to your account. Many loyalty programs offer dining programs, such as Marriott Bonvoy's Eat Around Town and American's AAdvantage Dining.
Many of these programs run on Rewards Network, meaning you can only have a card linked to one dining program at a time. When you try to link that same card to a new program, it will be removed from the previous program. Linking my parents' credit cards to dining programs (with their permission) allowed my parents to earn points from their cards while I was able to earn points through the program.
Related: 10 of the most generous airline and hotel dining rewards programs
Surveys
While many people laugh at the thought of filling out surveys to earn points and miles, there are some situations in which I disagree with them. While filling out these online surveys is often not worth the time, sometimes these programs have offers that are lucrative enough to sign up for.
A little while ago, Hilton ran a promotion offering 10,000 miles after your first survey. At TPG's valuations, that is at least $60 worth of points and possibly enough points to stay two nights at a select number of properties that cost 5,000 points per night.
I signed up, took my first 10-minute survey and the points showed up in my account within a few weeks, in addition to the 40 or so points I earned for filling out the survey. Other promotions have allowed me to earn about 8,000 more points. Southwest's Rewards for Opinions is another program I have used, though I earned minimal Rapid Rewards.
Related: Quick Points: Earn points and miles for completing surveys
How I am using the points and miles
| | |
| --- | --- |
| Program | Balance |
| American AAdvantage (SimplyMiles, shopping portal and dining) | 56,987 |
| Hilton Honors (surveys) | 17,995 |
| United MileagePlus (dining and shopping portal) | 12,316 |
| Combined Marriott, Delta, Southwest, Spirit, Frontier | About 18,000 |
| Total | About 105,000  |
While I could amass 100,000 points and miles, they were spread across many programs. My American, United and Hilton balances, no doubt, were more substantial (about 57,000, 12,000 and 18,000 miles, respectively). However, some of my other balances are small enough to require additional rewards before I can make any worthwhile redemptions.
So far, I have used 30,000 American miles, along with a $5.60 fee, to buy a ticket from Washington, D.C., to Milan that would have otherwise cost north of $550. Also, I transferred 15,000 Hilton Honors points to my dad's account via the points-pooling feature to top off his account for a premium redemption at the Mango House Seychelles.
I will likely try to use my MileagePlus miles to fly domestically next time United offers low-cost domestic award tickets. This often includes routes such as Washington, D.C., to Newark or Florida. Additionally, I have my eyes set on some American Airlines Web Specials to use the last of those miles to fly somewhere relaxing, like the Caribbean.
Related: Your ultimate guide to American Airlines AAdvantage
Bottom line
There are many ways to earn points and miles other than with credit cards or butt-in-seat miles on airlines that most people do not know about. Some of these methods require patience but, in the long term, can help you accrue a healthy stash of rewards. Adding a few more clicks before your online purchase can add up to make the difference between a paid and free flight (plus possibly airline status).
Why leave any value on the table when you can maximize every dollar you spend? Even before I signed up for my first credit card, I was able to amass significant rewards using my debit card. It is so easy that you can get started before you can get a credit card; after all, I could not vote, but I was able to fly for free using these strategies.
Feature photo by Oleg Breslavtsev/Getty Images.
SPONSORED: With states reopening, enjoying a meal from a restaurant no longer just means curbside pickup.
And when you do spend on dining, you should use a credit card that will maximize your rewards and potentially even score special discounts. Thanks to temporary card bonuses and changes due to coronavirus, you may even be able to score a meal at your favorite restaurant for free. 
These are the best credit cards for dining out, taking out, and ordering in to maximize every meal purchase.
--
Editorial Disclaimer: Opinions expressed here are the author's alone, not those of any bank, credit card issuer, airlines or hotel chain, and have not been reviewed, approved or otherwise endorsed by any of these entities.