You shouldn't visit this illegal waterslide in Hawaii, even though you'll want to

Travel + Leisure
5/15/2017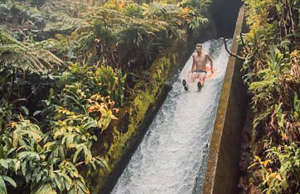 The best vacations are made with hidden gems.
In the Waipio Valley in Hawaii, deep along a jungle path known as the White Road Hike tourists traverse to a giant, 35-foot irrigation flume sat atop a concrete pool.
It's a big slide in the middle of the forest, and it looks amazing.
Just a girl and her giraffe floatie

A post shared by Ashley (@ashley_peluso) on Nov 6, 2016 at 3:47pm PST
The hike up the White Road is not the easiest jaunt. People who want to take the plunge must take a two-hour walk in Hawaii's wilderness, walk through tunnels, over rusty pipes, cross government property and climb to the top of a rope (as if the rest wasn't enough of a flashback to P.E. class).
The reason the "big slide" is so hard to get to isn't for the sake of adventure, it's because it's actually illegal to use as a slide. The structure, as stated before, is for irrigation, and is not regulated for humans to be walking, standing and sliding on it.
~Bereit um ins Jahr 2017 zu rutschen~ #2016 #nye #paulundpaulumdiewelt #hawaii #waterslide #nature #dickeparty #vietnam #1gutesjahr

A post shared by Paul Jürgens (@pauljuer) on Dec 31, 2016 at 2:19am PST
According to Hawaii News Now, tourists are being discouraged from sliding. "We need to discourage this as much as we can when people are saying things to appeal to a visitors that may want to do a reckless type of experience," said Mufi Hannemann of Hawaii's Lodging and Tourism Association.
Sliding down the structure may result in some hefty government fines, coincidentally.
Of course, if you're visiting Hawaii, there are plenty of legal things to do that are equally as beautiful and exciting. They may even involve slides that are meant to be slides.
This article was originally published on TravelAndLeisure.com