The one thing that American should fix about long-haul business class

The Points Guy
12/1/2021
MSN has partnered with The Points Guy for our coverage of credit card products. MSN and The Points Guy may receive a commission from card issuers.
American's international business-class offering can be boiled down to one word: inconsistent.
And no, I'm not talking about the inflight service or the food and beverage offerings. Those things vary on American (and its competitors) depending on the crew, caterers and more.
Rather, I'm referring to the "hard" product: the seat itself.
Want more airline-specific news? Sign up for TPG's free new biweekly Aviation newsletter!
On two of American's wide-body fleets — the Boeing 777-200 and Boeing 787-8 Dreamliner — you won't know which seat type you'll get until just days before departure.
That's because these planes are outfitted with two vastly different types of seats. Roughly 60% of the 777-200s and 16% of the 787-8s feature the reverse herringbone Rockwell Collins Super Diamond product.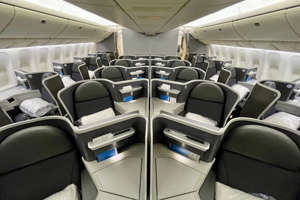 These seats are arranged in a 1-2-1 configuration, with each pod angled away from the aisle. They offer plenty of storage, a large side table and an 18-inch high-definition seat-back monitor.
That leaves 28 Boeing 777-200s and four 787-8s outfitted with the far inferior Safran Concept D product.
Each row of Safran seats faces the one in front or behind it, meaning that you're going to be staring at your neighbor for most of the flight.
Additionally, at just 20 inches wide, these are some of the narrowest business-class seats in the fleet. There aren't any enclosed storage compartments, and the side table is much smaller than the one in the Rockwell Collins product.
Plus, the inflight entertainment screens are three inches smaller and far less clear than the ones you'll find on planes equipped with the Rockwell Collins product.
But perhaps the biggest drawback is the way the seats are designed. Each pair of forward- and rear-facing pods is attached to one another, and these connected seats are known to physically rock. So when your seatmate gets up, or even rolls over in lie-flat mode, you're probably going to feel it.
Video: Omicron variant isn't slowing travel demand long term: Breeze Airways CEO (CNBC)
In fact, I experienced this inconsistency firsthand during my trip to Israel last week. I flew round-trip on one of American's new flagship routes, between New York-JFK and Tel Aviv.
Both flights were operated by a Boeing 777-200, but the outbound had the "good" seats, and the return had the "bad" ones.
With just three days between my flights, the difference between the products was immediately clear the minute I stepped foot on the plane for the return journey.
The Safran seats were much tighter and narrower, and I found it nearly impossible to sleep when my seatmate moved around his seat. My seat kept rocking and vibrating any time he changed his sleeping position or got up to use the restroom.
The worst part of the experience is that there's no easy way to know which product you'll receive until a specific plane is assigned to your route, roughly two days before departure.
At that point, you can take a look at the online seat map for your flight and see if there are arrows on the open seats to indicate a rear-facing seat. Alternatively, you could track your flight using FlightRadar24 to pull up the aircraft registration and check the configuration on American's unofficial fleet site.
But, because most long-haul itineraries are booked months in advance, you'll end up playing plane roulette if you're flying on one of American's 777-200s or 787-8 Dreamliners.
Of course, the most flyer-friendly move would be for American to retrofit its Safran-equipped jets with the far superior Super Diamond product. Unfortunately, that's seemingly cost-prohibitive for the airline, especially after suffering big losses due to the pandemic (taxpayer support notwithstanding) and with supply-chain constraints.
A far more attractive alternative would be to assign different products to certain routes far in advance.
For instance, in the Tel Aviv market, American is up against stiff competition. Delta sends its flagship Delta One Suites-equipped Airbus A330-900neo to Tel Aviv, and El Al and United deploy 787-10s with a similar-style direct-aisle-access Polaris product to Israel.
While American's best 777-200 can give the others a run for its money, the Safran seats are hands-down the worst of the bunch. If American is going to compete for the deep-pocketed travelers in this market, guaranteeing the Super Diamond product would be a great start.
On the other hand, American flies a slew of hub-to-hub domestic routes with widebodies. For these short flights, American could get away with the zig-zag style seats. After all, the Safran lie-flats are far more comfortable than a traditional domestic recliner.
Of course, this strategy would limit American's flexibility since it would require a dedicated subfleet assigned to a certain route or market. But, if the airline is serious about offering a top-notch premium experience, guaranteeing a certain seat would be a great start.
Until then, may the odds be in your favor if you're flying on one of American's 777-200s or 787-8 Dreamliners.
Featured photo by Zach Griff/The Points Guy
SPONSORED: With states reopening, enjoying a meal from a restaurant no longer just means curbside pickup.
And when you do spend on dining, you should use a credit card that will maximize your rewards and potentially even score special discounts. Thanks to temporary card bonuses and changes due to coronavirus, you may even be able to score a meal at your favorite restaurant for free. 
These are the best credit cards for dining out, taking out, and ordering in to maximize every meal purchase.
--
Editorial Disclaimer: Opinions expressed here are the author's alone, not those of any bank, credit card issuer, airlines or hotel chain, and have not been reviewed, approved or otherwise endorsed by any of these entities.