5 luxury lines that'll make you rethink everything you thought you knew about cruising

The Points Guy
7/26/2021
MSN has partnered with The Points Guy for our coverage of credit card products. MSN and The Points Guy may receive a commission from card issuers.
Like fine European hotels or the fanciest boutique properties, ships of the most luxurious cruise lines are designed to appeal to people who seek, and can afford, an elegant style of travel.
Champagne flows. You may snack on caviar. Exquisite cuisine is prepared a la minute and accompanied by pours of fine wines. Hangout spots indoors and out are wonderfully intimate (with no mass-market anything). When you rest your head, it's on luxury mattresses topped with fine linens.
The byword is exclusivity. Perks include beverages, Wi-Fi, fresh flowers, extraordinary pampering service and, in some cases, butler service included in your cruise fare.
The price to get on board may be in the area of $1,000 per person per day.
Here are our picks for the top five luxury cruise lines.
The Ritz-Carlton Yacht Collection
A new entrant with a rich pedigree, the Ritz-Carlton Yacht Collection is promising Ritz-Carlton style at sea when it starts up service later this year with its first vessel, Evrima. Done up in a swanky contemporary décor, the 298-passenger yacht takes inspiration from luxury resorts.
Lounge at an infinity pool with its own Pool House for dining and imbibing or in the Ritz-Carlton Spa, where treatment rooms come with private terraces for massages in the ocean breeze. Or borrow water toys from the ship's marina. While you unwind, take advantage of an unusual feature on a luxury ship – the ability to send your children to a dedicated Ritz Kids space staffed by a full-time youth counselor (there's a fee).
Dining is at five eateries that include a Southeast Asian restaurant and an outdoor venue serving Mediterranean-inspired cuisine and prime cuts under the stars. An à la carte restaurant created with a Michelin star chef comes with an upcharge.
The cabins and suites are universally spacious and come with private terraces, and the perks pile up as you get into the fancier categories. Everyone gets a personal concierge. Fares include drinks and gratuities.
Crystal Cruises
Crystal Cruises' two all-inclusive, globe-trotting ocean ships – the 848-passenger Crystal Serenity and 980-passenger Crystal Serenity – aren't shy about being fancy, even glitzy. They are perfect for a crowd looking for a throwback. Passengers make appearances walking down grand staircases dressed to the nines, do afternoon tea and dance the night away.
Everything operates in the upper-tier way, from the spa and expansive fitness offerings to the restaurants – which include a Nobu eatery.
Those booked in penthouses and higher category suites receive service from a tuxedo-clad butler who will do everything from unpacking your luggage to helping you set up a private cocktail party. A particular perk is having the butler bring Nobu sushi on a silver tray.
Crystal also operates smaller ships with aplomb. These include luxury river ships in Europe and a 62-passenger yacht, with its own electric submarine, that explores warm-weather destinations such as the Greek Isles and the Seychelles. The newest addition is Crystal Endeavor, a 200-passenger polar-class expedition vessel with butler service for all, helicopters and a submarine for exploration, plus the only casino on a ship of its kind.
Video: This Luxury Cruise Line Adds Solo Cabins to Its Fleet — and They Come With Balconies (Travel + Leisure)
Silversea
Silversea, with its nine 100- to 608-passenger ships (and another 596-passenger ship coming in late 2021), has some of the most diverse geographic itineraries of any line, bringing guests to destinations around the world, including such remote places as the Russian Far East.
Now owned by Royal Caribbean Group (the same company that owns Royal Caribbean and Celebrity Cruises), the line delivers stylish, contemporary luxury, more streamlined than opulent, complemented by extreme (in a good way) pampering.
Everybody on board a Silversea ship stays in a suite with a butler delivering high-touch service – even on the 100-passenger Silver Origin in the remote Galapagos, where your butler may go to extraordinary care to get a spot off your hiking boots. Suite niceties include Bvlgari bath products and marble bathrooms with both tub and shower.
There's a wide choice of bespoke dining venues on Silversea ships (some with a fee) designed to satisfy many tastes – whether you prefer sushi, foie gras or a great thin crust pizza. Drinks are on the house, including a long list of fine wine pours. A new dining and culinary education concept, S.A.L.T., brings local tastes onboard together with experts talking about what you're eating and drinking. The program also features culinary-focused excursions on shore.
The line's expedition ships are equipped for polar locales, on which perks include a free jacket to keep you warm and cozy.
Regent Seven Seas Cruises
Regent is not shy about opulence. Floating palaces are a calling card, along with the most-inclusive fares of all the luxury lines – business-class air, pre-cruise luxury hotel stays and shore excursions in every port are among the long list of inclusions.
The idea is knock-you-off-your-feet luxury on "the world's most luxurious" ships. If at first you don't get that point, look down at the many yards of Carrara marble under your feet and look above at the Czech crystal chandeliers. Or spot the Picassos and Chagall's among your ship's stunning, mostly Latin-focused art collections.
The five 490- to 750-passenger ships in the Regent fleet get fancier as they get larger. On the two newest — Seven Seas Explorer and Seven Seas Splendor — everyone stays in a roomy suite with oversized balcony and marble bathroom. The top Regent Suites are mansions of the seas and come with solariums, private spas with sauna and steam rooms and Steinway pianos in their living rooms. The fanciest accommodations at sea, the Regent Suite on Explorer has a $90,000 bed, topped only by the $200,000 bed on Splendor.
Lavishly decked-out restaurants, with cushy bars nearby, include Prime 7, a fan favorite for its classic steakhouse menu including jumbo lump crab cakes, U.S.D.A. prime aged beef and Alaskan king crab legs.
Seabourn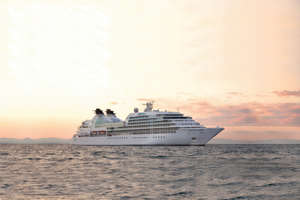 Owned by Carnival Corporation, Seabourn's top-of-the-line 450- to 600-passenger ships deliver comfortable, modern luxury that can be as fancy or as casual as you like. If you want to show off the family jewels, go ahead but, most nights, a jacket is optional in the restaurants. If you prefer not to dress up for formal night, there are casual alternatives where you can still eat well.
High service is a trademark. Your suite steward will draw your bath, scented with your choice of bath oil. For a snack, order up complimentary caviar.
Dining is over the top at the several restaurants, such as the retro-chic steakhouses with menus created by Chef Thomas Keller (of French Laundry fame). When you tire of prime beef, order lobster thermidor or sink into the delicious comfort of Keller's roast chicken. Throughout the ship, complimentary spirits and fine wines and house Champagne flow freely. All dining is included in your fare.
The line's newest ship, Seabourn Venture, is polar-class for the Arctic and Antarctica and equipped with a state-of-the-art submarine for undersea views. A 26-person expedition team runs the two-dozen Zodiacs that get you up close to glaciers and icebergs.
Planning a cruise? Start with these stories:
Featured image of courtesy of Seabourn
SPONSORED: With states reopening, enjoying a meal from a restaurant no longer just means curbside pickup.
And when you do spend on dining, you should use a credit card that will maximize your rewards and potentially even score special discounts. Thanks to temporary card bonuses and changes due to coronavirus, you may even be able to score a meal at your favorite restaurant for free. 
These are the best credit cards for dining out, taking out, and ordering in to maximize every meal purchase.
--
Editorial Disclaimer: Opinions expressed here are the author's alone, not those of any bank, credit card issuer, airlines or hotel chain, and have not been reviewed, approved or otherwise endorsed by any of these entities.