90+ Things to Do in Raleigh NC (Bucket List)

Craig Makepeace
8/25/2022
If you are looking for the ultimate list of things to do in Raleigh, including the best attractions, where to eat and drink, the top festivals and sporting events, arts and cultural activities, and where to shop, we've got you covered in this post!
Ever since we first moved here in 2004, Raleigh has consistantly topped "best cities to live and work in the USA" lists and we understand why. And Raleigh just keeps growing, new places keep opening up, and it just keeps getting better!
From the thriving restaurant and craft beer scene, to the fantastic museums, lakes, greenway trails, Southern hospitality, college vibes and family-friendly atmosphere, Raleigh is a fun place to live and play.
Whether you plan to visit Raleigh for a day, are searching for things to do in Raleigh this weekend, or live here like us, down below are our hand-picked suggestions on the best things to do in Raleigh NC from over 10 years of living in the City of Oaks.
If you don't know what to do in Raleigh, I've broken up this list into specific categories such as Eat, Drink, See & Do, Attractions, Arts & Culture, Festivals, Sports, and Shopping to make it easier to navigate. These are experiences that we feel tell the unique Raleigh story. 
And if you're looking for the best things to do in Raleigh with kids, check that post out. We also have a bucket list for Raleigh in the summer. Ok, let's dive in.
Table Of Contents
Where to Eat in Raleigh
Where to Drink in Raleigh 
What to See & Do in raleigh
Historical Attractions in Raleigh
Arts & Culture Experiences in Raleigh
Festivals & Events in Raleigh
Sports in Raleigh
Shopping in Raleigh
Where to Eat in Raleigh
Grab a burger from Char-Grill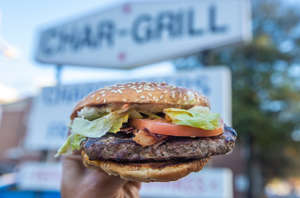 It doesn't get more Raleigh than Char-grill. Think local version of Shake Shack. Char-Grill has been serving charcoal-grilled burgers fresh off the grill that the locals love since 1959.
It's one of our go-to places to eat in Raleigh to grab a quick burger, and our kids love their shakes and fries!
Just placing your order is a part of the experience – you fill out a paper order sheet with a pencil and wait while your food is cooked to order.
Read More – 11 of the best burgers in Raleigh
Breakfast at Big Ed's City Market Restaurant
Founded in 1958, Big Ed's City Market is old school Raleigh charm and possibly the best Southern breakfast in Raleigh.
Here you'll get a taste of real Southern comfort food and hospitality, and food like what grandma used to make in a laid-back restaurant with funky antiques hanging from the rafters.
P.S. They have a "hot cake challenge" – if you eat their jumbo-sized hot cake in 45-minutes or less you get a free t-shirt! 
Eat a GIANT slice of cake from Hayes Barton Cafe & Dessertery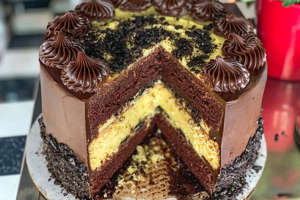 This is a classic Raleigh staple located in the historic Five Points neighborhood. Hayes Barton is one of the must eat places in Raleigh – loyal fans flock here for their HUGE and delicious cakes!
A throwback to a classic diner, this cafe showcases photos of old celebrities and world war II soldiers and sailors.
Come here for great comfort food, their AMAZING desserts, and feel like you're stepping back in time.
Get your Brunch on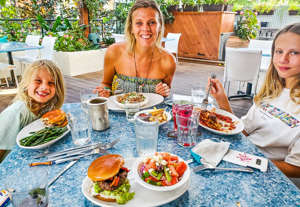 Of course brunch in Raleigh is a big deal. I mean, who doesn't love going out for Sunday brunch with friends or family. Some of the most popular brunch spots in Raleigh include:
Parkside Raleigh
Taverna Agora
Wye Hill Kitchen & Brewing
Humble Pie
Irregardless Cafe
Plates Neighborhood kitchen
St. Roch Fine Oysters + Bar
Mandolin
Read our full guide to the 12 best brunch spots in Raleigh.
Dine at the oldest restaurant in Raleigh – The Mecca
The Mecca is the oldest of the restaurants in Raleigh, founded by Greek immigrants in 1930. The historic setting oozes nostalgia with red stools along a long counter, a black and white checkered floor, and heavy wooden booths.
This family-owned mainstay serves Southern comfort food. Popular dishes include: Fried chicken with collards, rice and gravy. Fried catfish with coleslaw. Chopped BBQ plate. Double-decker club sandwich. Veal cutlet sandwich. The Greek salad.
Celebrate a special occasion at The Second Empire Restaurant & Tavern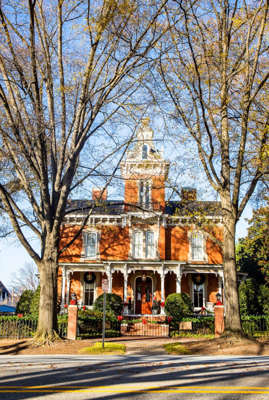 For an incredible fine dining experience in Raleigh, head to Second Empire Restaurant & Tavern, set in a historic, circa-1879 Second Empire house. We celebrated our 19th wedding anniversary here in April, and it was fantastic!
Second Empire is a dining experience that incorporates beauty, history, Southern charm, gourmet meals, fine wines, and excellent service.
Read our full review of our date night.
Indulge in Carolina BBQ
North Carolina is a big BBQ state, synonymous with pork barbecue, and here in Raleigh it's Eastern style barbecue – they slow cook the whole hog over hot coals, then pull the meat, maybe give it a little chop, and dress it with vinegar base sauce.
Enjoying a plate of barbecue in Raleigh is one of those "welcome to the South" moments and one of the top things to do in Raleigh.
Read More: Where to eat the best BBQ in Raleigh
VIDEO: Check out the iconic Clyde Cooper's BBQ
Get your vegetarian fix at Irregardless Cafe
All vegetarians should head to Irregardless Cafe, the city's first vegetarian restaurant and a Raleigh staple since 1975. 
You can expect healthy and innovative meals (and good portions), in a warm and fun atmosphere. The artsy and eclectic decor is quite interesting too.
We love Irregardless because it also offers meat and seafood dishes (and a kids menu) so there's something here for everyone. Vegetarians, this a great place to go with your meat eating friends!
Down a doughnut at the 2nd original Krispy Kreme store!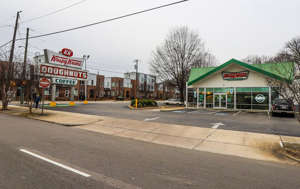 In case you don't know, Krispy Kreme was born and bred in North Carolina, just up the road from Raleigh in Winston-Salem, and the second original store is right here on N Person Street.
You can't visit the N Person Street neighborhood without popping into Krispy Kreme, just ask my kids who still rate their doughnuts above any other in Raleigh – and there are some good ones!
Enjoy a burger (and drink) at the storied Players Retreat
The Players Retreat (PR), is one of the storied sports bars in Raleigh and a true landmark. Established in 1951, it's the oldest continuously operating tavern between Atlanta and Washington D.C. 
Located near NC State University, this place is a tradition with students and alumni, but you'll also find an eclectic mix of people.
This is an old school sports bar with booths and bar stools, tables on the sidewalk, pool tables and lots of TV screens for sports. It has a focus on hamburgers and a bar boasting the largest collection of single malts in NC!
Lick the best ice cream in North Carolina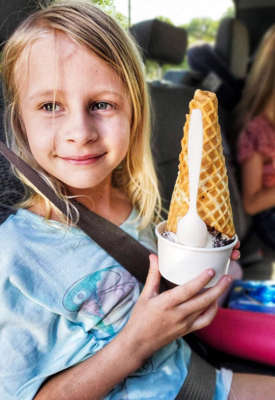 Two Roosters ice cream was founded by a NC State University alum, and was recently nominated as the best ice cream in North Carolina by Food & Wine Magazine.
Their handcrafted ice cream features seasonal and permanent flavors – often inspired by local events and restaurants. Popular flavors: Earl Grey Lemon Cookie Dough, Blackberry Hibiscus. Coffee Bourbon.
Eat a hot dog from Snoopy's or The Roast Grill
Snoopy's has been a Raleigh icon since 1978. Eastern North Carolina hot dogs and burgers are served with mustard, onion, and chili in a steamed bun. 
The Roast Grill has been serving just hot dogs and glass bottle cokes since 1940.
Get your Biscuit fix
Biscuits are Southern comfort food and the bread of the South. If you're not familiar with Southern style biscuits, they're a flour-based baked food product, more like a scone, and often filled with savory ingredients
When in Raleigh, you've just got to try a biscuit. Popular places include:
Fried Chicken – it's the South, y'all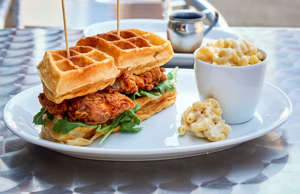 They're always frying things in the South, and Southern-fried chicken is a Raleigh locals favorite. Popular places to indulge include:
Parkside Restaurant – Chicken & Waffle sandwich
Beasley's Chicken + Honey
Iyla's Southern Kitchen
The Mecca
Clyde Cooper's BBQ – choice of dark or white meat.
MoJoe's – Fried Chicken Sandwich
Humble Pie – Buttermilk Fried Chicken
Rise – Righteous Chicken Sandwiches
Read more – 9 classic Southern dishes to try.
Morgan Street Food Hall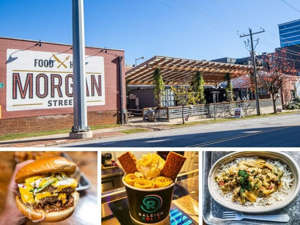 One place you can taste test from many different local vendors under one roof is the Morgan Street Food Hall, a 22,000 square feet of space inside a repurposed warehouse. 
Choose from 20 different food concepts showcasing local eateries. It's a lively atmosphere and a popular place for the community to hang out, especially their Mimosa weekends: $15 champagne buckets. 
Eat the famous Macaroni Au Gratin at Poole's Diner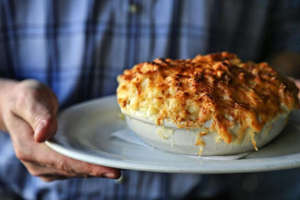 Famed local chef Ashley Christensen's first Raleigh restaurant, Poole's has become a well-known modern diner with retro-chic charm serving seasonal comfort food, cocktails and house desserts. 
And her Macaroni au gratin is one of the most well-known dishes in Raleigh.
Dine at the famous Angus Barn steak house
One of the most famous restaurants in Raleigh is the Angus Barn, definitely the most famous steak house. 
Great for all occasions, but especially for celebrating a birthday, an anniversary, or family get together. Don't miss their Chocolate Chess Pie.
Pop in and grab a pastry, or cupcake, or some artisan bread from a local neighborhood bakery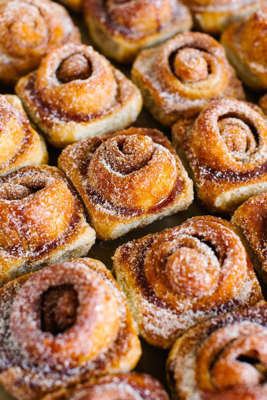 We love local neighborhood bakeries, and if you're visiting Raleigh from out of town and searching on your phone for "best Raleigh bakeries near me", Raleigh has a growing list of cool bakeries.
On offer are flaky chocolate croissants, sweet fruit-filled tarts, handmade artisan breads, delicious cupcakes, savory breakfast quiches, morning buns, cookies, and even good coffee!
With the expert help of our kids, we've taste tested some of the best.
Read More – 6 of the best bakeries in Raleigh
Dessert at Bittersweet
If you enjoy the concept of a dessert bar, a place where you can get bourbon with your pie, or champagne with your cake, Bittersweet serves up delicious desserts, coffee and cocktails.
Here you'll get a fun atmosphere, nostalgic decor, music playing, and all of the desserts are made in-house. 
Eat Your Way Around the World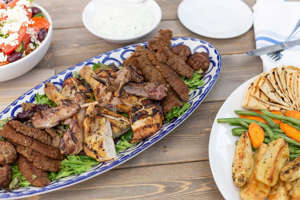 Besides the classic Southern American restaurants in Raleigh, there's a growing diversity of food here and you can pretty much travel around the world with your taste buds. Just some of the options include:
Transfer Co. Food Hall
Housed in the historic Carolina Coach Garage and Shops, Transfer Co. Food Hall is 50,000+ square feet of renovated warehouse space that's now home to 12 vendors.
Inside is bright and open with a nice variety of food choices including burgers, seafood, Asian, Italian, Mexican, Bagels, Beer, Wine and more.
Dine outside on a patio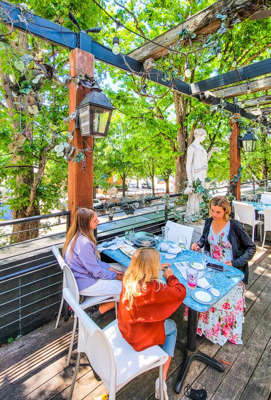 Patio season is a great season in Raleigh, just don't ask me when that actually starts and ends because we have some fantastic year-round patio options for outdoor dining (it doesn't get that cold here).
Some of our favorite places to eat local and get a taste of the best outdoor dining experience in Raleigh include:
Wye Hill Kitchen & Brewing (those views)
Taverna Agora Greek Kitchen & Bar
Raleigh Times Bar
Mojoe's Burger Joint
Gravy (Italian)
Trophy Brewing & Pizza
Gringo A Go Go (Mexican)
Jolie (French Bistro)
Read more – best places to eat outside in Raleigh
Where to Drink in Raleigh 
Enjoy brews with incredible views at Wye Hill
What's better than great beer? How about great beer with the best view of downtown Raleigh thrown in! Oh, and their food is top notch too!
As they say at Wye Hill Kitchen & Brewing, come for their refreshing brews and stay for the fantastic views of downtown Raleigh from their amazing outdoor patio (good for all seasons).
A drink here (or bite to eat), is easily one of my favorite things to do in downtown Raleigh. Come and enjoy the views with innovative craft beers, signature cocktails, and wine.
Read our full review of Wye Hill Kitchen & Brewing
Sip on one of the 350+ beers on tap at Raleigh Beer Garden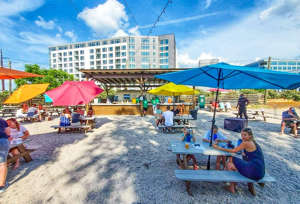 With 350+ beers on tap, Raleigh Beer Garden is the world record-holder for largest selection of draft beer (verified by the folks at Guinness World Records).
The craft beer scene in Raleigh is unlike any other in the Southeast and at the Raleigh Beer Garden you can sample many local brews. 
This is a massive 8,500-square-foot venue with 3 levels, tons of outdoor space, a back garden patio (family-friendly), a rooftop bar, and ever changing selection of beers!
Get your whiskey or bourbon fix at Whiskey Kitchen or Dram & Draught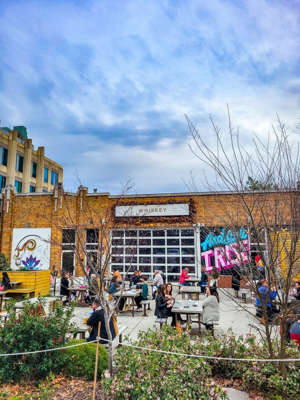 One of our favorite bars in Raleigh is Whiskey Kitchen – part whiskey bar, part Southern kitchen that features a beautiful open space and hip venue with over 300 whiskies and craft cocktails.
It has a repurposed industrial feel and a garage door that opens to an awesome outdoor patio. Large selection of whiskeys, try a whiskey flight, but also great beer options, wine and cocktails.
Dram & Draught also has over 300 whiskeys from around the world, plus nice hand-crafted cocktails, wines, and draught beer from Raleigh and beyond.
Grab a beer at a timeless watering hole – The Raleigh Times
Named after the former newspaper that occupied this 100-year-old building, it's probably the most famous bar in Raleigh – even Obama had a campaign beer here. 
The Raleigh Times has an extensive Belgian beer selection, multiple levels and an awesome open rooftop bar for a drink with a view – one of our favorite things to do in Raleigh.
Enjoy a pint at the London Bridge Pub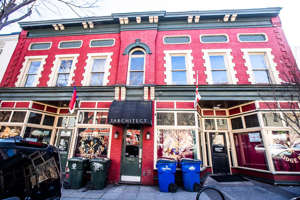 Take in an English Premier League soccer match at the British themed pub and eatery owned and operated by two guys who love their English football, AND beer!
The London Bridge has an enjoyable atmosphere and is THE place in downtown Raleigh to watch football (soccer) and other league matches.
Enjoy a drink at the bar or in the big landscaped outdoor courtyard, either way, it's a fun pub to watch all sports and meet new people.
Go underground at Watts & Ward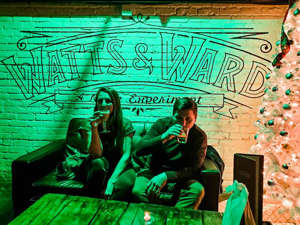 Watts & Ward is easily one of our favorite bars in Raleigh. It's a craft cocktail bar founded upon the underground spirit of 1920s America.
A 6,000-square-feet space of seemingly endless cavern, with room after room of leather seating, rustic tables, dim lighting and bookshelves full of history. An inventive cocktail menu and low-key jazz events.
Find the Speakeasy Bar behind a secret bookshelf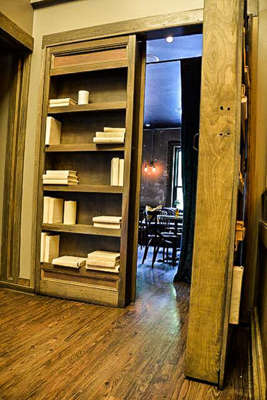 This is the true definition of a hidden bar. The Green Light has a 1920s speakeasy feel and the bar is literally tucked away behind a secret bookshelf inside in a secret room in what was once an architect's office. 
This small, dimly lit room is such a cool bar to have a quiet drink.
Brewery Hop
With over 20 local breweries in Raleigh, the craft beer scene is unlike any other in the Southeast and for me, tasting new brews is one of the most fun things to do in Raleigh.
I have been to some of the best craft brewery locations in the USA including San Diego, Northern California, Portland, Seattle, and Asheville, and I can say with confidence that some of the best beers I've had have been right here in Raleigh!
Some of my favorite breweries in Raleigh, and some of the most popular include:
Wine lovers head to Vita Vite Art Gallery + Wine Bar
Vita Vite is a premier wine bar that doubles as an art gallery. They offer a great selection of wine and a classy and relaxed atmosphere.
The cozy lounge-style wine bar is furnished with plush, fireside couches and there's a nice outdoor porch. Two locations, with a decent beer selection too for a wine bar.
Learn more about the owner of Vita Vite, Lindsay Rice here . We also featured her as a top woman-owned business in Downtown Raleigh
Bar hop on Glenwood South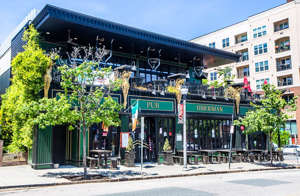 If you really want to bar hop in Raleigh with tons of options within walking distance, Glenwood South is Raleigh's signature street with a mixture of new and old bars, pubs, clubs and restaurants. 
This is where we used to party every weekend pre-kids back in the early 2,000's, and Glenwood Ave has changed and grown a lot in recent years. 
Good options include: 
Get your caffeine fix at a local coffee shop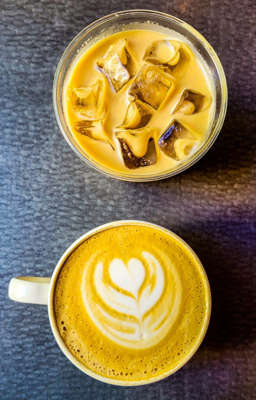 As Aussies, we think we know a good cup of Joe when we sip on one. It's a well known fact that Australia has one of the best coffee scenes in the world, second only to New Zealand in my opinion. 
The Raleigh coffee scene has improved considerably over the years with new places opening up regularly, and as coffee addicts, this just adds to the reasons we like living here.
No, Raleigh is not quite Seattle or Portland good, but the scene here is better than most places we've had coffee in the USA. Some of our favorite coffee shops include:
Read More: 7 coffee shops in Downtown Raleigh the locals love
What to See & Do in raleigh
Walk across The Boylan Bridge for iconic downtown views
One of our favorite views of the Raleigh skyline is from Boylan Bridge. We like to park in Historic Boylan Heights and walk across this bridge.
The bridge has nice wide sidewalks for safe pedestrian access and is a popular photography spot. It spans the multiple train tracks and you get a great view of the Raleigh Union Station (Amtrak Station). 
Fun Fact: this railroad junction in Raleigh is called The Boylan Wye. The name refers to the Y-shaped layout ("wye") of the tracks.
Kayak or paddle board on one of Raleigh's best lakes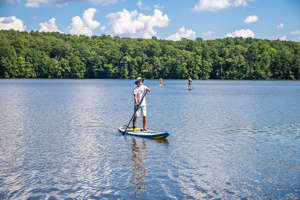 Lake life is the best life especially during a summer in Raleigh, and if you're looking for stuff to do in Raleigh that involves water, there's an abundance of fantastic lakes, and getting out on a lake on our stand up paddle boards or a kayak is one of our favorite things to do in Raleigh NC.
Some of the best lakes to get out on include:
Lake Crabtree
Umstead State Park
Jordan Lake
Falls Lake State Recreation Area
Read More:
Take your kids to Pullen Park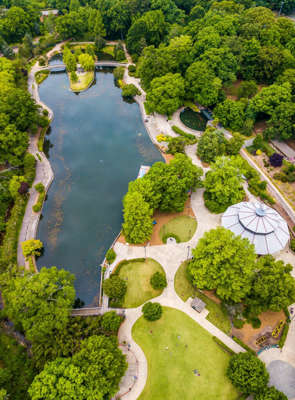 Looking for Raleigh attractions for kids? Pullen Park is one of the most fun things to do in Raleigh NC with kids.
Located on 66-acres of land five minutes from downtown Raleigh, Pullen Park is the first public park in North Carolina, and the 5th oldest operating amusement park in the USA. 
Here you can ride a historic carousel, rent pedal boats, ride a miniature train, let the kids run free on the playgrounds, have a picnic or grill out, see a play, or play your favorite sport and much more.
Read our full guide to Pullen Park. 
Hike or bike in William B. Umstead State Park
15-minutes from downtown Raleigh is one of North Carolina's best state parks, Umstead State Park, which offers great hiking trails, biking, camping, horseback riding, canoeing, kayaking and stand up paddle boarding opportunities. 
It's amazing we have such a great state park in our backyard, and when you visit Raleigh, don't miss this natural oasis surrounding three man made lakes and more than 5,000 acres of forest. Check out the Sal's Branch Trail.
Picnic in Dorothea Dix Park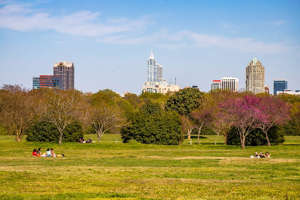 Set on a whopping 300+ acres, Dorothea Dix Park is the largest park in Raleigh with impressive views of the downtown Raleigh skyline. 
It's a lovely space at any time of year with wide-open fields, rolling meadows, and tree-lined streets. The "Flowers Field" section is a top spot for a picnic with city views!
Explore the Historic Raleigh Neighborhoods
There's plenty of charm and history here, showcased in the many historic neighborhoods in and around the city center.
Historic Boylan Heights was one of Raleigh's first planned suburbs with development beginning in 1907 and has been added to the National Register of Historic Places.
Oakwood Historic District dates back to the 1800's and rose after the Civil War. It's home to magnificent oak trees, Grand Victorians and modest bungalows. Their Christmas candlelight tour is fun.
Mordecai is Raleigh's oldest neighborhood. The Mordecai House, which dates from 1785 is the oldest house in Raleigh and Andrew Johnson, the 17th President of the United States, was born here. 
Cameron Park near NC State University was developed between 1910 and 1935 and was one of three suburbs subdivided into lots as development began with a streetcar line making the location appealing and convenient.
Hayes Barton is one of the premier Raleigh neighborhoods. Built in the 1920's in the post World War I wave of suburban development, homes here are a collection of Georgian, Colonial, Tudor, Craftsman, Bungalow and contemporary designs.
Read More – 10 neighborhoods in Raleigh to call home (inside the beltline)
Walk, jog, or bike the Lake Johnson loop trail
Located near NC State University's Centennial Campus, Lake Johnson is popular for college students and all locals who like to get active. 
Walk, jog, or bike the paved three-mile loop around the lake, it's one of our favorite things to do in Raleigh.
Plus, you can rent canoes, kayaks, sunfish sailboats, stand-up paddle boards and jon boats (or bring your own). 
Read our full review: Why Lake Johnson is our favorite lake
Bike the Art to Heart Trail
Beginning at the fabulous NC Museum of Art, bike the 6 mile Art to Heart Trail that winds through the museum's 164-acre park, passes behind Meredith College, cuts through the main campus at NC State, passes by Pullen Park and finishes in downtown Raleigh just outside of the Performing Arts Center, or wherever you like!
The trail can be done in reverse, of course, and bike racks are available at the museum. One of our favorite free things to do in Raleigh.
See the video
Shop one of the local Farmers Markets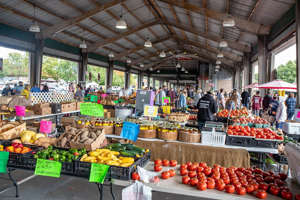 We love farmers markets, and there's a good list of local markets in and around the Raleigh area to get produce and arts/crafts:
Soak up the sun in Moore Square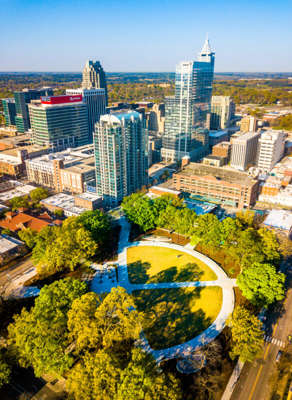 Moore Square has been a place of gathering, entertainment, and recreation for locals and visitors to Raleigh since 1972.
This four-acre urban green space was conceived as one of five public green spaces for the City of Raleigh and the park/square and surrounds is a charming mix of old and new in the heart of downtown Raleigh. 
Here you will find a splash pad, Square Burger, and nearby is the old City Market, restaurants, cafes, bars, art galleries, and Marbles Kids Museum. 
Play with your younger kids at Marbles Kids Museum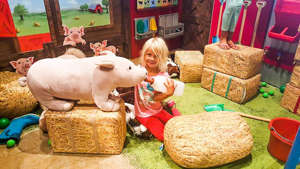 If you have young kids, consider Marbles Kids Museum one of the best things to do in Raleigh for families.
There's two levels of kid-focused museum activities with dozens of hands-on exhibits and the state's only 3D-capable IMAX theater.
A wall that wraps around the museum is filled with more than one million marbles that light up at night. 
Walk down Fayetteville Street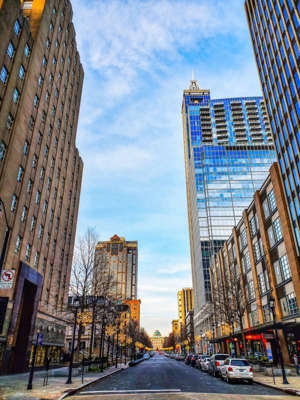 Fayetteville Street is the central thoroughfare of downtown Raleigh. It is the City of Raleigh's ceremonial center, hosting parades, special events, and seasonal celebrations. 
At the northern end you'll find the NC State Capitol Building, at the southern end is the Performing Arts Center (about a 10-minute walk between each).
You'll also find several restaurants, bars as well as government buildings and offices. Some of our favorites to eat/drink include: 
Meander along cobblestone streets of Historic City Market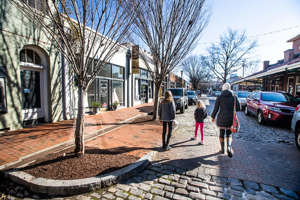 Browse the historic cobblestone-streets of City Market in the heart of downtown. Here you'll find galleries, restaurants, bars and specialty shops. 
City Market, which originated in 1914, is now a major tourist attraction and for locals to enjoy the open-air shopping and dining options that line the beautiful cobblestone streets.
Check out: Big Ed's Restaurant, Vic's Italian Restaurant & Pizzeria, MOFU Shoppe, and all the shops here.
See a band at The Pour House, Lincoln Theater or Slims
The Pour House has been one of Raleigh's favorite live music venues since 1997. And drop in and buy a record from their upstairs record store, one of the best record stores in Raleigh!
The Lincoln Theater also has live music acts, everything from bluegrass to metal and DJ-driven dance parties behind an unassuming facade.
Slims like to say, "We're the best worst bar!". Our local Raleigh friend says; "Slim's is one of my favorite music venues/dive bars. It's been around a long time and never ceases to surprise. You never know what you are going to see at Slim's. From a full-blown rock and roll musical to a country rapper. With a full bar, Slim's attracts 20-something hipsters and old fogeys like me. And EVERYONE is welcome.
Canoe, kayak, or paddle at Robertson Millpond Preserve 
The serene, forest-like setting at Robertson Millpond Preserve is a unique place to canoe, kayak or paddle board.
This hidden gem near the town of Wendell is the area's only bald cypress habitat and is recognized as a wetland treasure.
Explore the small towns
Besides the ever evolving Downtown Raleigh area, there is a diverse collection of neighborhoods and small towns in Wake County, each with its own personality, charm and history and well worth a visit.
Downtown Cary 
One of the fastest-growing areas in the South, the charming downtown is home to renowned restaurants, shopping, culture and arts. Read our downtown Cary guide. 
Downtown Apex 
Talk about charming and historical. The town of Apex features more than 60 commercial and residential structures dating from 1870 to 1940 with a quaint downtown area filled with cafes, bars and restaurants. Read our downtown Apex guide. 
Wake Forest
Just north of Raleigh, Wake Forest is a beautiful small town with plenty of history, culture and activities and a historic downtown district with places to eat, drink and play. 
Others include: Fuquay-Varina, Knightdale, Holly Springs, and Wendell. 
See a movie at the charming Rialto Theatre
The Historic Rialto Theatre, located in Five Points, is locally owned and operated. 
Built in 1942, and although recently renovated, it still retains its original beauty, with its vintage recessed lighting and performance stage.
The Rialto has one large theater with Dolby 5.1 sound systems that shows foreign and independent films as well as the famous Rocky Horror Picture Show, every Friday at midnight!
Get your selfie in front of the "All Are Welcome" mural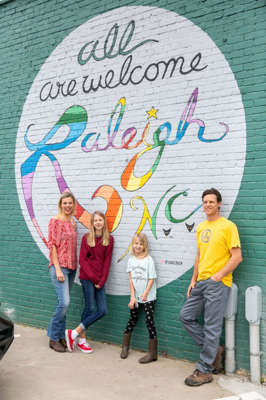 With the growth of Raleigh there's been a natural increase in the cultural diversity of people which I think is a good thing and makes the place more interesting and vibrant.
Created by artist Luke Buchanan, this mural was commissioned to promote equality for the LGBT community and is located on the side of Poole'side Pies as you drive into downtown Raleigh from the south.
Bike or walk a section of the Neuse River Greenway Trail
The 27-mile Neuse River Greenway trail is considered the gem of the 180-mile Capital Area Greenway system.
This fully paved trail stretches from Falls Lake in North Raleigh to the Wake County border line in southeast Raleigh.
Lots of starting and stopping points, and along the way are winding boardwalk areas, views of historical sites, and suspension bridges. 
Trail is open to joggers, walkers, runners, cyclists, roller-bladers and others. 
Hit golf balls from a third-floor overlook 
North Carolina is a golfing state and one of the most fun Raleigh attractions is Drive Shack, a three-story interactive 260-yard long golf driving range that combines physical targets to aim for with augmented reality and virtual games.
Don't worry, no golf experience is necessary and you can make it as competitive as you like. For us it's more about having a hit, a drink, and a laugh.
Read our review of Drive Shack Raleigh.
Raleigh Municipal Rose Garden
One of three accredited rose gardens in North Carolina, the Raleigh Municipal Rose Garden is home to 1,200 roses of 60 different varieties (in full bloom May until autumn)
In the summer months, a free outdoor movie series is a local-favorite. And every year they host Art in the Garden, the annual arts festival benefiting Raleigh Little Theatre. Open to the public 7 days a week.
Go Ape Tree Tops Adventure Course
Located near Falls Lake, Go Ape is another of the fun things to do with kids in Raleigh.
Here you can take on various tree top obstacle courses and ziplines, depending upon your age and comfort level for adventure (and heights).
Designed to deliver adventure, fun, and a sense of accomplishment, this is perfect for families, groups of friends, and companies looking for team building!
Read our full review of Go Ape.
Chase the Fall colors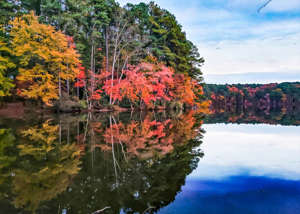 It seems like every year the leaf peeping season gets shorter, but unlike having to plan a road trip to New England and time it perfectly, if you live in Raleigh you are already here and can act quickly!
Some of the best spots to explore include:
Umstead State Park
Falls of Neuse River Trail
Lake Johnson
Jordan Lake
Falls Lake State Recreation Area
E. Carroll Joyner Park (Wake Forest)
Apex Lake
Also, keep in mind botanical gardens, parks and preserves like:
J.C. Raulston Arboretum
Pullen Park
Dorothea Dix
Durant Nature Preserve (North Raleigh)
Robertson Millpond Preserve (Wendell)
Horseshoe Farm Nature Preserve (Wake Forest)
Hemlock Bluffs Nature Preserve (Cary)
Duke Gardens (Durham)
Read our full guide to Raleigh in the Fall.
Stroll through 10-acres of gardens at JC Raulston Arboretum
JC Raulston Arboretum is a 10-acre arboretum and botanical garden administered by North Carolina State University. 
This nationally acclaimed garden has one of the largest and most diverse collections of landscape plants in the Southeast, with 5,000 plants collected from all over the world on display.
Ride the R-Line (free downtown bus circulator)
Raleigh is predominantly a driving city, and public transport is lacking. But one cool thing is the RLine, Raleigh's free downtown circulator bus service 
It features hybrid electric buses connecting you to restaurants, retail, entertainment venues, museums, hotels + parking facilities in downtown Raleigh.
RLine buses run approximately every 15-minutes, with the full route taking about 30-minutes to complete. Standard operation hours:
Mon-Wed (7 am-11 pm)
Thurs-Sat (7 am-2:15 am)
Sun (1 pm-8 pm)
Take a day trip from Raleigh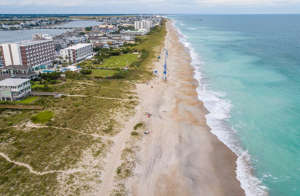 One of the things we love about living in Raleigh is its central location to so many other great places.
There are great getaway ideas for everyone, whether you desire a beach break, you're a foodie, or you're into history, the arts, or sports. 
Some of our favorite day trips from Raleigh include:
Read More – 8 fun day trips from Raleigh
Historical Attractions in Raleigh
North Carolina Museum of History
The Museum of History was founded in 1902 and more than 400,000+ visitors a year pass through its doors, including 80,000+ school groups.
On display are over 14,000 years and 150,000 artifacts of North Carolina history, from a full-size replica of the 1903 Wright Flyer to the lunch counter from a 1960 sit-in in Salisbury, and much more. N.C., 
Free admission (Charge for some special exhibits).
Step back in time at Mordecai Historic Park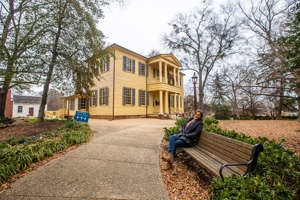 Mordecai Historic Park was once known as the largest plantation in Wake County and home to many interesting pieces of North Carolina history.
Here you can see the Mordecai Historic House, the oldest residence in Raleigh still on its original foundation, and the birthplace of Andrew Johnson, the 17th President.
Begin your visit at the Visitor Center.
North Carolina Museum of Natural Sciences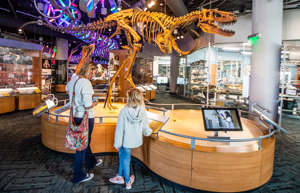 The Southeast's largest natural history museum and North Carolina's most visited museum is not to be missed. 
Over 4 floors of exhibits including live animals, education and research centers, dinosaur and whale skeletons, and so much more. 
This museum is one of the best things to do in Raleigh downtown. Read our full review here.
City of Raleigh Museum (COR Museum)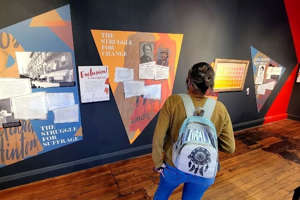 The COR Museum is housed in a historic former hardware store dating back to1874 on Fayetteville Street in the center of downtown.
It features permanent and temporary exhibits that focus on the history of the city, its people, places, and resources, and maintains a collection of approximately 5,000 artifacts.
Related Post – 8 top museums in Raleigh
Visit the NC State Capitol Building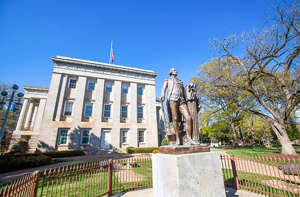 Built of local stone in 1840, the State Capitol building is a National Historic Landmark and one of the best-preserved examples of Greek Revival-style architecture.
There's a statue of George Washington dressed as a Roman general in its rotunda – start your visit by walking around the exterior among the impressive oak trees and explore the monuments and statues on display. 
Admission is FREE (donations appreciated). 
Self-guided Tours: Monday – Friday 9am – 5pm.
Guided Tours: Weekdays at 10am and 1pm. 
Wander through Historic Oakwood Cemetery
For more than 140 years it has been the final resting place of over 22,000 of the area's citizens including prominent city, state and national leaders.
Historic Oakwood Cemetery provides a beautiful park-like setting for the final resting place of a fascinating cross section of the area's citizenry including 7 governors, 5 US Senators, 8 Supreme Court Chief Justices of NC, 4 Civil War generals, 2 Secretaries of the US Navy, numerous Raleigh mayors, and thousands of other individuals.
Historic Yates Mill County Park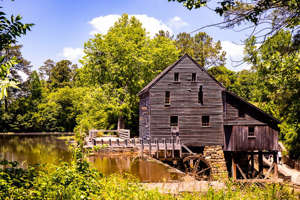 If you love learning about local history and walking nature trails, put Yates Mill County Park on your list of historical things to do in Raleigh NC. 
There's lovely hiking trails, a 24-acre pond, and the Historic Yates Mill that make up this 174-acre wildlife refuge and environmental resource center. 
Admission is free, but to tour the mill to learn about the "farm-to-fork" process, witness the corn grinding process and purchase bags of ground yellow and white cornmeal will cost $3-$5 (March through Nov.). 
Pope House Museum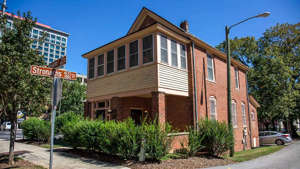 This is the only African-American house museum in the state, and it offers a look into the life of one of Raleigh's prominent African-American citizens, Dr. Manassa Thomas Pope. 
Dr. Pope was a graduate of the Leonard School of Medicine, an officer during the Spanish-American War and the only African-American man to run for mayor of a Southern capital in the Jim Crow Era. 
Visitors can tour the home complete with original furnishings, artifacts and documents dating back to 1851. Admission is free.
Take a self-guided tour of the NC Sports Hall of Fame Museum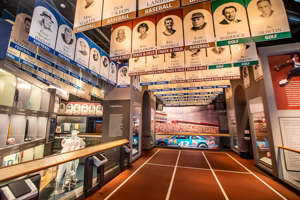 Downtown Raleigh is home to the NC Sports Hall of Fame museum, located on the third floor inside the Museum of History.
On display are sports such as football, basketball, baseball, athletics, golf, motor racing, Olympics sports and more.
Governor's Mansion (North Carolina Executive Mansion)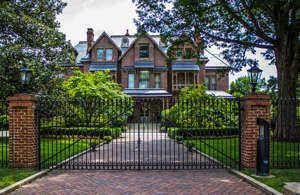 The North Carolina Executive Mansion has been the official residence of the Governor's of North Carolina since 1891, and is a beautiful Victorian-style mansion built from native materials.
Franklin D. Roosevelt (F.D.R) once described the mansion as having "the most beautiful governor's residence interior in America." 
Tours are ONLY offered on Wednesdays and Thursdays (must be booked 2 weeks in advance). Holiday Open House is in December. 
Arts & Culture Experiences in Raleigh
North Carolina Museum of Art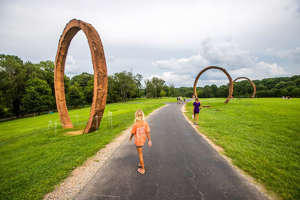 The North Carolina Museum of Art is one of the most popular Raleigh NC attractions and admission to the Museum's permanent collection and Museum Park is free.
Home to more than a dozen beautiful gallery spaces showcasing art from around the world, you can self-explore, take an engaging tour, see performing arts, and participate in family workshops.
Don't miss taking a stroll through the Ann and Jim Goodnight Museum Park, the 164-acre park and trail system through natural areas that features more than a dozen commissioned works of art. 
See a show at the Performing Arts Center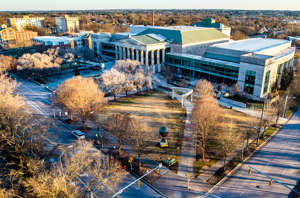 Catch a show or performance at the Duke Energy Center for the Performing Arts, Raleigh's premier arts venue.
Here you can see theatrical productions at the Kennedy Theater, listen to the North Carolina Symphony in the Meymandi Concert Hall, and watch the Carolina Ballet.
This venue has been a historic and cultural focal point in downtown Raleigh since 1932, playing host to Broadway classics, rock legends and major political figures 
Downtown Raleigh's Artspace 
Downtown Raleigh's Artspace exists to inspire creative energy through exposing, engaging, and educating all in the community about the creative process. 
Artspace is one of the largest open studio environments in the country (30,000 square foot) and is home to over 30 artists working in a variety of media, along with three exhibition spaces, a gift shop, and administrative offices. 
Contemporary Art Museum (CAM)
CAM Raleigh is a multimedia contemporary art gallery with no permanent collection but offers exhibitions of works by artists with regional, national, and international recognition
The CAM is popular among local residents and every exhibition is unique and designed to be thought-provoking and transformative and offers free admission. 
Festivals & Events in Raleigh
There are tons of festivals and fun Raleigh events each year to keep everyone entertained through all four seasons. Check out our top festival and events guide for 2022
Some of the biggest and best include:
The World of Bluegrass – largest FREE urban bluegrass festival in the world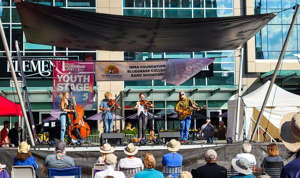 Yep, Raleigh is home to the largest FREE urban bluegrass festival in the world. 
For this two-day event they close down Fayetteville Street to bring you five blocks and six stages of music stretching from Martin Street to the Duke Energy Center for the Performing Arts, and Red Hat Amphitheater. 
Brewgaloo Craft Beer Festival
Brewgaloo is North Carolina's largest craft beer festival is held annually in Raleigh and features over 110 craft breweries from around NC, plus 50 food trucks and local vendors.
This street festival spans the length of Fayetteville Street in downtown with two stages featuring local bands all day long. 
Triangle Restaurant Week 
TRW is a week-long celebration of culinary excellence designed to incorporate the premier Raleigh area restaurants.
Participating restaurants offer special three-course menu options and fixed pricing, a great opportunity for residents and visitors alike to indulge in the area's finest cuisine! 
Take on the 4-mile Krispy Kreme Challenge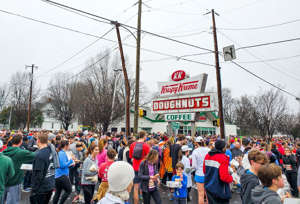 Looking for fun and unique things to do in Raleigh NC?
Started by NC State University students, this fun run starts at the NC State campus, then you run 2.5 miles to Krispy Kreme, then attempt to consume 12 doughnuts (2400 calories),, then run 2.5 miles back.
For us, this is one of the most fun events in Raleigh (our kids even do it for the doughnuts), AND, it's for a GREAT cause, with proceeds going to the UNC Children's Hospital. 
Hopscotch Music Festival
This annual three-day music festival in downtown Raleigh features more than 120 bands and is known for adventurous lineups, memorable performances, and a fan-friendly atmosphere.
From a large outdoor main stage in Raleigh City Plaza to intimate club shows, the festival offers music in almost every genre imaginable.
Artsplosure
Raleigh's original and longest running arts festival held each year that attracts 80,000 people to downtown.
This two-day event features an Art Market of approximately 175 juried visual artists from across the US showcasing works in ceramics, glass, fiber art, jewelry, metal, painting, photography, wood and more. 
GalaxyCon
Four day festival for fans of pop culture, superheroes, science fiction, and more. Held at the Raleigh Convention Center. 
Beer, Bourbon & BBQ Festival
What's not to love about the sound of that? Two days of beer sipping, bourbon tasting, and music at the Koka Booth Amphitheater in Cary. 
North Carolina State Fair
For rides, music, animals, and all the greasy fair food you can imagine, Raleigh locals flock to the annual NC State Fair each October, the largest annual event in the state which draws one million visitors over 11 days.
See the acorn drop on New Years Eve
New York has the ball drop, Raleigh has the acorn drop (it's the City of Oaks after all) in downtown Raleigh to celebrate New Year's Eve. Fun for all the family.
Raleigh drops the acorn twice each December 31st – once at 7 pm for the children, and a second time at midnight to bring in the New Year! 
Sports in Raleigh
Attend a Carolina Hurricanes ice hockey game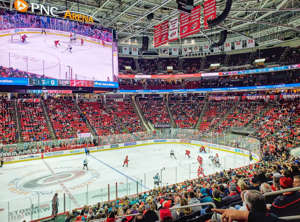 Raleigh is home to the 2006 Stanley Cup winning Carolina Hurricanes ice hockey team who play in the PNC Arena, and they have a raving fan base, the Caniacs.
Even if you didn't grow up with hockey like us, going to a live game is awesome and one of the top things to do in Raleigh for sports fans – don't miss the tailgating fun. Go Canes!
Cheer on the NC professional men's soccer team 
The men's North Carolina FC (professional soccer team) was founded in 2006 and is based in Cary (a suburb of Raleigh).
They play in the USL League One, the third tier of the American league system, and they play their home games at the 10,000-seat WakeMed Soccer Park, one of the premier soccer complexes in the USA.
Watch the National Women's Soccer League team play
Women's soccer is a BIG deal in North Carolina, and the North Carolina Courage is a professional women's soccer team who are also based at WakeMed Soccer Park in Cary, and they compete in the NWSL.
Go Pack – Cheer on the NC State University Wolfpack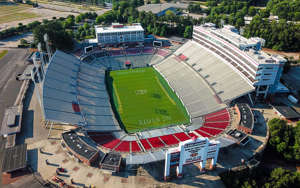 Of course, Raleigh is home to NC State University, and going to a game and cheering on the Wolfpack in any sports is always fun.
The Wolfpack compete in the Atlantic Coast Conference (ACC). The football team plays out of the 60,000 seat Carter–Finley Stadium and the tailgating is top notch. Whilst the men's basketball team play at PNC Arena, and the women's basketball at Reynolds Coliseum.
See the world famous Durham Bulls baseball
For baseball fans, the world famous Durham Bulls, a Minor League Baseball team of the Triple-A East and the Triple-A affiliate of the Tampa Bay Rays, are based just 30-minutes up the road in Durham. 
I'm sure you've heard of the famous Hollywood movie, Bull Durham starring Kevin Coster? That's the Durham Bulls. 
Read our tips for going to a Durham Bulls game.
Shopping in Raleigh
North Hills (Midtown)
North Hills is a giant open-air, walkable district offering more than 130 local shops, restaurants, bars, spas, a theater, an outdoor live music venue and much more.
The Village District
Formerly Cameron Village, The Village District is home to more than 100 unique and distinctive shops, cafés, restaurants and services. 
When it opened in 1949, it became the first shopping center between Washington D.C. and Atlanta., and a Raleigh Tradition was born.
Lafayette Village
A French Village in North Raleigh featuring restaurants, retail shops and an indoor/outdoor market. Nice atmosphere here and some of the best outdoor dining Raleigh has to offer. 
Independent Stores
We always strive to shop local Raleigh and support small local retailers. Some of our favorite local stores include:
Read More
Crabtree Valley Mall 
I'm not a mall person, but if that's your thing, Crabtree Valley Mall is the largest enclosed mall in the region and boasts over 220 stores.
There you have it. Our ultimate list of things to do in Raleigh NC (so far).
We will continue to add to this list of Raleigh things to do as we experience new attractions, food, and events ourselves. And be sure to check out our guide on how to visit Raleigh in 48 hours.
Raleigh is growing fast, and we never run out of fun or cool things to do and love sharing it all with you.
Now it's your turn. What would you add to this list? Please leave a comment down below!