Hop over to 12 family-friendly Easter brunches at metro Phoenix restaurants and resorts
Arizona Republic
3/29/2023
Bounding bunnies. Colorful candies. Hunting for treasure-filled eggs. Easter has all the accouterments of a holiday made for young fans.
So when it comes to savoring a hearty brunch, why not enjoy it at a venue that gives all ages something to get excited about? 
These restaurants and resorts promise to do just that with special activities geared toward kids from egg hunts and caricatures to encounters with nature and the Easter Bunny, while the adults can enjoy a fabulous brunch spread and mimosas. With something for everyone, it's sure to make Easter a day and meal everyone will remember. 
Start the day smarter. Get all the news you need in your inbox each morning.
All menus are available exclusively on April 9, except where noted. Reservations are highly recommended, and in some cases required, so it's best to book ahead.
Dining to-do list: 100 essential restaurants in metro Phoenix
Lon's, The Hermosa Inn 
On April 8 and 9, a special three-course brunch menu ($90, $25 for ages 4-12) will be offered from 9 a.m. to 2:45 p.m. and kids can spend their downtime searching for candy-filled Easter eggs around the patio.
The brunch menu will include a  complimentary glass of rose bubbles and cinnamon rolls for table. Starter options include: chilled Patagonian shrimp; watermelon gazpacho with crispy prosciutto and blue corn waffles with nutella-mascarpone whip. For the main course, choose from the following: smashed avocado toast on Noble ciabatta with heirloom cherry tomato, pickled onion and two over-easy eggs; lump crab cake benedict with LGO English muffin, buttered spinach, poached eggs and Lon's potatoes; fried chicken tenders with green tomato, sweet potato, corn and scrambled egg hash and peppercorn gravy; roasted halibut spring peas with wild mushrooms and spring onion risotto and beurre rouge; lamb leg "lambchetta" with celeriac puree, rapini, fava beans, asparagus, and natural jus; grilled beef tenderloin with crisp confit potato, creamed greens, smashed heirloom carrot and red wine jus. End your feast with chocolate crepe cake, blueberry cheesecake or key lime mousse
Details: 5532 N. Palo Cristi Road, Paradise Valley. 602-955-7878, lons.com.
Arizona Biltmore
The kids will work up an appetite creating Easter floral crowns, posing for caricatures and participating in lawn games. Brunch ($195, $85 for ages 5-12) will be served from 10 a.m. to 4 p.m. in the Gold Room and includes a special kids' station with favorites like ants on a log, mini tuna and turkey sandwiches, PB&J scrambled eggs, macaroni and cheese, a mini-cupcake display and more. The Alice in Wonderland display will be true to its theme with offerings such as: Queen of Hearts raspberry tarts; white chocolate shrinking potion; triple chocolate mushroom forest tarts; coffee éclair caterpillars; Wonderland sugar cookies and Mad Hatter's earl grey mousse bread.
Adults can indulge with a pancake station, breakfast dishes, raw bar and salad station. Entrees include sea bass with braised baby fennel, lemon-marinated roasted chicken and spinach ricotta ravioli. The carving station features rosemary and garlic roasted prime rib with bourbon veal demi and horseradish crema and herb crusted rack of lamb with cilantro-poblano pesto.
Parties of four or more receive a bottle of Arizona Biltmore sparkling wine. Prepaid reservations are required for parties of one to 20. A $3 historical preservation fund charge per reservation will apply.
Details: 2400 E. Missouri Ave., Phoenix. 602-955-6600, arizonabiltmore.com.
14 spots we can't wait to try: The most anticipated new restaurants of 2023:
Fairmont Scottsdale Princess
Easter egg hunts await eager explorers as do Alice in Wonderland-themed activities and decor. Hunts start every 15 minutes starting at 9 a.m. and guests who attend Easter brunch will receive one complimentary family photo with the Easter Bunny in the Palomino Ballroom from 10 a.m. to 2 p.m.
Also in the ballroom, a lavish brunch ($124, $59 for ages 5-12) will be served from 9 a.m. to 3 p.m. featuring omelets, waffles, bacon and sausage, eggs benedict, smoked salmon, shellfish on ice, fresh fruit and fruit juice. The spread will also showcase specials from the resort's signature restaurants like artisan pastas, Queen Creek Olive Oil roasted chicken and rosemary-rubbed lamb leg from Ironwood American Kitchen; horseradish crusted prime NY strip from Bourbon Steak; barbacoa de res with homemade corn tortillas from La Hacienda and a hand-rolled sushi station from Toro.
Special children's dishes include chicken tenders and shell pasta in marinara. The desert lineup includes a strawberry shortcake action station.
Reservations are required. Cancellations require 72-hour notice to avoid a 50% cancellation fee.
Details: 7575 E. Princess Drive, Scottsdale. 480-585-2694, scottsdaleprincess.com.
Royal Palms Resort and Spa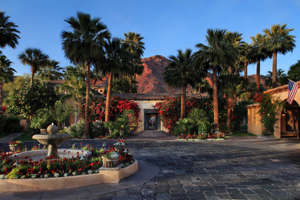 Two property-wide Easter egg hunts will be held at 11 a.m. and 1 p.m., which will complement two brunch options ($175, $75 for ages 6-12) served from 10 a.m. to 2 p.m. that include a glass of sparkling wine and one Royal Palms mimosa. 
The brunch buffet will be held in the ballroom with traditional breakfast options, a charcuterie and cheese spread, soup, salad and pasta bar, a selection of seasonal sides, a chilled seafood and sushi display, carved meats station and a variety of sweet treats. At T. Cook's, a three-course brunch with starters like quiche-pancetta and bourbon glazed pork belly, will be followed by main course options like braised short rib and pan-roasted salmon and dessert. 
Details: 5200 E. Camelback Road, Phoenix.  602-283-1234, royalpalmshotel.com.
The Farm at South Mountain
Sprawl out with a picnic amid the lush environs with the Easter Bunny hopping by to greet guests throughout the day. All picnic packages ($125 for 2, $225 for 4, plus 20% production fee) come with a blanket and bottled water along with: The Farm cheese board; build-your-own bruschetta; curry hummus with dipping veggies; artisan layered Italian or grilled chicken sandwiches; The Farm salad; a jumbo chocolate chip cookie and lemon ricotta bundt cake.
Add on a kids Easter bag with a special treat ($16.95) or, for the adults, a bottle of champagne ($30), red or white wine ($35).
Pick-up times are every 30 minutes from 10 a.m. to 1 p.m. Prepaid online reservations are required. No cancellations accepted after April 3.
Details: 6106 S. 32nd St., Phoenix. 480-682-7674, thefarmatsouthmountain.com.
'We graduated:' How this couple went from 'Restaurant Impossible' to a new bar in Scottsdale:
Carcara, Sheraton Phoenix Downtown 
Bring the family for face painting, a caricature artist, live music and photos with the Easter Bunny from 11 a.m. to 2 p.m. and brunch ($78, $30 for ages 4-12) that includes carving stations, a raw bar, Sonoran Caesar, Belgium waffles, herb-roasted fingerling potatoes and a chef's selection of sweets along with unlimited mimosas and unlimited Huss Urban Sunset Mexican Lager from 10:30 a.m. to 2:30 p.m. A kid's corner will serve scrambled eggs, mini corn dogs and more. 
Details: 340 N. Third St, Phoenix. 602-817-5429, carcararestaurant.com.
Mavrix
Families can enjoy a scratch-made brunch ($40, $25 for ages 12 and younger) at the Bunny Buffet, featuring a brunch taco and tostada bar, french toast, corned beef hash, a build-your-own sundae bar and more. Adults can enjoy half off mimosas until 2 p.m., while kids get free photos with the Easter Bunny and can embark on an Easter Egg Hunt with more than 1,000 stuffed eggs and enjoy a $10 game card per person to play in the arcade.
Seating times are 10:30 to 11:30 a.m. and noon to 1:30 p.m. 
Details: 9139 E. Talking Stick Way, Scottsdale. 480-291-7500, mavrix.com
Hotel Valley Ho
The popular annual Easter egg hunt commences on the ZuZu patio at 8:30 a.m., which will give the youngsters a reason to rise early. Afterward, head to the Sands for a brunch buffet ($72, $27 for ages 12 and younger) served from 9 a.m. to 2 p.m. that features a fresh seafood bar, salad station, Southwestern omelets made to order, a chef carving station, hot mains like soy honey glazed salmon and seared airline chicken with cippolini onion jus and desserts like macarons and dulce de leche strawberry panna cotta.
Details: 6850 E. Main St., Scottsdale. 480-421-7997, hotelvalleyho.com
More egg hunts in metro Phoenix: 11 events with hunts, rides, Easter Bunnies
Palo Verde Restaurant, Boulders Resort & Spa Scottsdale    
In addition to visiting with the Easter Bunny, kids can soak in the outdoors and spot an abundance of friendly wildlife like desert cottontails, families of Gamble's quail, ducks and mule deer darting through the golf course.
From 10 a.m. to 3 p.m., brunch ($105, $50 for ages 6-12) will feature an extravagant seafood display, omelets and build-your-own waffles, slow-roasted prime rib, beef tenderloin, striped bass, artisan cheeses, fresh fruits, salads, antipasti, warm breads and a display of decadent pastries.
Details: 34631 N. Tom Darlington Drive, Scottsdale. 480-595-1668, theboulders.com.
More mimosas: This glitzy Glendale town center is a great place for brunch
The Wigwam            
In the Wigwam Ballroom, a brunch buffet ($85, $30 ages 4-12) will be served from 10 a.m. to 2 p.m. and features fresh salad assortments, savory carving stations, decadent desserts and visits from the Easter Bunny with photo opportunities. 
Details: 300 E. Wigwam Blvd., Litchfield Park. 623-935-3811, wigwamarizona.com.
Maple & Ash
From 10 a.m. to 2 p.m., the Easter Bunny will roam and pose for photos and guests can hunt for prize-bearing golden Easter eggs. The brunch special is a hearth-roasted lamb shoulder with charred greens, dill yogurt and crispy sunchokes that will be offered as part of the regular brunch menu that includes accompaniments for the table of beignets, maple-glazed bacon, scones, crispy baked potatoes and fire roasted filet mignon ($75).
Details: 7135 E. Camelback Road, Scottsdale. 480-400-8888, mapleandash.com.
Terra Tempe Kitchen & Spirits, The Westin Tempe
A guest appearance by the Easter Bunny, photo opportunities and live music will accompany special brunch dishes that will be served from 10 a.m. to 2 p.m. Highlights include strawberry and banana french toast made with cinnamon brioche, banana brûlée, strawberry sauce and cream cheese whip ($15), and hanger steak platano and eggs with platano maduro, black bean puree, avocado, queso fresco and choice of eggs ($27). Also, a build-your-own brunch tower ($65) gives guests the opportunity to create unique brunch towers featuring four signature dishes, including: avocado toast served on multigrain toast with mashed avocado, cotija cheese, charred kale, heirloom cherry tomatoes and poached egg ($16); lemon ricotta griddle cake with vanilla chantilly cream, macerated berries and snow sugar ($15) and serrano-cheddar biscuits with Schreiner's sausage gravy and sunny side up egg ($18).
All Easter brunch specials will also be served April 7 and 8. 
Details: 11 E. Seventh St., Tempe. 480-968-8885, terratempe.com.
Sprung: Ultimate guide to things to do in metro Phoenix and around Arizona this spring
Support local journalism. Subscribe to azcentral.com today.
This article originally appeared on Arizona Republic: Hop over to 12 family-friendly Easter brunches at metro Phoenix restaurants and resorts