How to Find the Best Waterfalls in North Georgia

Zack Litchfield
1/25/2023
I am one to constantly be seeking out a great waterfall. Just something in my nature that enjoys falling water. I've also visited northern Georgia a couple of times, and between these two things I can say I know how to help you find the best waterfalls in North Georgia. Now, I won't claim that I've visited every waterfall in North Georgia to figure out this list. However, of the ones I've seen and planned to see, these are by far the best waterfalls in North Georgia in my humble opinion. Read on to find out more and then check out the road trip details at the very end!
This post contains affiliate links. Clicking on them costs you nothing, but it does help support my blog. I promise to never recommend a product or service that I haven't tried or done plenty of research on. Thanks for reading and supporting!
Amicalola Falls: The Tallest Waterfall in Georgia
While this list of waterfalls in North Georgia is sorted alphabetically, it also works out that the tallest waterfall on the list is also first. Amicalola Falls isn't just the tallest waterfall in North Georgia, but actually the third tallest east of the Mississippi River. These majestic falls cascade down over 729 feet. While not as conveniently located as some of the other waterfalls on this list, it's certainly not difficult to get here. They are located just an 1.5 hours from Atlanta, near Dahlonega, Georgia.
Once you arrive at the park, you've got a few options for seeing the falls. If you don't mind a steep hike (including stairs), you can start at the base parking lot and work your way up. Alternatively, you can drive up the side of the mountain a little ways. About halfway up there is a parking area with an easy trail that takes you right to the falls. A bridge crosses directly in front, putting you face to face with this massive waterfall. Finally, you can head all the way to the top. From here you can stand directly above the water rushing over the edge. It's also a pretty spectacular view as well!
The property of the falls is operated by Amicalola State Park. The Amicalola Lodge is located at the top of the falls which offers fantastic rates and is a great place to stay when exploring the rest of North Georgia. It also serves as a starting off point for those hiking the Appalachian Trail since there is a starter trail which runs from the falls to Springer Mountain.
Anna Ruby Falls: North Georgia's Twin Waterfalls
Next up on our list of waterfalls in North Georgia are the twin Anna Ruby Falls. A part of the Chattahoochee-Oconee National Forests, these two falls are probably one of my personal favorite's. Anna Ruby Falls is also conveniently located just a few miles from Helen, Georgia. So if you're coming up to see the quaint town, you definitely need to stop by Anna Ruby.
The hike up to Anna Ruby falls isn't particularly difficult. The entire length has been paved, making it great for the entire family. There are a few parts which are a little steep, and it is good to know that the entire walk to the falls is uphill. Which means its all downhill coming back. Once you reach Anna Ruby Falls, you'll find two separate viewing platforms. Both are excellent spots for taking in the falls. I definitely advise bringing your camera equipment because you'll be able to get some awesome pictures of these waterfalls.
Since you've got a town right near by to setup shop, I recommend staying at the Riverbend Motel and Cabins. It's sits right along the Chattahoochee River with rooms that overlook it. Alternatively, you can actually setup at the Unicoi State Park Campground. This gives easy access to both Unicoi Lake and the falls so you beat the heat if you're visiting in the summer.
DeSoto Falls: A Three Tiered Waterfall
DeSoto Falls is just a little ways north of Dahlonega on US Highway 19. The falls here are broken into three separate tiers. Combined, they make for one of the best waterfalls in North Georgia. Their convienent location also make it easy to visit anyone who is in the area.
To access the falls, you'll need to hike along the DeSoto Falls Trail. This trail will take you to two separate overlooks of the falls. The easiest overlook is just over a 1/4 mile down the trail at the lower portion of the falls. Once you've taken in the sights here, you'll turn back and walk about a mile up the creek. From here you'll reach the top of the falls. Then you can back track again and away you go.
Like a few of the others on this list, DeSoto Falls is located in the Chattahoochee-Oconee National Forest. This means its remote enough that traffic will be light, but not so far out of the way to not be worth the trip. It's about equal distance from the cities of Dahlonega, Helen, and Cleveland. The Old Storehouse Inn in Dahlonega would be a great pick if you're wanting a hotel nearby. There are also a ton of fun things to do in Dahlonega with kids if you're on a family trip!
Horsetrough Falls: Deep in the Georgia Woods
It's hard to over state just how remote and isolated you'll feel on your way to Horsetrough Falls. Though it's not far from Anna Ruby Falls, you'll feel worlds apart from it. Horsetrough Falls is located at the back of the Upper Chattahoochee River Campground. The campground itself is about five miles off the main road down a winding and bumpy gravel road. Since it's seen far less use since the pandemic began in 2020, mother nature has seen fit to begin reclaiming the trail.
The good news is that the hike itself is relatively easy and short. At just over a mile in length (out and back), it is also nearly flat on the way back. Once you're there you'll be rewarded with what is easily one of the best waterfalls in North Georgia. For those who are a little more adventurous, you can continue past the observation deck. This will take you down to the base of the falls, but please be cautious. The rocks at the base are bound to be slippery, so don't take any chances. However, if you make the journey all the way out here, you might as well go all the way!
If you want to see a little more about Horsetrough Falls, check out this video by my friends over at Eat, Explore & More!
Minnehaha Falls: Not The One in Minneapolis
The header from this section comes from the fact that every time I've ever talked about Minnehaha Falls or posted on the internet, people tell me I'm talking about the wrong place. Well, folks, there are at least TWO Minnehaha Falls in the US. One is one of the best waterfalls in North Georgia, and the other is in the heart of Minneapolis, Minnesota. It should be obvious which I'll be discussing here!
I found Minnehaha Falls on a my trip to Tallulah Gorge a few years ago. As obsessed with waterfalls as I was, I scoured the area and came across Minnehaha Falls. We loaded up the car and made the drive around Lake Rabun and then down a dusty gravel road to Minnehaha. There is a very limited amount of parking at the trailhead. It's also located on a bit of a blind bend, so please be careful when you visit.
The hike to the falls is relatively short (less than 1/2 a mile) but it starts out steep. Once over the first crest, its a fairly gentle walk through the woods from there. However, it is an amazingly rewarding hike. While I said earlier that Anna Ruby is one of my personal favorites, the #1 on my list is Minnehaha Falls. You can walk right up to the very base with ease. The open flat rocks are also a neat place to have a picnic if you're feeling frisky! All in all, I think that Minnehaha Falls is the best of the waterfalls in North Georgia. Don't just take my word for it though, go on and check it out for yourself!
Tallulah Gorge: North Georgia's Best Collection of Waterfalls
Tallulah Gorge makes this list of the best waterfalls in North Georgia because it simply has a bunch in fairly rapid succession. It's easily the most unique collection of waterfalls in the area (and potentially the entire southeast). There are five(!) different and distinct waterfalls all within the gorge! Not only are there a bunch of fantastic waterfalls in the gorge, but the hikes to see them are all different as well.
The easiest of the falls to observe is L' Eau d'Or Falls (pronounced Ladore). It's a simple walk from the visitor center down the North Rim Trail which is handicap accessible to the viewing point. Beyond this point, all of the trails become much tougher. You can access a bridge over Hurricane Falls by climbing down nearly 600 stairs to reach it deep in the gorge. Just remember, it's another 600 stairs back to the top! The toughest falls to reach at Bridal Veil Falls. Though it might be tempting to swim in the pool at the bottom, the trail there drops 500 feet over a quarter-mile of rocks and boulders. Only those capable of making that trek should even think about trying it.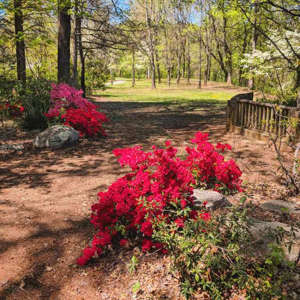 Another great aspect of Tallulah Gorge is that it's protected by a state park. This means you get access to ammenities like picnic spots, restrooms, etc nearby. You can also go camping in Tallulah Gorge, just a few hundred feet from the gorge itself. It's a great place to visit in the Spring or Fall when temps aren't too daunting to make the hike to the gorge bottom.
Toccoa Falls: The Easiest Waterfall to Reach
Of all the waterfalls on this list, Toccoa Falls may be the easiest waterfall to reach in North Georgia. Located just minutes outside of downtown Toccoa, you'll drive through the campus of Toccoa Falls College to reach the parking lot. From here, it's an easy 100 yard walk up the paved path to the falls.
Toccoa Falls is also one of the tallest free-standing waterfalls east of the Mississippi River. It plunges a breathtaking 186 feet to the pool at the bottom. With nothing obstructing it, you'll often get wonderful rainbows from the mist it creates on its way down. This makes it pretty different than any of the other waterfalls on this list which all plunge down their rock faces.
Another unique aspect of Toccoa Falls is it's availability for events. Many people come here to get married and why wouldn't you? It's an amazing backdrop for any event you might be wanting to have. While it's no longer possible to swim in the pool formed by the falls, you can still spend a ton of time in quiet contemplation at the beauty of Toccoa Falls.
Road Trip to See the Best Waterfalls in North Georgia
Well, now that you know all of the best waterfalls in North Georgia, it's time to plan how to see them. Since I love a good road trip as much as the next person, that's the best way to see them all in my book. While you can start this trip at pretty much any point, I think that Toccoa Falls is the most natural. Coming from Atlanta, Asheville, or Charlotte it's the closest point to all three. For the following itinerary, I'll assume you're already in Toccoa Falls before starting this trip.
Start your morning by visiting Toccoa Falls before getting on the road. You'll next be heading to Tallulah Gorge, just a short drive up US 23. Tallulah Gorge will take up the majority of the rest of your day, especially if you're hiking down into the gorge. However, you should still have time for one more stop at Minnehaha Falls since that hike is pretty short. After you leave Minnehaha Falls, take the trip over to Helen, Georgia and rest up for the night.
From Helen, you'll be heading straight away to Anna Ruby Falls. Just like I mentioned above, you'll get to see two different worlds once you head to Horsetrough Falls next. After that it'll be time to head on over to DeSoto Falls and enjoy its lovely hike through the woods. Once you leave DeSoto Falls, it's time for the longest stretch of driving on the whole trip. It's almost 40 miles from DeSoto to Amicalola Falls. You'll wrap up your day and this trip with one of the largest waterfalls east of the Mississippi River. Hard to top that really. Except maybe staying at the Amicalola Lodge for the night!
Where to Go Next
After seeing all these awesome waterfalls, you'll probably be thinking about what's next. Who needs rest, right? Well, depending on where you traveled from I've got a few suggestions. Since all that hiking probably made you thirsty, head into Asheville for a great brewery tour. If you haven't yet had your fill of waterfalls, then Brevard, NC and the land of waterfalls should be right up your alley. Alternatively, you can jump down to Atlanta, buy an Atlanta CityPASS and enjoy all that the city has to offer!
The post How to Find the Best Waterfalls in North Georgia appeared first on Florida Man on the Run.